Nashville isn't just about country music and neon lights. It also happens to be a food lover's paradise with some amazing Nashville restaurants!
Seriously, whatever your taste, these Nashville restaurants have your taste buds covered.
From food trucks parked outside breweries to upscale Southern fusion headed up by James Beard-awarded chefs (and yes, plenty of BBQ joints), the gang's all here!
So settle in and bring your appetite, because we're about to take you on a culinary joyride through 18 of the best restaurants in Nashville.
Also Read: 10 Best Boutique Hotels in Nashville: Luxe & Unique Stays
Bring Your Appetite to these Tasty Nashville Restaurants
1. Hattie B's Hot Chicken
Neighborhood: Midtown (original location), Melrose, West Nash, and Lower Broadway
Style: Hot chicken
Hours: Mon-Thurs 11am-10pm, Fri & Sat 11-12am, Sun 11am-4pm
How could we possibly put together a list of the best Nashville restaurants without including hot chicken?!
Although everyone has their personal favorite and it's a controversial topic, you can't go wrong with Hattie B's.
Prince's Hot Chicken Shack, another Nashville institution, actually made the original version.
However, Hattie B's is great for hot chicken newbies, thanks to the choose-your-own-spice-level customization.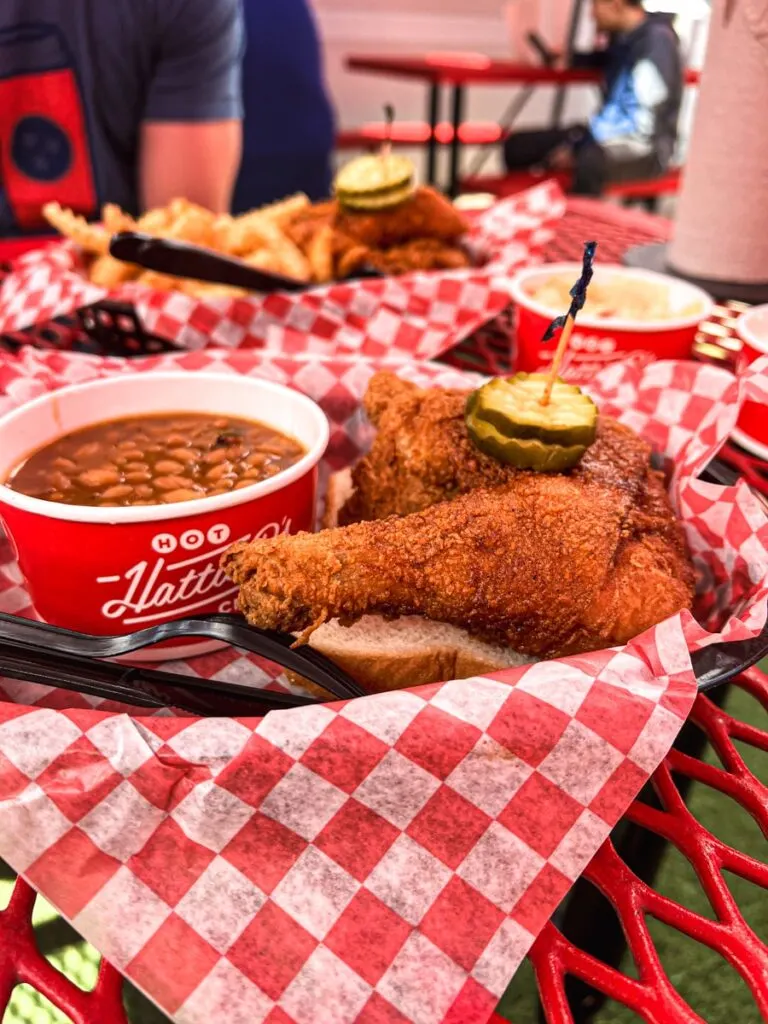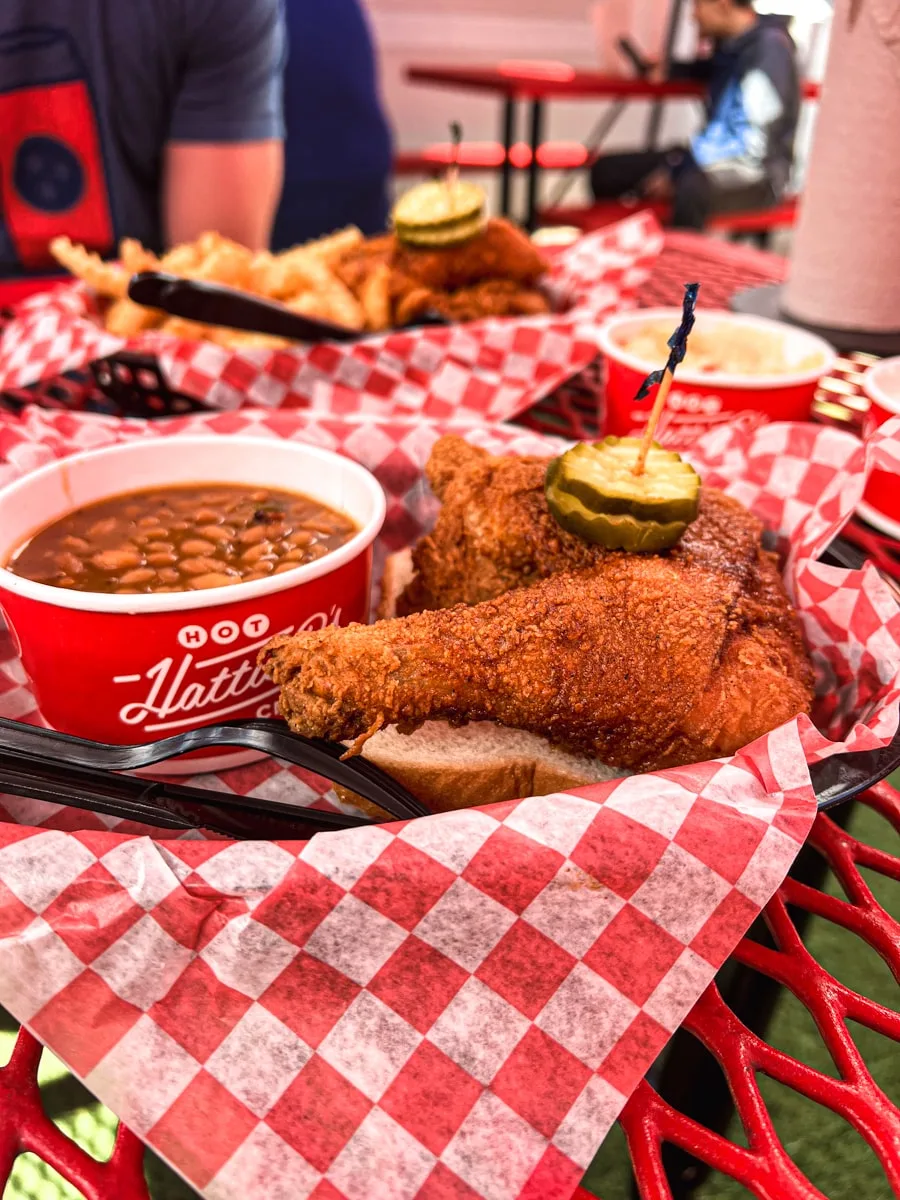 Fair warning: avoid "Shut the Cluck Up!" unless you're a spicy food veteran.
Also, don't forget the sides – pimento mac and cheese and crinkle-cut fries, we're looking at you!
2. Rolf and Daughters
Neighborhood: Germantown
Style: Contemporary American
Hours: Tue-Sat 5-10pm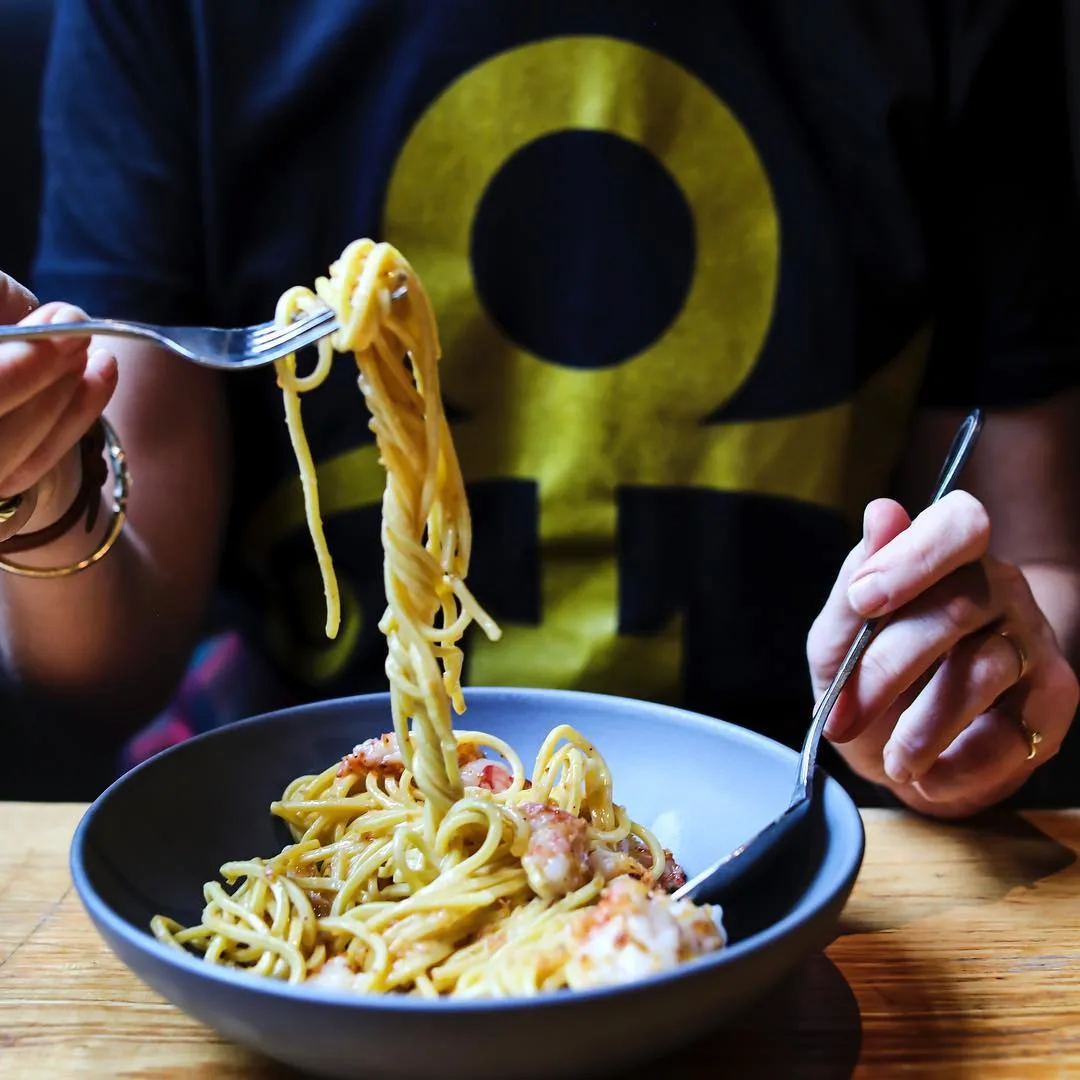 In the heart of Germantown, Rolf and Daughters is a major foodie destination.
This Nashville restaurant serves creative Italian-European dishes while adding a twist of surprise exotic ingredients.
Although the menu changes constantly, some example dishes include squid ink pasta, scallops with pickled plum, and homemade sourdough with seaweed butter.
The vibe is laid-back, yet trendy, with a handful of communal tables and outdoor seating. Come thirsty, because the wine and cocktail offerings are seriously impressive!
3. Loveless Cafe
Neighborhood: Franklin-Bellevue
Style: Comfort Food
Hours: Mon-Fri 8am-8pm, Sat & Sun 7am-8pm
A local institution dating back over 70 years, Loveless Cafe is all about Southern comfort food.
To this day, everything on the menu – including the famous fluffy biscuits – are scratch-made exactly the same way they were back in the '50s.
Speaking of Loveless Cafe's biscuits, they're so coveted that the recipe is closely guarded! As far as anyone knows, no one has ever been able to replicate them.
In addition to the biscuits, the country ham and red-eye gravy (made with coffee!) are equally famous. Southern country cookin' at its finest!
While you're there, be sure to pop into the country store or gift shop. You can grab many popular items to go, such as dry biscuit mix and a variety of jams.
4. The Pharmacy Burger Parlor & Beer Garden
Neighborhood: East Nashville (Greenwood)
Style: Burgers
Hours: Daily 11am-9:30pm
So-named because the burgers are "medicine for the soul," The Pharmacy is one of the best restaurants in Nashville when you want something easy and familiar.
The creative, juicy, burgers and extensive outdoor beer garden make this a must-visit in East Nashville.
In addition to traditional burgers, you'll also find things like salmon burgers and vegan options. Choose from a large variety of complementary sides and sauces.
And for non-burger options, The Pharmacy has a nice selection of brats and other wursts. Even if this isn't your typical go-to, they're ground, smoked, and cased in-house. Delicious!
If you get a craving for Pharmacy and you're traveling, there's a location in the airport. Alternatively, it has a spot in Assembly Food Hall, which is right next to Bridgestone Arena downtown.
Music City Bucket List: 25+ Best Things to Do in Nashville
5. Husk
Neighborhood: Rutledge Hill, Downtown
Style: Farm-to-table Southern
Hours: Sun-Thurs 5-10pm, Fri & Sat 5-10:30pm, Sat & Sun brunch 10am-2pm
Husk takes Southern classics to the next level by changing its menu nearly daily and sourcing local ingredients. In particular, heirloom vegetables.
According to Executive Chef Ben Norton, "If it doesn't come from the South, it's not coming through the door."
As a bonus, Husk has a huge selection of bourbon and whiskey. Cheers!
Fun fact: the original Husk is in Charleston, SC, where Chef Sean Brock worked for years. Today, Brock owns several Nashville restaurants, including Audrey, which is #10 on this list.
6. The Catbird Seat
Neighborhood: Midtown
Style: Modern American
Hours: Wed-Sat 5:30-9pm, with the choice of an early or late seating
One of the most exclusive, intimate restaurants in Nashville, The Catbird Seat, has just 22 seats and doesn't accept walk-ins.
Essentially, it's a front-row seat to the chef's ultimate tasting menu.
The recent increase in incredible Nashville restaurants has made it slightly easier to snag a reservation, but it's still tricky.
This restaurant releases reservations on a rolling basis, 30 days prior at 12:00 am EST — so if you're interested in trying this exclusive restaurant, book early!
A couple of things to note: The restaurant can only accommodate groups of four or fewer, and only accepts minor changes for dietary restrictions or allergies. If you can't eat anything specific, The Catbird Seat encourages you to call or email to discuss before booking.
7. Margot Cafe & Bar
Neighborhood: East Nashville (Five Points)
Style: French-Southern
Hours: Wed, Thurs & Sun 5-9pm, Fri & Sat 5-10pm
This no-frills, Southern-inspired French bistro has been open for over 20 years, so you KNOW it's one of the best Nashville restaurants!
Margot Cafe serves dinner only, and the menu changes daily, based on what's in season locally. And we do mean daily, because the restaurant doesn't have a freezer! How cool is that? (pun intended!)
The food is rustic and simple, but perfectly executed, like roasted chicken with fresh fruit salsa.
Understandably, Margot Cafe gets extremely busy, so we highly recommend making a reservation.
8. Martin's Bar-B-Que Joint
Neighborhood: Downtown (SoBro), plus a handful of other locations
Style: BBQ
Hours: Daily 11am-9pm
It's no secret that BBQ joints are a dime a dozen in Music City. However, Martin's genuinely knows its BBQ.
The restaurant serves traditional West Tennessee whole-hog BBQ and sticks with pit cooking.
The laid-back vibe and mouthwatering meats (you can't go wrong with staples such as brisket, ribs, or pulled pork) are a match made in hog heaven.
At its downtown outpost, Martin's has a huge beer garden and a total of four bars. As a result, you definitely won't have a shortage of drink options to go with your BBQ!
In addition to its main downtown location, Martin's has locations in Midtown and Belmont. Plus, there are also locations in Mt. Juliet, Spring Hill, and Nolensville, as well as Kentucky, South Carolina, and Alabama.
9. Etch
Neighborhood: Downtown
Style: Contemporary American
Hours: Mon-Fri 11am-2pm, Mon-Thurs 4:30-10pm, Fri & Sat 4:30-10:30pm
Etch's chef-owner Deb Paquette is a Nashville celebrity, frequently described with words such as "award-winning" and "trailblazing."
She studied at the renowned Culinary Institute of America and, more impressively, became the first woman in the entire state to qualify as a certified executive chef.
All that to say, you're in good hands at Etch. The menu is difficult to define, but eclectic and globally-influenced do a decent job. Think beef tenderloin topped with salsa verde and Halloumi grilled cheese.
Regardless of what you order, you can count on inventive flavor combinations and elegant presentations. The vibe is creativity-meets-fine-dining, with a focus on presentation and 5-star service.
10. Audrey
Neighborhood: McFerrin Park (East Nash)
Style: Appalachian
Hours: 5-9:30pm seven days a week
Audrey is James Beard Award-winning chef Sean Brock's wildly popular flagship.
It features a menu centered around rural Appalachia, where he grew up, and his grandmother's (Audrey's) cooking.
Thanks to the chef's decade-plus in Charleston, Audrey also has distinct low-country influences.
This restaurant is deeply personal for Brock, and he cooks here himself. In true Appalachian fashion, meals here are long and leisurely. It's an experience, rather than a quick meal.
Brock owns three other restaurants in Nashville, including June, which shares a building with Audrey. June is a 37-seat experimental concept that serves an ever-changing tasting menu.
11. Locust
Neighborhood: 12 South
Style: Dim Sum and shaved ice
Hours: Fri-Sun 12-2pm and 5-8:30pm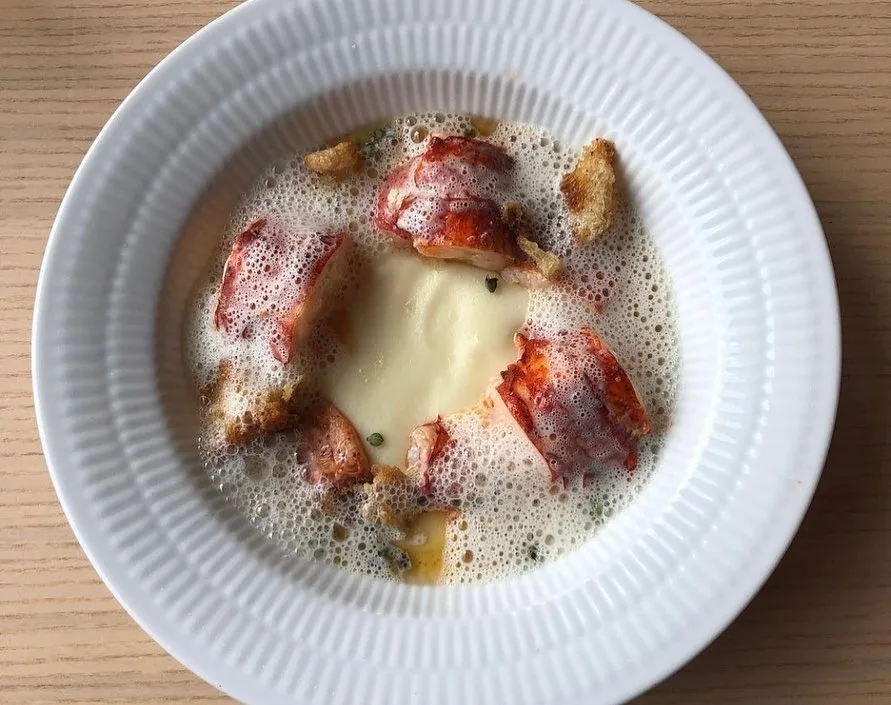 Locust operates out of a low-slung, Scandinavian-inspired restaurant in 12 South, hinting at the food inside.
Renowned chef Trevor Moran, who formerly cooked at The Catbird Seat, offers a "focused menu" of Dim Sum and kakigori (Japanese shaved ice). While the menu is limited, it's ever-changing and perfectly executed.
Like many other hot restaurants in Nashville, Locust is reservation-only. Even more important, the reservations for both lunch and dinner book out FAST. The restaurant opens reservations once a month, and we'd be shocked to see a single one available after 10 minutes.
Finally, if you still need an endorsement for Locust, many celebrated local chefs name this as one of their favorite Nashville restaurants.
12. Butcher & Bee
Neighborhood: Historic Edgefield
Style: Mediterranean, Small Plates
Hours: Mon-Thurs: 5-9:30pm, Fri 11am–2pm & 5–10pm, Sat 10am–2pm & 5–10pm, Sun 10am–2pm & 5–9:30pm
With a menu focused on ultra-fresh, shareable dishes, it's no surprise that Butcher & Bee is one of the most popular Nashville restaurants for date nights and groups.
Due to the ever-changing menu, it's difficult to define B&B's style. However, the dishes tend to lean Middle Eastern and Mediterranean, with items like whipped feta and kebab platter.
We especially love the funky neighborhood off the beaten path, and the super affordable prices, as well.
Also, a special note for foodies: Butcher & Bee Charleston was recently nominated for the James Beard Award for Outstanding Restaurant.
13. Peg Leg Porker
Neighborhood: The Gulch
Style: BBQ
Hours: Mon & Tues 11am-9pm, Wed-Sat: 11am-10pm
Yes, another BBQ joint. These are Nashville restaurants, after all!
The award-winning, family-owned and operated restaurant offers all the BBQ classics, but standouts include the pulled pork and dry-rubbed wings. The sides are delicious too, particularly the mac n' cheese and smoked green beans.
Peg Leg Porker typically has a line out the door at peak times, but it (honestly!) moves quickly.
Tours in Nashville: 12 Best Music City Tours
14. The Southern Steak & Oyster
Neighborhood: Downtown
Style: Seafood & steakhouse
Hours: Mon-Thurs 5-9pm, Fri & Sat 10am-3pm and 5-10pm, Sun 10am-3pm and 5-9pm
Generally speaking, Nashville restaurants offer a little of everything. However, there is one glaring exception: fresh oysters.
The Southern Steak & Oyster, affectionately known as simply "The Southern," solves that problem.
In fact, watching chefs shuck oysters is a huge part of the experience!
Plan on ordering at least one drink here, because they're truly some of the best made downtown. And in our humble opinion, the deviled eggs are also the city's best.
15. Drusie & Darr
Neighborhood: Downtown
Style: Fine dining, modern American
Hours: Daily 7-10:30am breakfast, 11:30am-2pm lunch, 5-10pm dinner
Inside the superb Hermitage Hotel, Drusie & Darr is widely considered the creme de la creme of Nashville restaurants.
It's elegant and refined — as you'd expect — and has an air of nostalgia, a nod to the 115-year-old building's history.
World-renowned French chef Jean-Georges Vongerichten is at the helm, infusing the menu with global flavors.
You'll find tons of Asian and European influences, plus Tennessee specialties.
In particular, the service and dessert are standouts, so save room!
16. City House
Neighborhood: Germantown
Style: Italian-Southern
Hours: Tue-Sat 5-10pm, Sun 5-9pm
At City House, Italian meets Southern cuisine in a wood-fired oven.
The result? A menu bursting with unique flavors and a cozy, urban atmosphere.
For example, pizza choices include catfish and jalapeno on a cornmeal crust, and roasted mushrooms with grits.
Owner-chef Tandy Wilson won the Best Chef: Southeast James Beard award in 2016. This came after making the finals four years in a row and the semi-finals a whopping nine!
17. Two Ten Jack
Neighborhood: East Nashville
Style: Japanese & ramen
Hours: Mon-Thu 11am-2pm and 5-9pm, Fri 11am-2pm and 5-10pm, Sat 5-10pm
Looking for Nashville restaurants that showcase Japanese flavors?
Two Ten Jack offers a cozy izakaya (defined as a "Japanese-inspired neighborhood pub") vibe and killer ramen bowls that warm your soul.
In keeping with the izakaya theme, the menu focuses on casual, shareable items.
For example, yakitori skewers, sushi, and of course, ramen. The best thing about the food is that it incorporates local Southern ingredients.
Two Ten Jack gets BUSY, so we recommend making reservations.
18. Lyra
Neighborhood: East Nashville
Style: Modern Middle Eastern
Hours: Mon-Sat 5-10pm
There are dozens of Mediterranean restaurants in Nashville, but we're only aware of one Mediterranean-Appalachian restaurant: Lyra.
With welcoming, lively tapas bar vibes, most of the wood-fired dishes are meant to be shared.
The patio has also become "the" hotspot in East Nash, which is really saying something.
Finally, we have an insider tip for you. Start with the za'atar fries and save room for the pistachio ice cream sandwich!
What do you think of this list of best restaurants in Nashville, TN? Which ones do you like the best? Let us know in the comments below! 👇
📍SAVE FOR LATER
Pinterest Pin Credit: Two Ten Jack, Butcher & Bee, Drusie & Darr