Welcome to Music City, where there's no shortage of honky tonks, neon lights, finger-licking good food, or awesome places to stay. Specifically, we're talking about the amazing boutique hotels in Nashville!
These are perfect when you want something memorable, but prefer a hotel room in the city — being right in the middle of all the action!
Nashville's boutique hotels offer an authentic local feel, not to mention unique amenities. For example, you'll find options with photo booths, rooftop pools, recording studios, and even a speakeasy.
Plus, the buildings are often historic, displaying amazing architecture you don't see every day.
And of course, Nashville's boutique hotels tend to be in the cutest neighborhoods, close to the hottest restaurants and bars.
Let's dive into the 10 Best Boutique Hotels in Nashville, TN!
Hungry? 18 Best Restaurants in Nashville (Delectable Places to Eat)
Bucket List-Worthy Boutique Hotels in Nashville
1. The Russell
Location: East Nashville
Dog-friendly: No
Parking: Free lot across the street
Amenities: Interesting historic building, photo booth, podcast room, within a block of several amazing restaurants and cafes
The Russell is an absolute gem in East Nashville — a hip, artsy neighborhood brimming with creativity.
This boutique gem matches its surroundings, exuding charm and sophistication with its colorful vintage-meets-modern vibe.
The 23-room hotel occupies a 115-year-old church and retains many of its original features.
Much of the stained glass you see is well over a century old. And those wooden headboards? They're made from old pews!
These features stand in contrast to the hotel's ultra-modern amenities, including a fun photo booth and a soundproof podcast room. It even comes complete with recording equipment!
What really sets The Russell apart from other boutique hotels in Nashville, though, is Rooms for Rooms.
The hotel donates a significant portion of each stay to local organizations helping the homeless community. For example, your one-night stay provides 16 meals to someone in need.
🏨 Book your stay at The Russell Hotel Here!
2. The Joseph
Location: Sobro
Dog-friendly: Up to 2 dogs welcome, with a $150 fee
Parking: Valet only
Amenities: Amazing rooftop bar and pool, great spa, doubles as an art gallery
Another favorite boutique hotel in Nashville is The Joseph.
In fact, Travel + Leisure readers voted it the #1 favorite hotel in Nashville for two years in a row.
(The Noelle, one of our other favorite boutique hotels in Nashville, made the list, too! (see below)).
Specifically, voters loved the hotel's rooftop saltwater pool, luxury spa, walkable neighborhood, and onsite Italian restaurant, Yolan.
The pool is amazing, too. It's located 21 stories up, surrounded by lounge chairs and four exclusive cabanas. Plus, the rooftop bar, Denim, is on the same level.
Inside, the art-focused boutique hotel houses an impressive art collection. The owners are renowned art collectors, so the hotel displays more than 1,000 pieces!
The South Broadway location is also within a short walk of some of Nashville's most popular attractions and tours. The Johnny Cash Museum and Country Music Hall of Fame and Museum are both nearby, including many other Nashville attractions!
🏨 Book your stay at The Joseph Hotel Here!
3. Fairlane Hotel
Location: Downtown (Business District)
Dog-friendly: Up to 2 dogs allowed for a $75 fee
Parking: Valet parking available for a fee, or street/garage parking nearby
Amenities: Amazing customer service, Ellington's restaurant, and themed pop-up penthouse bar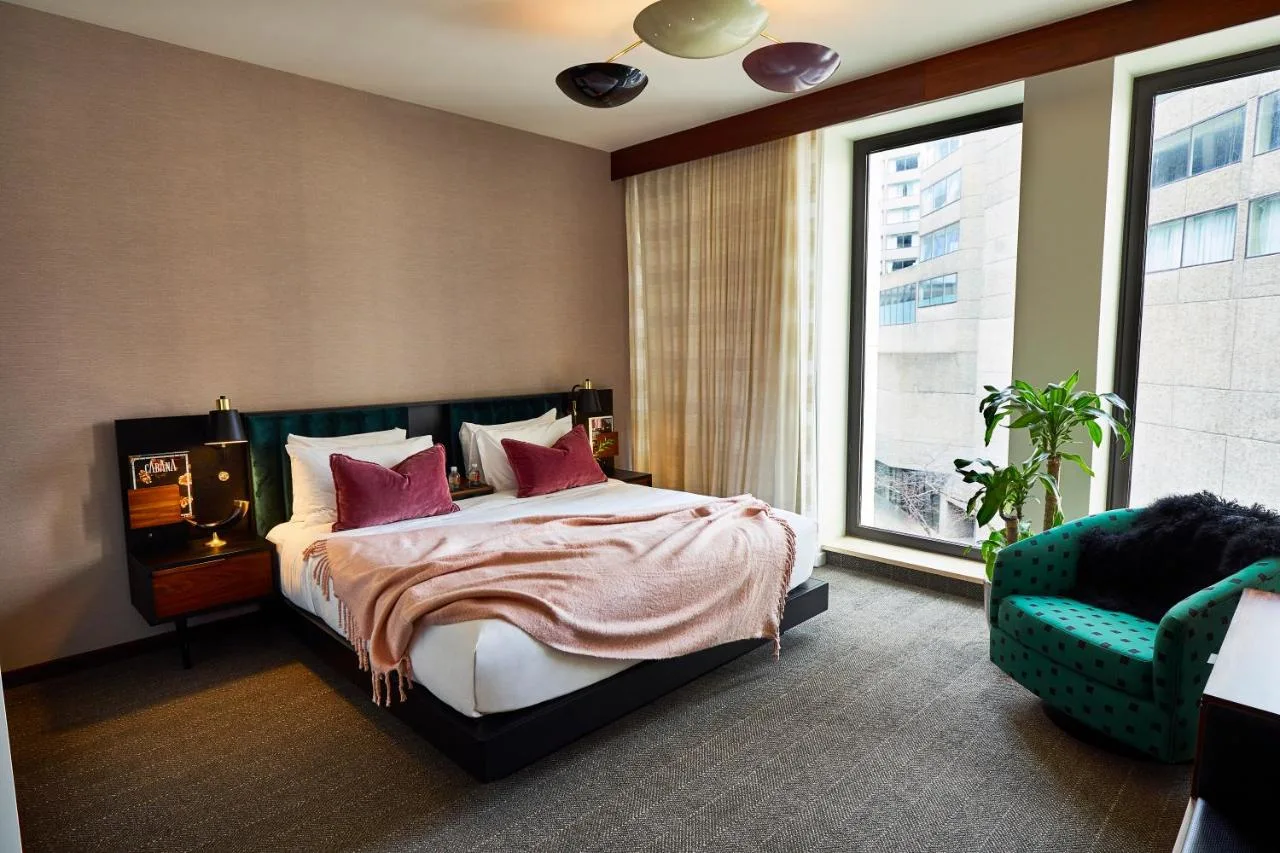 Another boutique hotel in Nashville with a retro-modern vibe, The Fairlane downtown should be one of your go-to's.
Rooms at The Fairlane come with top-tier amenities like marble showers, plush bathrobes, and 24-hour concierge.
The hotel itself has fitness studios, valet parking, and two onsite dining options — Bagelshop hand-rolls fresh bagels daily, while Ellington's has a fantastic city view on the 4th floor.
There's also a super fun themed pop-up penthouse bar with a rotating theme throughout the year. Previous years featured a Palm Springs Barbie theme and Alice in Wonderland.
However, where the hotel really shines is its service. Past guests rave about the front-of-house staff, specifically noting that the greetings are extra special.
It's also difficult to beat The Fairlane's location. The hotel is just far enough away from the hustle and bustle, but still extremely walkable. Walk to Broadway by day, then retreat to your comfy room at night.
🏨 Book your stay at The Fairlane Hotel in Nashville Here!
4. Noelle Nashville
Location: Printer's Alley
Dog-friendly: 2 dogs welcome (up to 40 lbs each) for a $100 cleaning fee
Parking: Valet parking for a fee, or street/garage parking nearby
Amenities: Rooftop lounge, hidden speakeasy, cute welcome amenities
In a fabulous location right next to several hotspots, Noelle is one of the best boutique hotels in Nashville.
It's within easy walking distance to many Nashville attractions including the Ryman Auditorium, Jeff Ruby's Steakhouse, Skull's Rainbow Room, Frothy Monkey, and countless other fun places.
The hotel itself has plenty of entertainment options, also.
The star of the show is Rare Bird, the rooftop bar 13 stories above the ground. There's also Makeready L&L, a full-service restaurant serving brunch and dinner.
Trade Room is a traditional bar, while Hidden Bar is exactly what it sounds like: an intriguing speakeasy. To access it, look for the two-way mirrors at the back of Makeready, then head through the storage closet.
Other amenities include a gym, complimentary loaner bikes, as well as record players, and vintage vinyl records for guests to borrow.
You'll love the welcome cookies and popcorn, as well as the daily champagne toast in the lobby.
🏨 Book your stay at Noelle Boutique Hotel Here!
5. Thompson Nashville
Location: The Gulch
Dog-friendly: Yes, at no additional charge
Parking: Valet only, but garage parking is available nearby
Amenities: Rooftop bar, pet-friendly, and a great walkable location
In the heart of The Gulch, Thompson Nashville offers a luxurious, artsy experience.
Although it's a Hyatt property, the chic curved-glass building feels like an independent boutique hotel.
Each room has floor-to-ceiling windows, a rainfall walk-in shower, and sliding barn doors. Communal amenities include a gym and electric vehicle charging.
The hotel is also extremely dog-friendly. Here, two dogs are welcome for no additional fee (a true rarity among boutique hotels in Nashville)!
On the ground floor, the Marsh House restaurant serves "seafood-focused Southern cuisine."
Then up on the roof, L.A. Jackson is a wildly popular indoor-outdoor rooftop bar with amazing views. Note that L.A. Jackson doesn't take reservations, and does get extremely busy.
Of course, being in The Gulch also means quick access to many of Music City's hottest places. Walk to great shopping, the Frist Art Museum, "Honky Tonk Highway," and so much more!
🏨 Book your stay at The Thompson Nashville Here!
6. The Germantown Inn
Location: Germantown
Dog-friendly: 2 dogs welcome in The Adams and The Parks suites; $50 for the 1st dog + $25 for a second
Parking: Free parking onsite
Amenities: Fantastic neighborhood, complimentary daily breakfast and happy hour
Enjoy the historic charm of the Germantown Inn, located in quaint Germantown — Nashville's oldest neighborhood with historic cobblestone streets!
Keeping with the theme, the inn itself is a renovated historic 2-story Federal-style home built in 1865. Today, the Germantown Inn has just 10 rooms, making it the most intimate of all boutique hotels in Nashville.
Each of the 10 suites, and the property as a whole, is incredibly luxurious.
For example, the entire property was the work of celebrated Nashville interior designer McLean Barbieri. The linens are top-tier, as you'd expect, but there are extras like custom-made wallpaper.
Wake up to a light breakfast of local artisan pastries, coffee, and other goodies. Later, head up to the rooftop patio and garden for a complimentary daily happy hour. This fun social hour includes charcuterie and local drinks.
You can also walk to several great bars and breweries, including Bearded Iris.
If you're on the fence about staying in a smaller B&B, just look at the reviews. Germantown Inn gets near perfect ratings!
🏨 Book your stay at Germantown Inn in Nashville Here!
7. Bobby Hotel
Location: Printers Alley
Dog-friendly: 2 dogs welcome with a fee of $50 each
Parking: Valet only (not available for oversized vehicles)
Amenities: Rooftop lounge with a retro bus and pool, multiple restaurants, extremely dog-friendly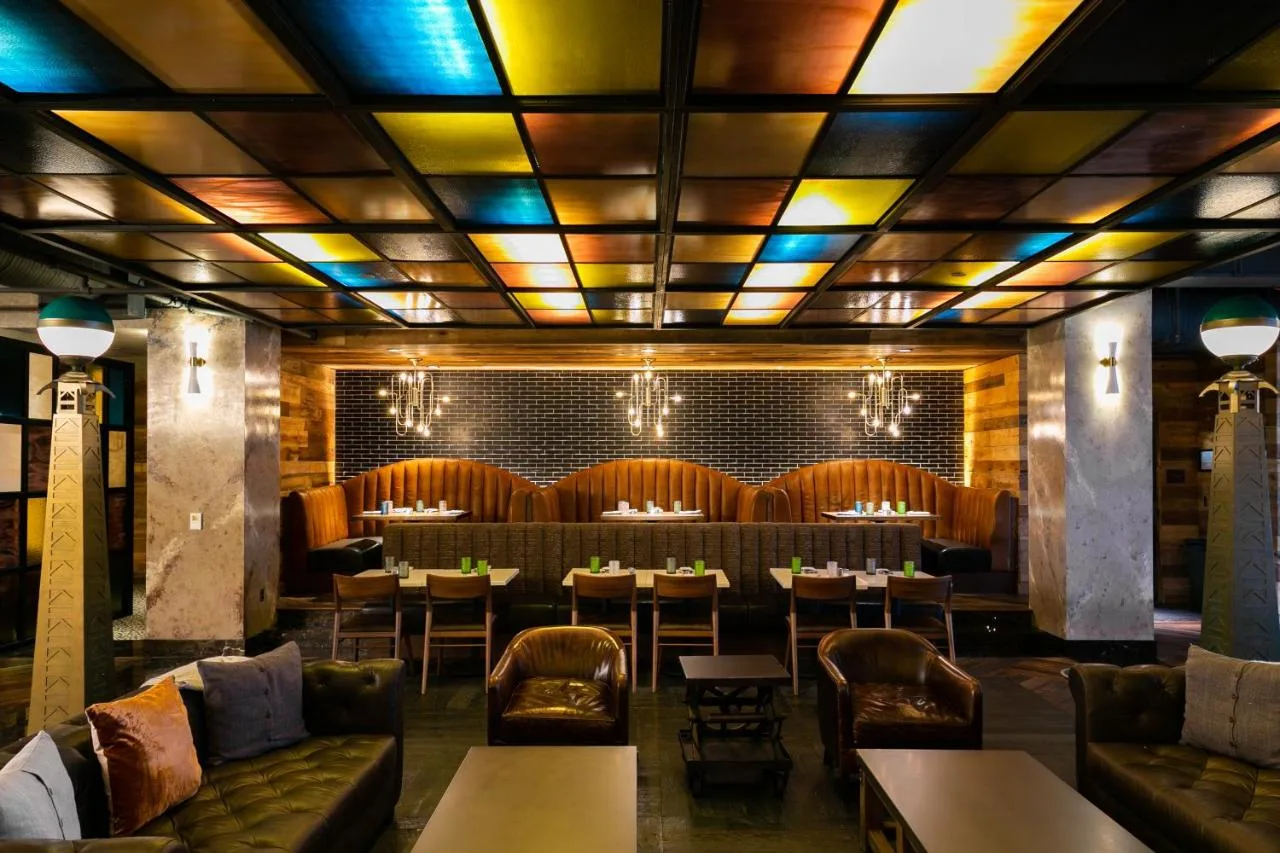 Contemporary design meets playful vibes in Printers Alley at the Bobby Hotel.
When we say playful, we mean it, as there's a 1956 retro Greyhound bus on the roof! There are lots of fabulous rooftop bars in Nashville, but this one may be the most unique.
10 stories above downtown, Bobby's rooftop feels like a friend's backyard. Aside from the bus, there's a bar, sparkling pool, and yard games.
The hotel also has three other places to eat and drink. The cafe is great for quick meals on the go, while Union Tavern is an upscale traditional restaurant. Then there's street art-inspired Bobby's Garage, with a direct street entrance. Be sure to leave your own graffiti!
Do you still need convincing that this is one of the best boutique hotels in Nashville?
The Bobby Hotel also has a "dog-in-residence" program, where the hotel (temporarily) adopts and trains a pup from the local Humane Society. After a year, a US Veteran gets to adopt Fido, who is by then a certified emotional support dog!
🏨 Book your stay at the Bobby Hotel in Nashville Here!
8. Hayes Street Hotel
Location: Midtown
Dog-friendly: 2 pets up to 50 lbs each, with a $40 fee (*management will approve larger or additional pets on a case-by-case basis)
Parking: Valet only
Amenities: Central location and complimentary breakfast
Hayes Street Hotel blends sleek and modern with comfort and convenience. Nestled perfectly between Vanderbilt, Broadway, and Music Row, this is one of the best-situated boutique hotels in Nashville.
The guest rooms are large, airy, and bright, and the hotel has a well-equipped gym and business center.
It also happens to be just a block away from the famous Hattie B's Nashville Hot Chicken. If that's not on your Nashville bucket list, it should be!
Guests enjoy a free daily continental breakfast, and Hayes Street Bar has an outdoor patio.
It also hosts live music on weekends. Speaking of weekends, you may get a complimentary cocktail at check-in on Fridays and Saturdays!
🏨 Book your stay at Hayes Street Hotel in Nashville Here!
9. Hutton Hotel
Location: Midtown/West End
Dog-friendly: Yes, with no size or breed restrictions! *$75 one-time fee
Parking: Self-parking and valet onsite
Amenities: Music-focused, extremely dog-friendly, amazing gym
Practically across the street from Hayes Street Hotel, Hutton Hotel is Nashville's "original boutique hotel."
At one time, it was a Music City 'who's who'…not to mention one of the most expensive hotels in the city.
Today, Hutton Hotel is just as chic as it ever was. It also provides guests with a level of service that's still unmatched, even among the nicest boutique hotels in Nashville.
One thing we really love is the hotel's celebration of the local music scene. Just ask the concierge, and you can borrow a guitar, ukulele, or bass, along with an iPad loaded with the Fender Play app. Or, if you're more of a listener, borrow a record player and check a few records out from the Vinyl Library.
There's also an intimate live music venue onsite, Analog. Most impressive of all, though, are the two top-notch writers' studios.
In terms of non-musical amenities, Hutton has you covered, too. Exercise in the state-of-the-art gym, complete with Peloton bikes and access to classes, or grab a bite at Evelyn.
🏨 Book your stay at the Hutton Hotel in Nashville Here!
10. The Dive Motel & Swim Club
Location: Wedgewood-Houston
Dog-friendly: Yes, with a $50 fee
Parking: Free parking onsite
Amenities: Authentic retro decor and swim club access
If you love retro kitsch, transport yourself back to the 1960s at The Dive Motel & Swim Club.
This boutique hotel in Wedgewood-Houston perfectly embraces classic vintage motel vibes. In fact, The Dive hosted A-listers like Johnny Cash and Hank Williams in its heyday, when it was a traditional motor inn!
Keeping true to its roots, guest rooms have shag carpeting and remote-activated disco balls.
Even better, though, is the option to choose one of four retro-themed radio channels. These include Sex, Drugs, Rock n' Roll, or Sleep. All 23 rooms are also one-of-a-kind, with unique decor.
Access to the swim club is what really sets The Dive apart from other boutique hotels in Nashville. Just like in the '60s, bring your own towel!
Important note: the pool and bar are always open to the public, not just hotel guests.
There's also a restaurant and bar onsite, which are just as popular as the pool.
Food trucks and DJs make regular appearances, creating a fun dance party vibe. Guests get a drink token at check-in to see what the hype is all about.
🏨 Book your stay at the Dive Motel & Swim Club Here!
Let us know what you think about this list of Boutique Hotels in Nashville, TN! Do you have any recommendations? Let us know in the comments below! 👇
☕️ Wake up from your Nashville Hotel Stay and grab your morning coffee at one of these spots! >> 11 Best Coffee Shops in Nashville
Featured Image Credit: The Joseph Hotel
📍 Save for Your Next Trip to Nashville!