Some of the best waterfalls in East Tennessee and Southwest Virginia are just an hour's drive from Bristol.
Whether you're looking for a simple and easy-to-hike-to-waterfall or one requiring a hike through nature, this guide will help you find the best waterfalls to see near Bristol TN/VA.
There are plenty of easy hikes, as well as a few moderate, and one or two strenuous hikes for those who are serious about spending all day hiking to see a spectacular waterfall.
Most of these waterfalls are concentrated across the Virginia state line. But don't worry, most of them are within an hour's drive.
So, if you're looking for the best waterfalls near Bristol, then read this list below! 👇
🌿 Please remember to Leave No Trace and stick to the designated path! 🌿
10 Must-See Waterfalls Near Bristol TN/VA
1. Abrams Falls (Virginia)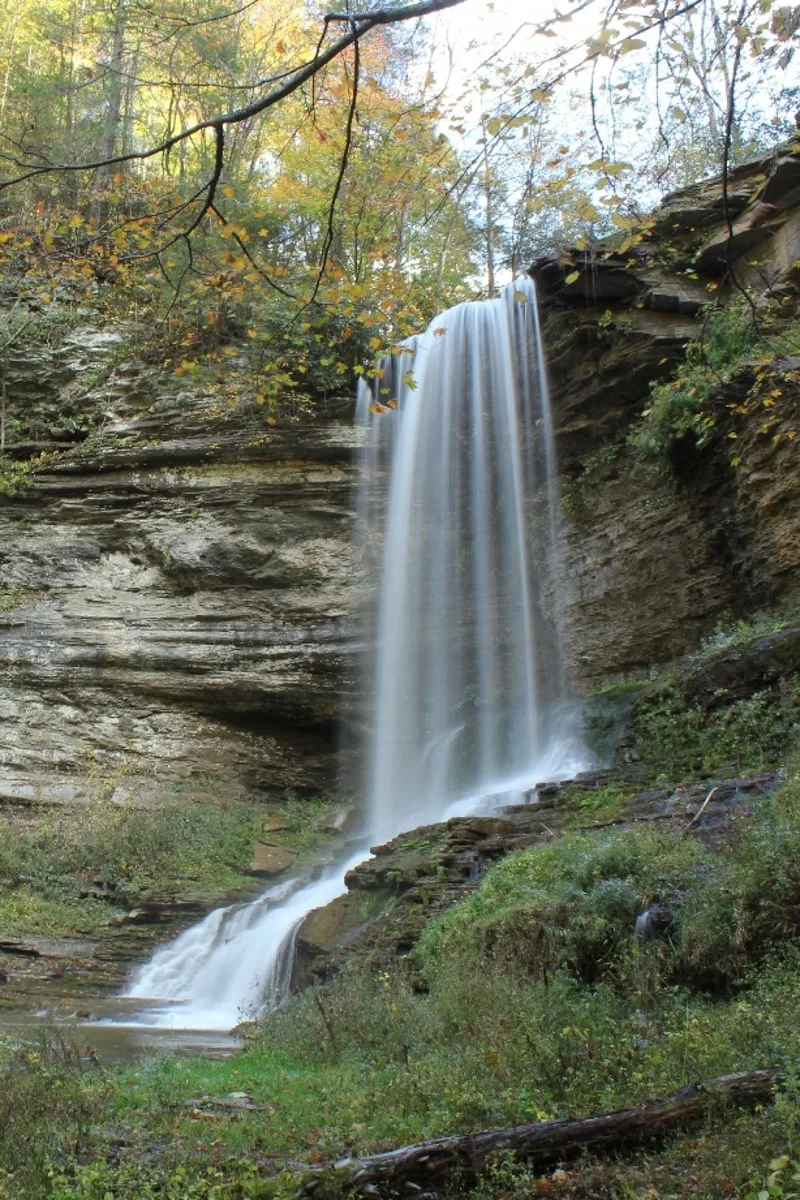 Not to be confused with Abrams Falls from these top Smoky Mountains waterfalls, this Abrams Falls is located just 20 minutes north of Bristol TN/VA, and is one of the most beautiful waterfalls in Virginia!
This 75′ plunge waterfall is currently off-limits to the public as it is on private property. Therefore, before hiking to these beautiful falls, you must obtain permission.
You can do so by submitting a request form here.
We do NOT recommend attempting to hike this trail without permission from the owner as it's against the law to trespass.
If you do obtain permission to hike, please take caution as multiple people have been injured or even died while hiking this trail. Please take caution and stick to the marked trail.
2. Little Stony Falls
Little Stony Falls is a great waterfall to visit in Virginia that is not too far from Bristol.
You'll see 3 different waterfalls along the trail (depending on the trail you hike), the 3rd one being the most beautiful, especially after heavy rainfall.
There are two options for getting to the falls — an easy route and a moderately difficult route.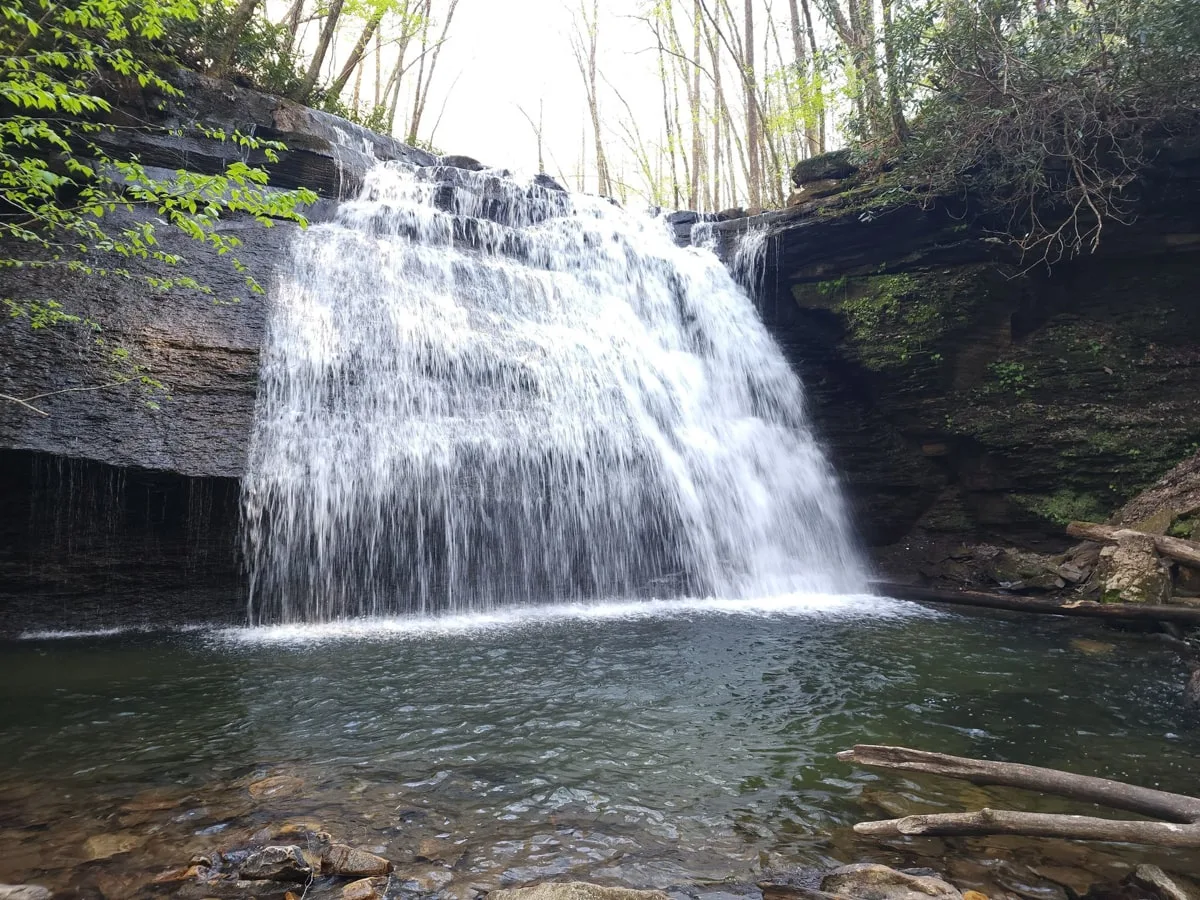 Little Stony Falls — Northern Trailhead (Easy)
If you're looking for a quick and easy hike to the Little Stony Falls, follow the Northern Trailhead which is approximately a 1-mile hike there and back. You'll find the trailhead at the end of Route 71.
If you visit during the months of May or June, you'll be more likely to see the rhododendrons and mountain laurel plants in bloom, making the waterfall look even more majestic.
Little Stony Falls — Hanging Rock Trailhead (Moderate)
The Hanging Rock Trailhead is a more difficult hike and is approximately 6 miles roundtrip. However, if you're looking for less foot traffic then you may enjoy this peaceful hike.
You'll find the trailhead at Hanging Rock Recreation Area, where you'll begin the 2.4-mile hike. Parts of this hike are difficult, as you'll be climbing over rocks and rough terrain. Make sure you're wearing good hiking boots for this hike!
There are a few areas to swim along the creek, but the best place to cool off will be once you reach the main attraction of Little Stony Falls.
3. Devils Bathtub
The Devil's Bathtub is one of the best waterfalls in Virginia and is known by many for its beauty as well as its frigid cold temperatures. They do call it the Devil's Bathtub for a reason! The bathtub itself is crystal clear blue, fed by a small waterfall.
To get to this magical ice pool, you can either hike the Devil's Bathtub Loop Trail which is approximately 7.2 miles. Or if you're looking for a shorter (but more traveled) trail, go left at the sign and hike approximately 4 miles there and back.
You will cross over many creeks (over 13), so we recommend visiting the Devil's Bathtub when it's not been raining, making it more difficult to cross.
While you're in the area, also check out Jones Hollow Falls.
PS — Dogs are welcome on this trail.
Also Read: 9 Awesome Waterfalls Near Johnson City, TN
4. Gentry Creek Falls
On the border of Tennessee, North Carolina, and Virginia is a small town called Laurel Bloomery where you'll find Gentry Creek Falls.
Gentry Creek Falls is a must-visit waterfall in Tennessee, and once you visit you'll see why. These falls are two-tiered and cascade over 60 feet to the rocks below.
Although the hike is moderate, you will end up crossing the creek over 20 times. Your feet will more than likely get wet, so we recommend bringing a backup pair of socks and shoes.
Dogs are welcome to hike here, as long as they are leashed.
5. Tank Hollow Falls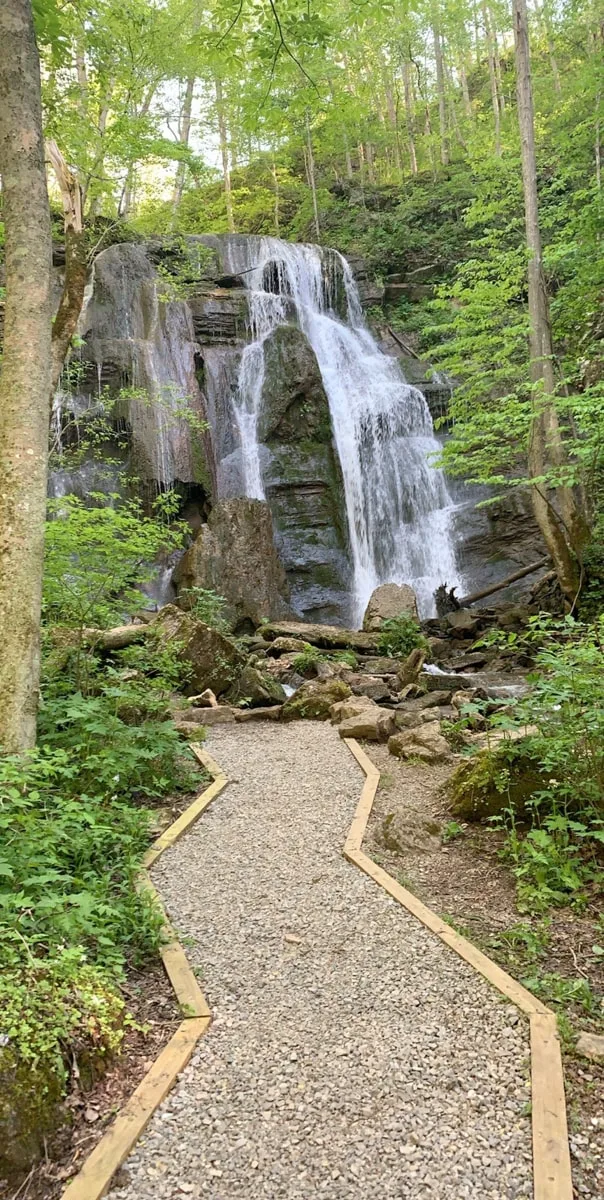 One of the easiest waterfalls to hike to near Bristol is at Tank Hollow Falls. This 60-foot waterfall is only a few minutes from the parking lot at the end of a graveled path.
There are a couple of picnic tables near the falls, so don't hesitate to pack a picnic!
These falls are great for all skill levels, including kids and your grandparents. The path is graveled and there is a place to sit once you reach the falls.
If you're looking for more falls while visiting this area, also check out Big Falls (and more) at the Pinnacle State Natural Area Preserve just 20 minutes from Tank Hollow Falls. The Pinnacle covers over 800 acres and contains more than 4 miles of hiking trails.
6. Steele Creek Park Falls/ Rooster Front Park Falls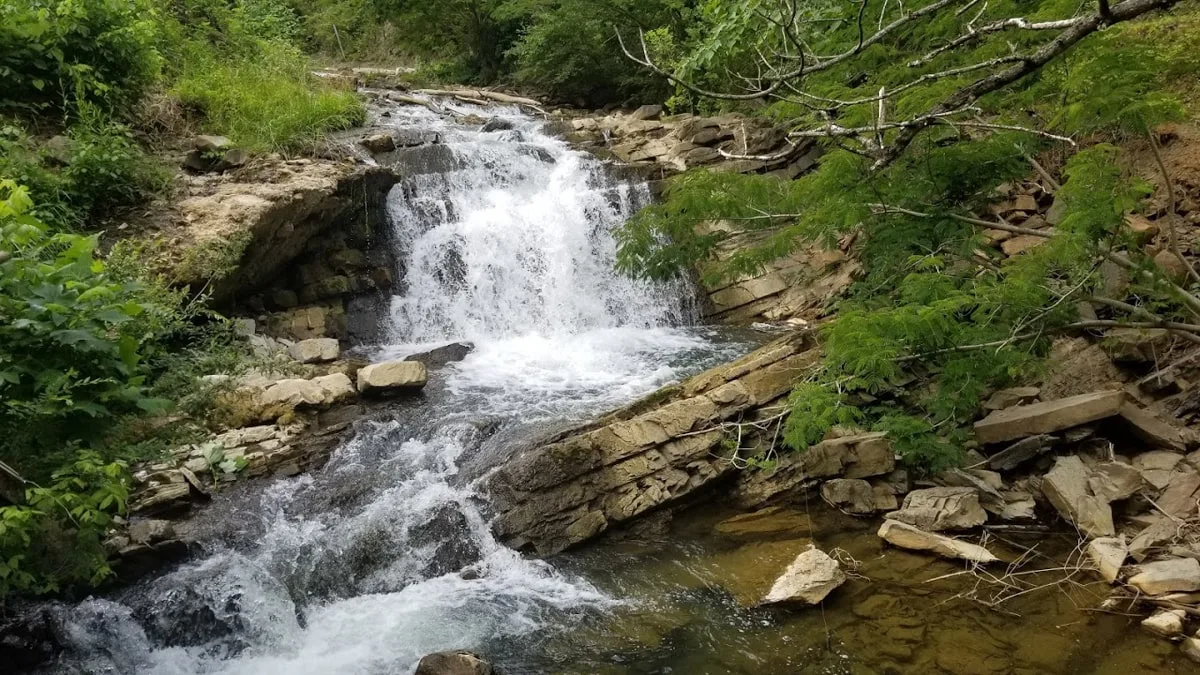 These falls can be found in Rooster Front Park, part of Steele Creek Park in Bristol TN. These falls are small and don't appear to have an official name.
To get to this waterfall, park at Rooster Front Park and walk along Lakeshore Trail (not Lake Ridge Trail). Cross the bridge on your left and the waterfall will be just a couple minutes from there.
We recommend visiting the rest of Steele Creek Park while you're here as it's one of the best things to do in Bristol, TN/VA.
7. Blue Hole Falls
Blue Hole Falls is a beautiful waterfall near Bristol TN, just 45 minutes away.
The hike to these falls is short and easy, great for all skill levels. If you'd like to cool down on a hot summer day, the falls splash into a blue pool below that is great for swimming.
We think it's a far drive for such a short hike, so while you're here, check out other great things to do in Elizabethton, TN.
8. Falls of Logan Creek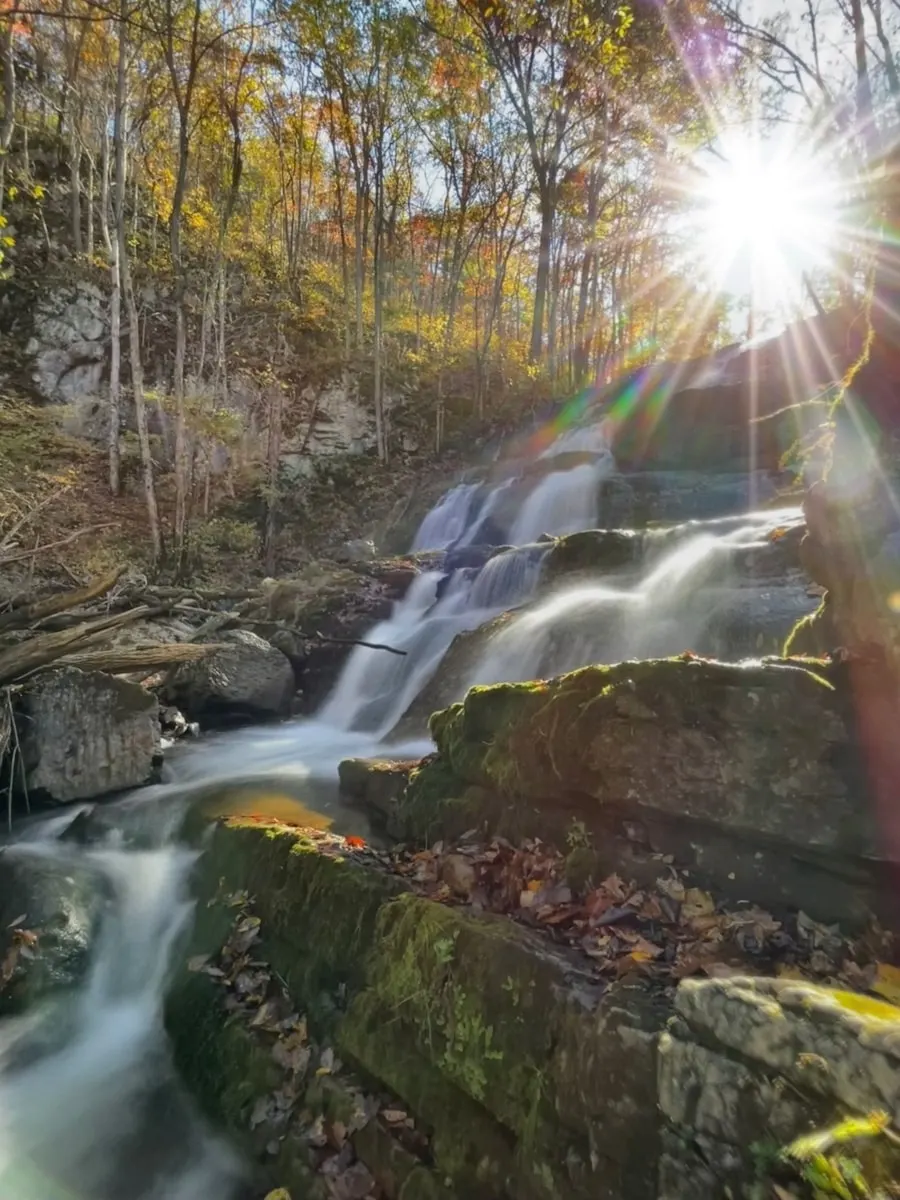 For a very simple hike to a beautiful waterfall near Bristol, check out the Falls of Logan Creek.
You can hear the powerful rush of the waterfall once you get out of your vehicle. You'll only need to walk for just 5 minutes before reaching the falls.
This would be a great waterfall for all skill types, including kids.
9. Garrett Creek Falls
Garrett Creek Falls is a 45-foot-tall roadside waterfall.
Although we think the hike is part of the fun, this waterfall is still beautiful to visit.
The waterfall itself is on private property, so unfortunately, you can only view it from the public road.
We don't recommend a special trip to see these falls, but if you're in the area check it out!
After viewing the falls, spend the day exploring all the things to do in Abingdon, VA, and check out one (of many) of their delicious restaurants.
10. Estella Falls
We don't think it's worth a special trip as the falls can be seen from the road, but if you're in the area of Damascus, then check out Estella Falls.
These falls are beautiful and very powerful after heavy rain. They are also located right near the Appalachian Trail, making a great stop if you plan on hiking. 🥾
Looking for places to hike? Also read: Where to Hike Near Johnson City: 27 Best Hiking Trails
What do you think about this list of waterfalls near Bristol TN? Have you visited any waterfalls near Bristol TN/VA that should be on this list? Let us know in the comments!
Featured Image Credit: Lee McNeil