Whether you're going out on a first date or keeping the romance alive after years of marriage, there are lots of great Knoxville date ideas to try!
With everything from amazing restaurants and breweries to awesome hiking trails and fun guided tours, Knoxville has plenty of options for every couple.
Let's jump into Knoxville's most fun and romantic things to do for couples, so you can start planning the perfect day in this beautiful historic city!
Fun Date Ideas for a Knoxville Romance
From tried-and-true classics to things you may have never thought of, here are 10 unique and romantic things to do for couples in Knoxville!
1. Stroll the Knoxville Botanical Garden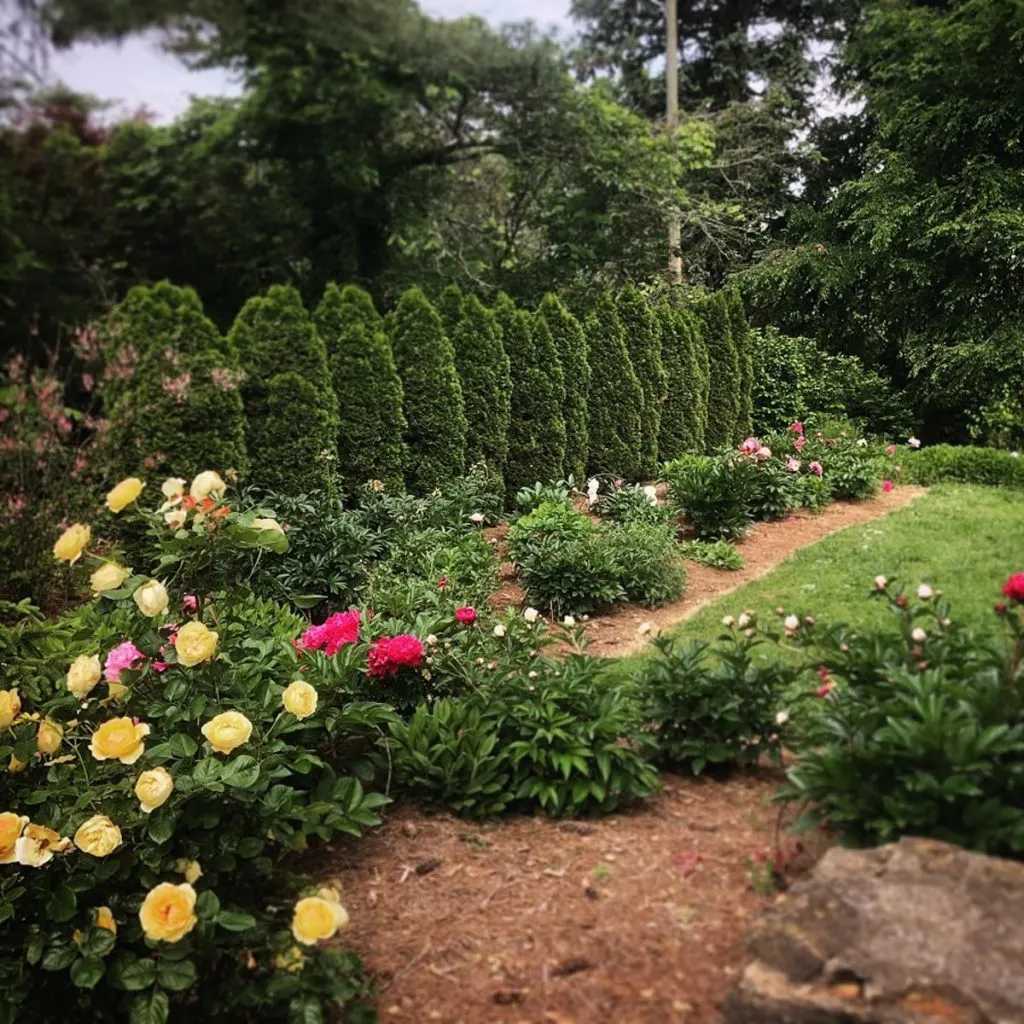 Open year-round, the Knoxville Botanical Garden is a great way to spend a fun afternoon out on a budget.
The 47-acre garden is open from sun up to sun down and best of all, it's totally free!
Couples can explore eight individual gardens, each with its own unique flair. There's also a bamboo forest and a forest of dogwood trees with a beautiful walking trail.
This picturesque spot is one of our go-to picks for Knoxville date ideas, perfect for a picnic, a romantic walk, or just a peaceful escape!
In addition to regular operating hours, the botanical gardens also host several special events. A few highlights include seasonal festivals, guided walks, and gardening workshops.
Note that admission is free, but donations are accepted (and highly encouraged!).
2. Explore Some of Knoxville's Trendy Breweries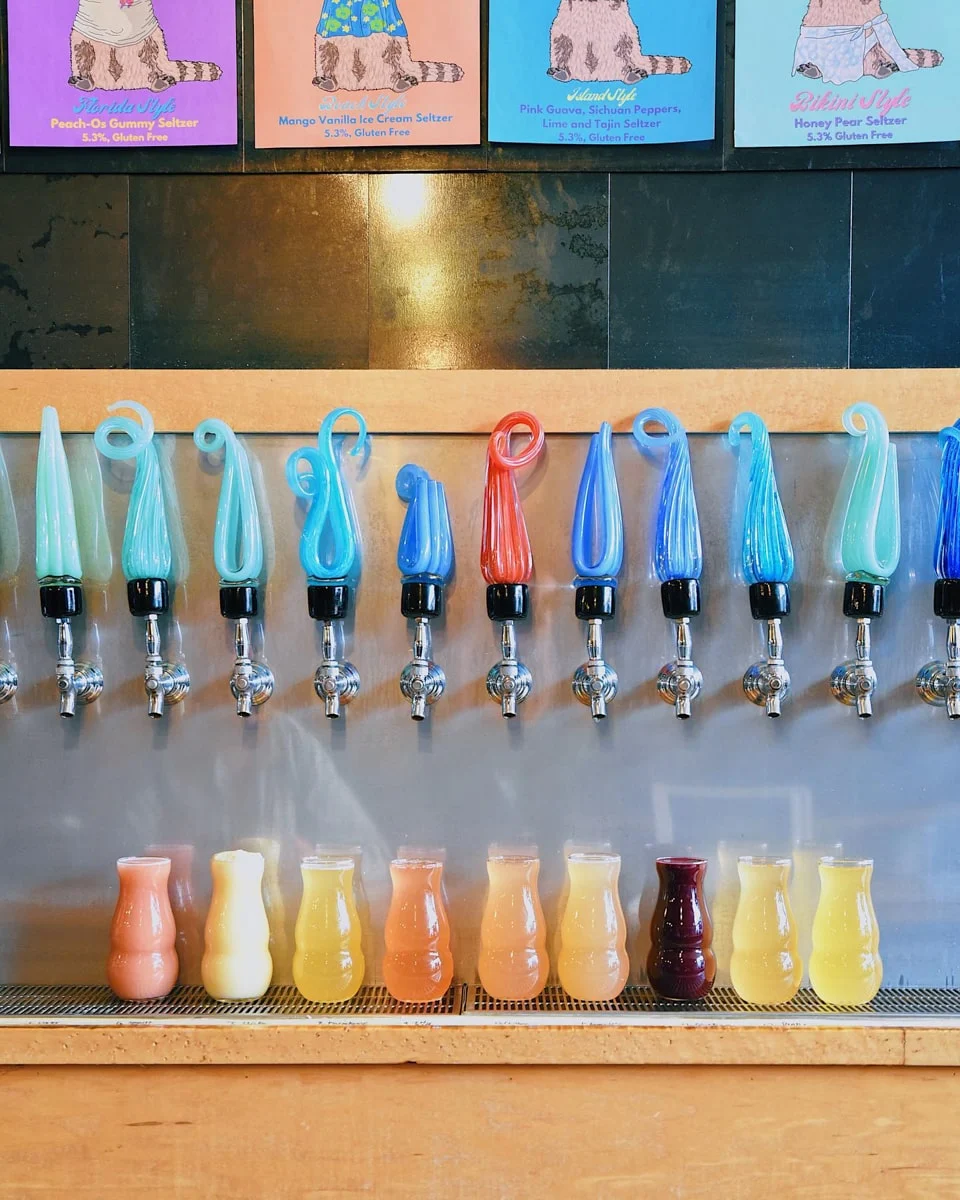 Beer lovers will be delighted to learn that Knoxville is home to 26 craft breweries. Better yet, many of them are within a few blocks of each other!
Not only does each of them offer unique beers, but they all have totally different vibes. Some breweries have cozy, intimate tasting rooms where you can enjoy a flight or two. Others have more of a lively, traditional bar feel.
To get a very literal taste of the city's brewery scene, here's one of our favorite Knoxville date ideas: brewery hop!
Start by picking up a Knoxville Ale Trail Passport from a participating brewery.
Then, hop from brewery to brewery and get a passport stamp from each one.
As you accumulate stamps, you can redeem them for prizes! 🌟
This is a fantastic and fun way to experience Knoxville's brewery scene, encouraging you to visit new places! Some breweries also offer tastings or behind-the-scenes tours, so be sure to look into that!
If you're more of the organized tour type and not so much a DIY-er, add a brewery tour to your Knoxville itinerary. With Knox Brew Tours, you can choose between a walking or hop-on, hop-off bus tour.
3. Get Lost in Food Truck Heaven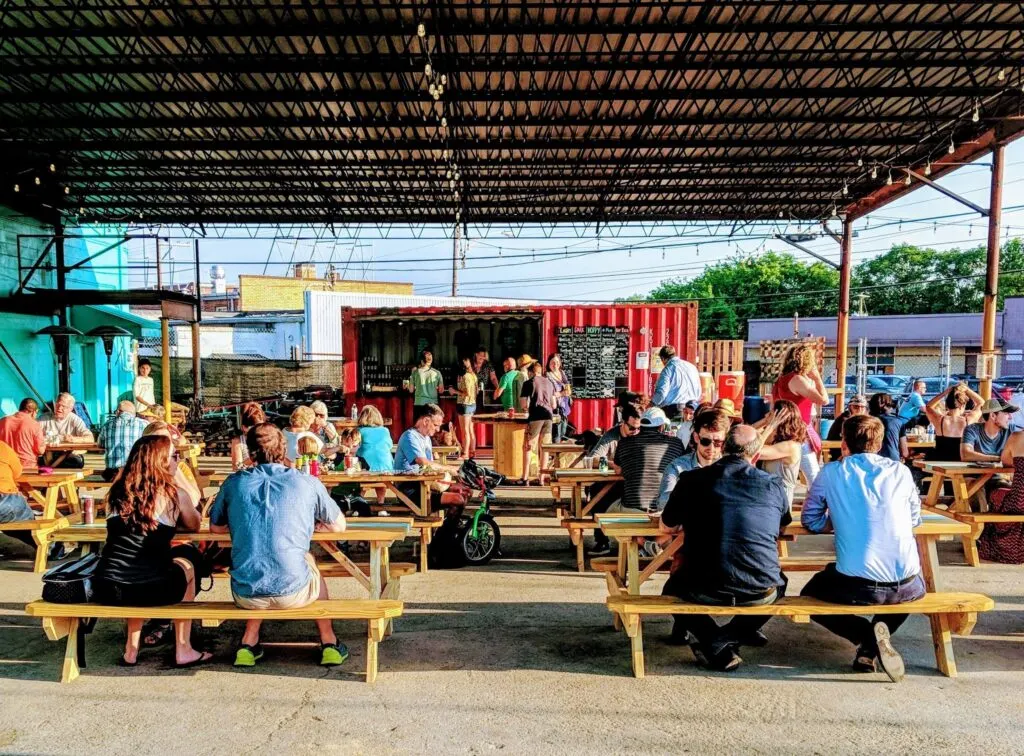 Lots of foodies have a special spot in their hearts for food trucks. If you enjoy exploring different flavors and cuisines, Central Filling Station is one of the best Knoxville date ideas!
As its name implies, this food truck park allows you to sample offerings from several of Scruffy City's best food trucks.
The trucks change frequently, and there are typically 3-5 at Central Filling Station each night. Even if you make this a recurring weekly date night, you'll always find something new to try!
The onsite bar offers more than 20 beers, both local craft varieties and major brands. Pairing one with a new food truck dish is one of the most romantic things to do for couples! In our humble foodie opinion, anyway!
Just some of the offerings from the 50+ rotating food trucks include:
Tacos
Ramen
Burgers
Fried chicken
BBQ
Hibachi
Gourmet hot dogs
Juices and acai bowls
Donuts, cookies, and ice cream (we all know the best Knoxville date ideas involve dessert!)
Central Filling Station is open Wednesday through Sunday. Check the calendar to see when your favorite trucks will be there…or just wing it and discover something new!
Whatever you do, bring your appetite!
4. Catch a Vols Game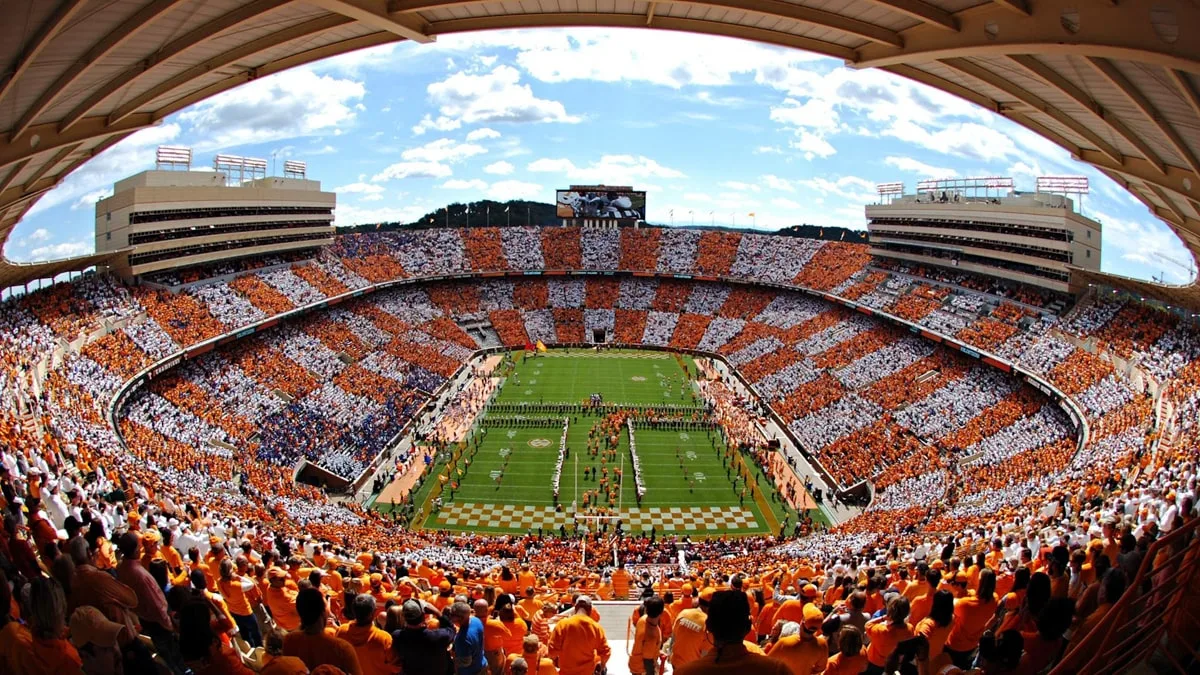 While Knoxville isn't home to any major league sports teams, the city has plenty of hometown teams to cheer on. And you know how the saying goes — couples who watch sports together, stay together.
Okay, maybe that's not it exactly, but a bit of a friendly competitive spirit is a great addition to date night!
The University of Tennessee Volunteers (affectionately called the "Vols" around these parts) have several sports teams, although football is by far the most popular.
In fact, UT football probably has a bigger following the NFL's Tennessee Titans. (Just don't tell Nashville that!)
Attending a Vols home game is super convenient, since Neyland Stadium is practically right downtown. The atmosphere is also fantastic!
Sure, screaming "I bleed orange!" and "How 'bout them Vols?" isn't one of the most romantic things to do for couples in a traditional sense… but it sure makes for a memorable date night!
UT's baseball and basketball teams are also popular. Plus, the vibe at those games is (slightly!) less rowdy.
Aside from the university's sports teams, Knoxville has a minor league hockey team. The Ice Bears play at the Knoxville Civic Auditorium and Coliseum, which is on the edge of downtown.
The team's home schedule is jam-packed with different theme nights, setting the scene for a fun and unique date. Some examples include Superhero Night, Wizard Night, Star Wars Night, and several fundraisers.
Baseball fans may be disappointed that Tennessee doesn't have an MLB team. However, the Tennessee Smokies minor league team definitely scratches that itch!
Grab some classic stadium snacks and beers, and get to know each other between exciting plays. The Smokies are an AA Affiliate of the Chicago Cubs, so you'll also get to watch players working their way up to the Majors!
5. Take a Romantic Riverboat Cruise on the Tennessee River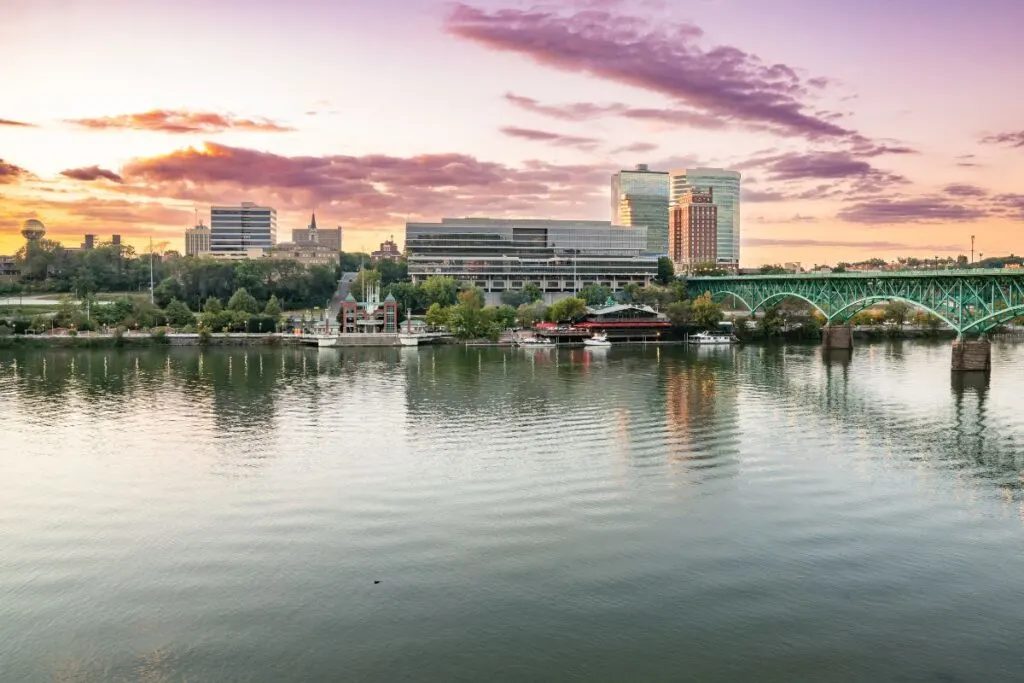 The Tennessee River runs right through the city of Knoxville, and this stretch is extraordinarily scenic. It's beautiful from any angle, but one of the best ways to enjoy it is to get on the water.
To do exactly that, one of the most romantic things to do for couples in Knoxville is take a riverboat cruise. Tennessee Riverboat Company offers several options on its authentic paddlewheel.
Choose from a variety of cruises, such as lunch or dinner, laid-back sightseeing, or blues music.
There's even a late-night party cruise with live music, and several themed cruises and special events throughout the year.
What could be more romantic than enjoying a nice meal or cocktail as you watch the sunset from the river?! This is also a lovely way to enjoy the city, offering a totally new perspective.
Cruises last 1.5 to 3 hours, depending on which option you choose — the perfect amount of time for a date. The boat is also fully enclosed and has air-conditioning and heat, so you can take a cruise any time of year.
6. Get Adventurous for Dinner
While Knoxville has plenty of seriously delicious restaurants, one of the most unique meals in the entire city comes from Lonesome Dove.
The restaurant offers lunch and dinner menus featuring some of the best hand-cut steaks in Knoxville. However, Lonesome Dove's stellar reputation comes from its more adventurous options.
Several wild game options add bold flavors and a truly unique twist to upscale dining. The seasonal menu features dishes such as bison steaks, elk loin, rabbit ravioli, wild boar ribs, venison, and rattlesnake sausage.
Lonesome Dove's chef and owner has more than 15 years of experience creating and perfecting what he calls "Urban Western cuisine." This unexpected but delicious mash-up marries the wild game dishes with classics like steaks, pork chops, and fish.
The restaurant also offers an extensive wine list and craft cocktails, all inspired by local Southern Appalachia flavors that are truly unique to Knoxville.
If you're hoping to impress or looking for a way to switch things up, dinner at Lonesome Dove is one of the best Knoxville date ideas.
7. Hunt for Ghosts Together
If you aren't afraid to get a little spooky, go on a ghost tour with Haunted Knoxville Ghost Tours. Potential bonus: your date has a reason to snuggle up close to you!
Knoxville has TONS of fascinating history and, like many historic Appalachian cities, there seems to be a bit of paranormal activity to explore.
Haunted Knoxville Ghost Tours encourages you to do exactly that, but these aren't just any ghost tours. Participants actually do some of their own investigative work!
Working together as a team, tour groups go to different potentially haunted sites throughout the city. The goal is to confirm, through evidence, that there is indeed some paranormal activity.
Under the guidance of paranormal experts, you'll get to use real equipment to try tracking down some ghostly spirits.
If you're brave enough, or at least have a partner willing to protect you from the unknown, this tour could be an exciting, unforgettable date!
On the flip side, if you're interested in ghosts but not necessarily the teamwork or interactive aspects, there's a more traditional daytime ghost tour.
8. Go for a Romantic Scooter Ride
Want to laugh and try something new with your date…and do it on a budget? Rent an electric scooter to explore Knoxville!
They're widely available all around the city and ultra-affordable. Plus, typically all you need is a valid drivers' license and to download an app. In Knoxville, LINK and BIRD are the two major players.
Riding scooters is a fun and affordable way to get around and do some sightseeing. It's especially fun after dark when the city lights come to life, and during the fall months when the leaves begin to change colors.
Note that with the two main apps, you can ride until 11:00 pm.
Local tip: wait until most of the rush hour traffic dies down, so the roads are less crowded (i.e.; safer!).
9. Go Camping in The Great Smoky Mountains
This is one of the best Knoxville date ideas for couples who love the outdoors and have a sense of adventure!
If you're willing to get out of the city, make the easy drive (it's less than one hour!) for a quick overnight or weekend camping trip.
Knoxville itself has some great camping, but there's just nothing quite like sleeping in the Smokies!
Spend your time connecting as you hike together, chase iconic Smoky Mountain waterfalls, spot wildlife, and of course, make s'mores. If you're a newer couple, a quick getaway in nature is a wonderful way to get to know each other a little better!
There are plenty of amazing campsites and cabins in the Smokies to pitch a tent, but don't feel bad if you prefer a bit more comfort. No one said you have to "rough it!"
You can still enjoy The Great Outdoors, even if you're glamping. You could camp in an RV or even rent a cabin. There are some absolutely stunning cabins available for rent in the Smokies and Knoxville area!
10. Take Your Date on a Impromptu Road Trip
Speaking of getting out of town, that's another of the best Knoxville date ideas! That may sound a bit contradictory, but Knoxville's unique location puts it within easy access of so many cool destinations!
Gatlinburg, Pigeon Forge, and Sevierville have all become major hotspots and fun day trips from Knoxville, and for good reason.
All three towns are within a short, scenic one-hour drive outside of Knoxville. En route to Great Smoky Mountains National Park, each one offers countless things to do (and see and eat and drink!).
Regardless of where you head on your day trip date, each town truly has something to satisfy everyone. There are so, so many options, but here are just a handful of ideas:
Create your own distillery tour (but please be safe and responsible driving!)
Ride a mountain coaster
Check out jaw-dropping views from the Gatlinburg SkyBridge (among other fun things to do in Gatlinburg)
Experience zorbing in Pigeon Forge, at the country's only zorbing park
Visit Dollywood
Grab brunch in Gatlinburg, then hike in the national park
In the summer, pretend you're kids and make a splash at Soaky Mountain Water Park
Looking for more Knoxville travel inspiration for you and your date?