Tucked in the heart of East Tennessee, Knoxville is a charming city with the quaintness of a mountain town but with urban amenities, such as an abundance of great coffee shops.
And being just an hour north of Great Smoky Mountains National Park, less than three hours from Nashville, and within two of Chattanooga, caffeine is a must!
Spending a weekend in Knoxville means wandering countless museums and galleries, strolling Gay Street and Market Square, marveling at mountain views and the Tennessee River, and cheering for the Vols.
In between, though, you'll definitely want to familiarize yourself with and stop by one of these best coffee shops in Knoxville.
But with the entire city teeming with choices, it can be tricky deciding where to head first. That's why we're spilling the beans on ten Knoxville coffee shops you shouldn't miss!
Check out our recommendations, from popular spots downtown to off-the-beaten path gems in Old City, and everything in between, below!
10 of the Best Coffee Shops in Knoxville
1. Mahalo Coffee Roasters
Address: 513 Union Ave, Knoxville
Hours: Mon-Thurs 7am–6pm, Fri & Sat 7am–7pm, closed Sun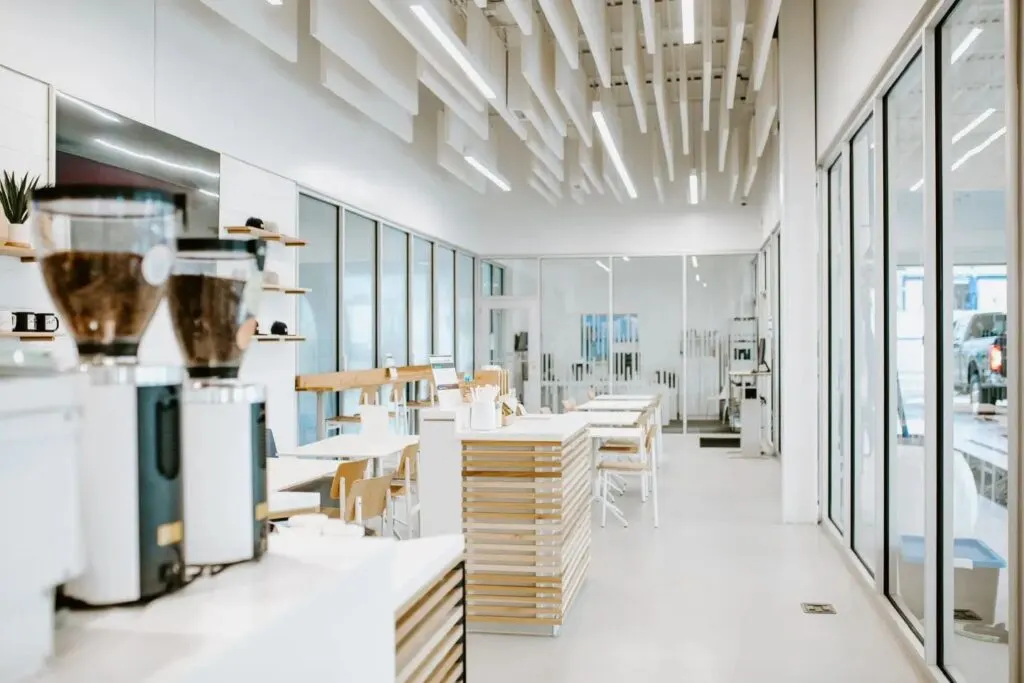 After years spent on the road, the Baynes family decided to return to their roots in Knoxville. Once here, they brewed up the concept of Mahalo Coffee Roasters.
Named for the Hawaiian word for "thank you," in honor of one of the family's favorite places, Mahalo aims to capture the essence of The Aloha State.
Since the coffee is inspired by sunny island culture, the family first traveled to Australia. There, they learned how to craft the perfect cup of Joe. The shop sources beans from Brazil, Costa Rica, Ethiopia, and beyond, with offerings changing regularly.
Mahalo's cheery baristas are always on hand to make personalized recommendations. With a family-friendly vibe, it's also one of the best coffee shops in Knoxville to visit with kids. In fact, little ones can sip on decaf Babyccino's alongside their parents!
Union Ave is the most convenient of the three locations for visitors. However, it's worth stopping into the Powell or Alcoa branches if you're further from downtown.
2. Frothy Monkey
Location: 419 S Gay St, Knoxville
Hours: Mon-Sat 7am–9pm, Sun 7am–4pm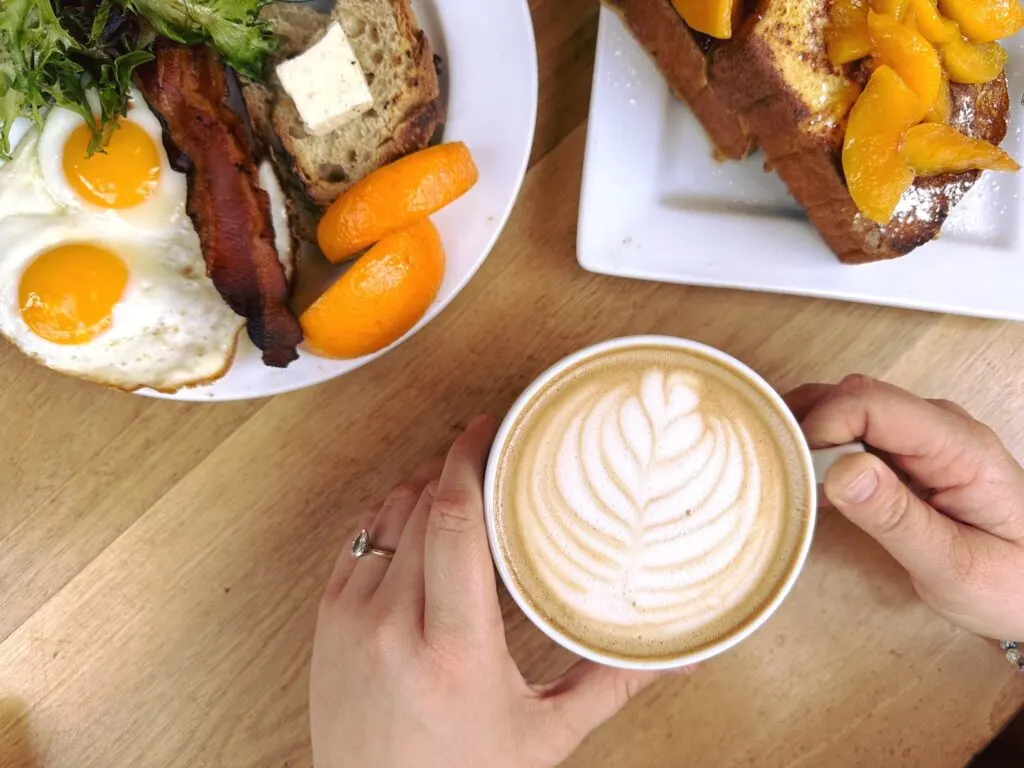 Hailing from Nashville, word soon got out about Frothy Monkey in Knoxville. Now, this boutique chain has eight cafes in Tennessee and Alabama.
The downtown shop is widely considered one of the best coffee shops in Knoxville, conveniently located on lively Gay Street.
Frothy Monkey's downtown joint is spacious and hip with high ceilings and a laid-back vibe.
Partnering with free-trade suppliers and farmers around the world, the shop roasts its beans in-house.
Offerings include drip, pour-over, and cold brew coffee, while there are also some signature espresso drinks. Try the turmeric-based Golden Monkey or the Monkey Mocha, which is prepared with chocolate sauce and banana syrup.
On the food menu, you'll find all-day breakfast, toasted bagels, and fresh-baked pastries. Ingredients are consciously sourced from regional growers whenever possible.
Also Read:

🍳 9 Perfect Spots for the Best Brunch in Knoxville

🍴 Hungry? Here Are The 15 Best Restaurants in Knoxville

🍻 10 Best Breweries in Knoxville
3. Coffee and Chocolate
Location: 327 Union Ave, Knoxville
Hours: Daily 7am–10pm
In the heart of Market Square, Coffee and Chocolate is often cited as one of Knoxville's best coffee shops. Because of its location, it's especially great for resting between sightseeing.
Coffee is available both iced and hot, and there's a huge selection of syrups for those with a sweet tooth. For something with a bit of a kick, the Mexican Mocha gives your tastebuds a wake-up call with its subtle spice.
Whatever you choose, you'll want to pair your Joe with one of the shop's handmade treats. There's always a tempting selection of seasonal, made-in-house truffles, mini cakes, and more.
Colorful French macarons are the house specialty, with flavors ranging from lavender to key lime to dark chocolate orange.
Insider tip: Coffee and Chocolate is on the smaller side, so seats are sometimes hard to come by. However, if luck's on your side, grab a sidewalk table for excellent people-watching.
4. Old City Java
Location: 109 S Central St, Knoxville
Hours: Mon-Fri 7am–6pm, Sat & Sun 8am–6pm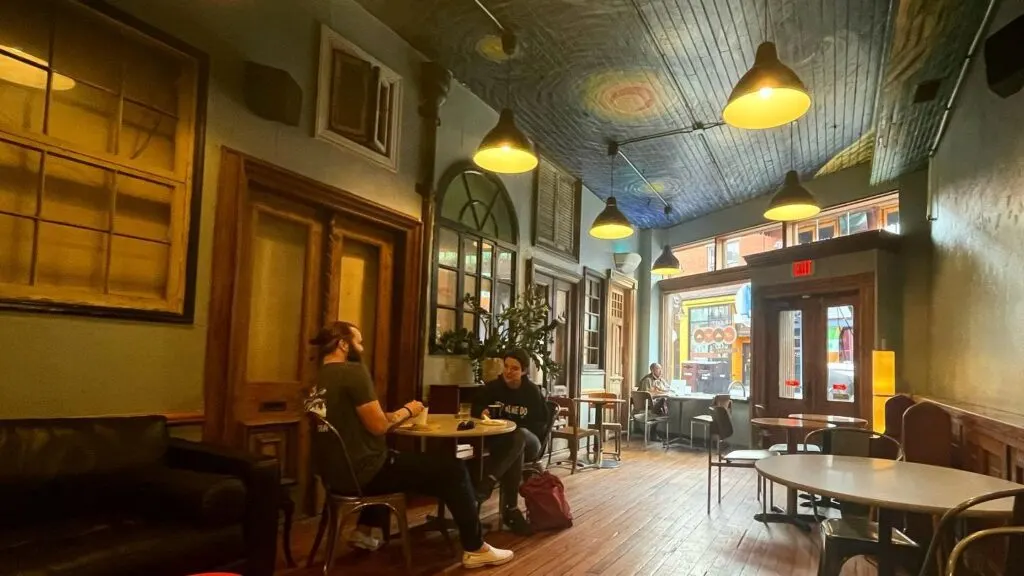 Going strong since 1991, Old City Java welcomes a steady stream of regulars. Its well-known as a great spot for socializing, working, or unwinding with a book.
The cafe, situated in edgy Old City, channels the creative neighborhood's famously eclectic personality.
Exposed brickwork and a ceiling mural of Van Gogh's The Starry Night accent the interior, while scattered tables welcome patrons on the patio.
Prepared by the cup as well as by batch, Old City Java's coffee is rich and flavorful without being bitter.
The summer menu centers around fruitier blends, while spicy cafe miel always makes a welcome return in the fall.
Plus, buttery pastries and sweet treats are baked in-house daily.
If you're exploring any of the nearby galleries, Old City Java is one of the best coffee shops in Knoxville for breakfast beforehand.
5. Capybara Coffee
Location: 2457 University Commons Way, Knoxville
Hours: Mon-Fri 7.30am–6pm, Sat 8.30 am–5 pm, closed Sun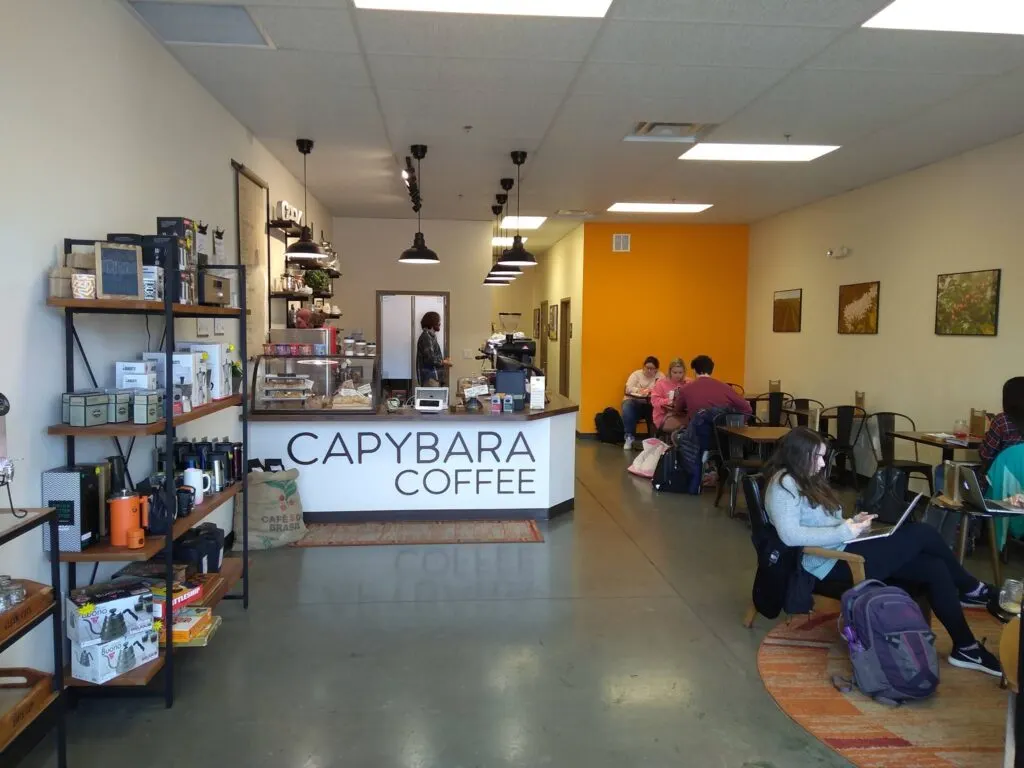 Tucked behind the University of Tennessee campus, Capybara Coffee is the lifeblood for students and faculty. It's also convenient for people visiting the UT Gardens or McClung Museum of Natural History & Culture.
At first glance, the menu of espresso, drip, French press, pour-over, and cold brew drinks looks fairly basic. However, Capybara keeps local patrons on their toes with inventive seasonal beverages.
Made with wild berry sauce, honey, and blackberry whipped cream, the Wild Berries Latte welcomes spring. Similarly, the Candy Cane Mocha is a holiday go-to, with a splash of peppermint syrup and a generous dollop of whipped cream.
While (sadly!) there are no capybaras on the premises, you can snap up a cute branded mug from the gift shop.
Be sure to check out the Knoxville coffee shop's art, too, honoring the world's largest rodent!
6. Awaken Coffee
Location: 125 W Jackson Ave, Knoxville
Hours: Mon-Fri 7.30am–7pm, Sat 8am–7pm, Sun 1–6pm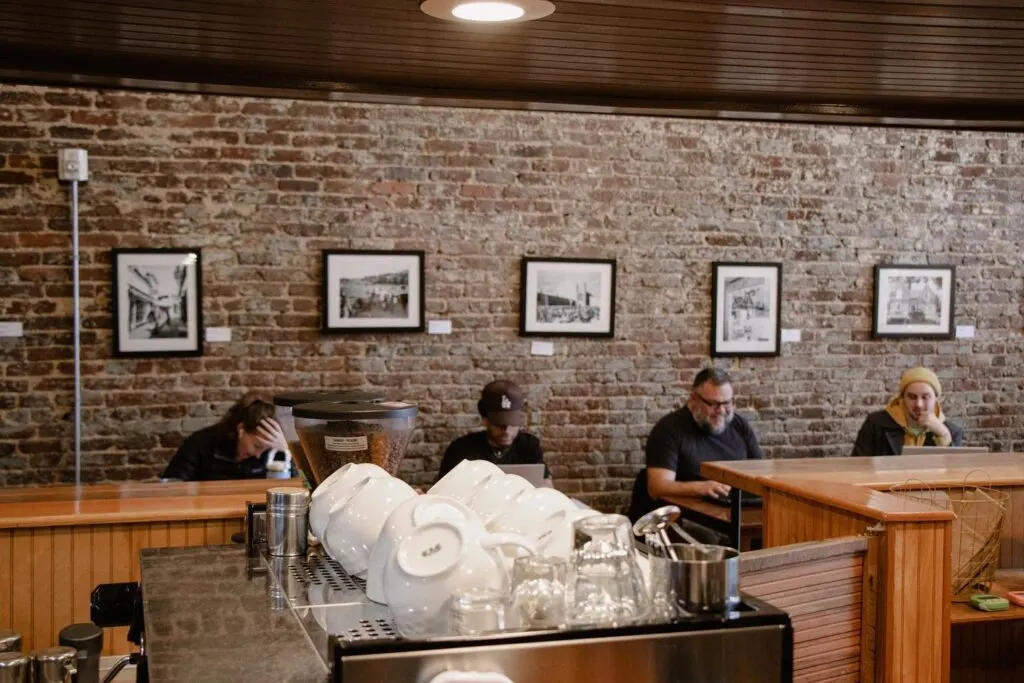 Right around the corner from Old City Java, Awaken is another of the best coffee shops in Knoxville.
Disheveled brick walls and dark wood furniture create a cozy environment for studying, journaling, or reading. Artwork by Knoxville artists and photographers hangs above the tables, some of it for sale.
Awaken releases a brand new drinks menu to reflect each season, incorporating the freshest flavors. Summertime lattes are blended with berries, while fall and winter beverages are all about cozy pumpkin spice and nutmeg.
The signature drink at Awaken is the Honey Bear Latte, which is available year-round by popular demand. Truthfully, it's more like incredible latte art than a drink, and you'll almost want to not disturb it.
In terms of food, take your pick from a fresh-from-the-oven pastry or refuel with a hearty burrito.
7. K Brew
Location: 507 S Gay St, Knoxville
Hours: Mon-Thurs 7am–6pm, Fri 7am–8pm, Sat 7am–8pm, Sun 8am–6pm
What started out as a humble coffee truck dreamed up by two brothers has blossomed into K Brew. Today, Pierce and Michael LaMacchiahas have four coffee shops in Knoxville!
If you're only spending a weekend in Knoxville, don't miss the downtown location.
The cafe is in the lobby of the Embassy Suites by Hilton, one of Knoxville's best hotels, and is glamorously appointed. K Brew's flavored lattes always hit the spot, plus have picture-perfect foam art to complete the experience.
Although the coffee justifies a special trip on its own, don't pass up the chance to try a handmade K Brew New York-style bagel (or three!). Baked daily in the West Hills Bakery, flavors include everything, cinnamon raisin crunch, and chocolate chip.
For an evening pick-me-up, don't miss "Power Hour." Like adult happy hours, it runs from 5–6pm, Monday through Friday, and features $1 drip coffee, cappuccino, and bagels!
Local tip: The North Knox location on Broadway may be a bit further out, but well worth the trek. The indoor-outdoor space is relaxing, and the cafe even has swings!
8. Remedy Coffee
Location: 800 Tyson St, Knoxville
Hours: Mon-Fri 7am–5pm, Sat & Sun 8am–5pm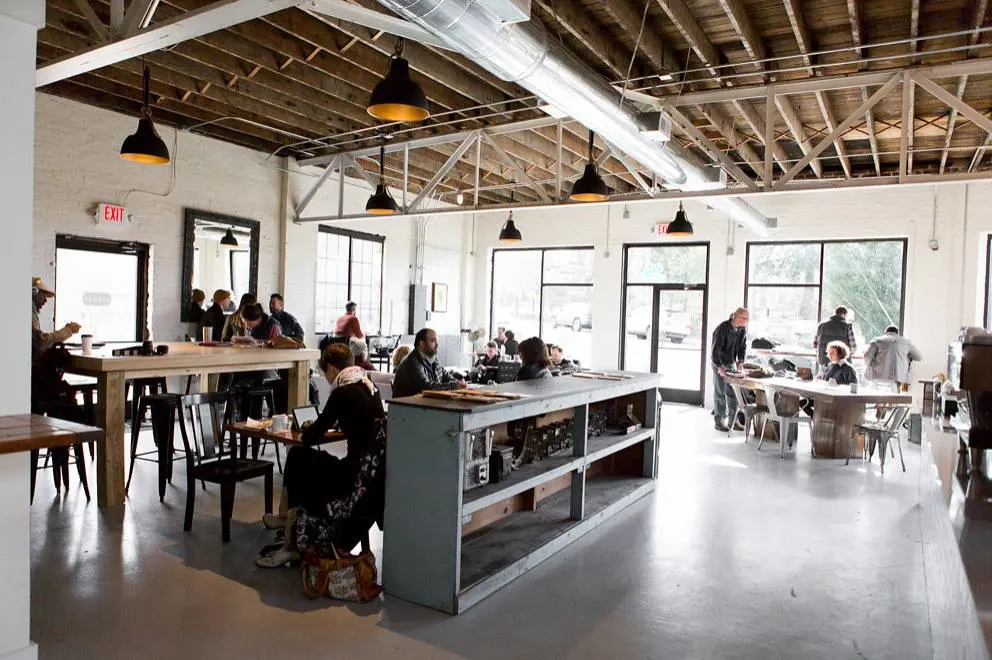 Located just north of the Old City, Remedy Coffee is another Knoxville coffee shop worth the venture out of downtown.
Despite its fairly nondescript exterior overlooking a cemetery, once you step inside you'll be greeted by subway tiles, exposed piping, and ample natural light.
Popular with freelancers living nearby, Remedy Coffee is a laptop-friendly space with tons of tables.
Coffee caters to all tastes, with a mix of frothy lattes, drip coffee, and nitro cold brew. Meanwhile, non-coffee drinkers can peruse an expansive menu of organic loose leaf tea.
Food-wise, the offering is limited to a selection of pastries. However, you're welcome to grab a bagel from the shop next door to enjoy along with your coffee. For its community spirit alone, Remedy is one of the best coffee shops in Knoxville!
9. Honeybee Coffee Co.
Location: 700 Sevier Ave, Knoxville
Hours: Mon-Fri 7am–7pm, Sat & Sun 8am–7pm
This neighborhood-style coffee company has a handful of stores in both Knoxville and Sevierville. The central Knoxville shop is just across the Gay Street Bridge, en route to the Old Sevier district and Suttree Landing Park.
Honeybee Coffee Co. sources the best quality beans from small, independent farms all around the world. They roast these in-house, plus produce their own line of craft beer, which is also available in the Sevier Ave. shop.
Friendly baristas are always happy to make tailor-made recommendations. And you won't hear "mocha," but instead popular drinks like the apricot-lapsang souchong cortado and the elderflower pink matcha latte.
In fact, Honeybee deserves a special mention for its matcha in general, because it's fantastic!
Check the counter for the day's fresh-baked goodies, which typically include a tempting mix of muffins and cookies.
10. Likewise Roastery Cafe
Location: 1209 E Magnolia Ave, Knoxville
Hours: Mon-Fri 7am–5pm, Sat 8am–3pm, closed Sun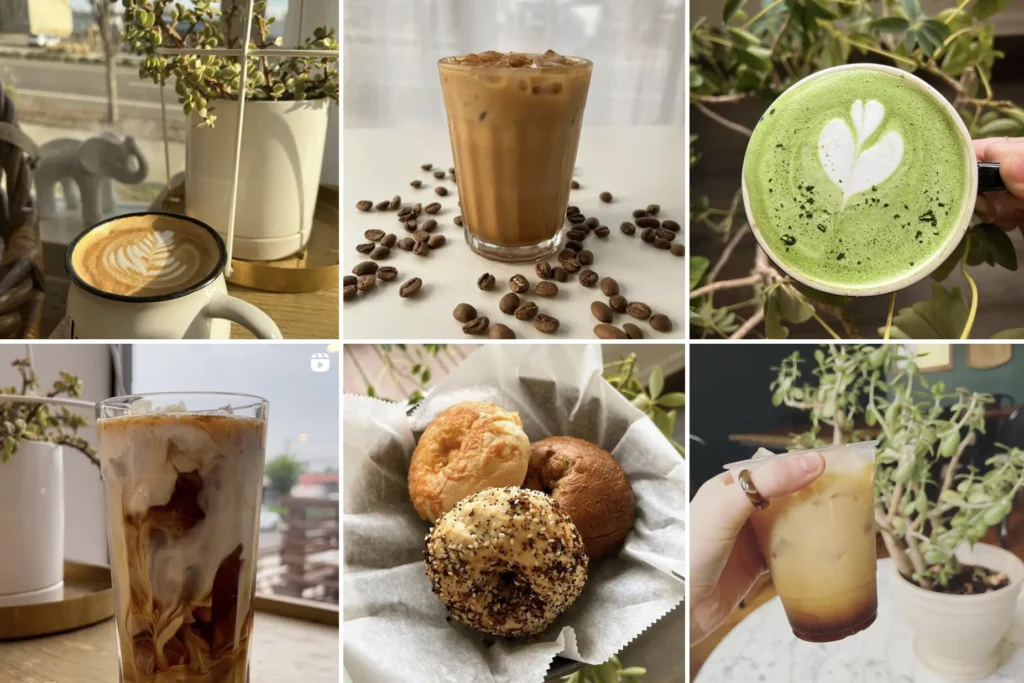 Likewise Coffee is another coffee shop in Knoxville that requires a bit of a journey out of downtown.
The cafe has a homey vibe, courtesy of the variety of seating. Make yourself comfy at the laptop-friendly tables, plush couches, or retro armchairs.
Coffee is made with your choice of whole or plant-based milk, with a range of brews and espresso drinks to choose from.
The seasonal coffees and iced teas are always worth checking out, especially when they're labeled "limited time." To accompany your drink, add a muffin or a build-your-own sandwich, which are offered all-day.
One of the main reasons Likewise is one of the best coffee shops in Knoxville is that it's charitable. All proceeds go to Raising a Voice. This Knoxville-founded non-profit stands against trafficking, while also creating a safe, welcoming space for the East Knoxville community.