Looking for the best RV parks near Knoxville for your next outdoor getaway?!
Our guide has you covered, with a variety of Knoxville RV campgrounds catering to every type of camper and explorer.
From couples who enjoy "roughing it" to families and larger groups who prefer to have every creature comfort close at hand, to campers eager to turn their RV trip into an activity-filled vacation and those simply looking to unwind while the birds chirp — there's a Knoxville RV park perfect for you.
And with the city's ideal location close to the Great Smoky Mountains, Pigeon Forge, and Gatlinburg, staying at an RV park is a great way to experience all the area has to offer in one perfect Knoxville weekend.
Enjoy Knoxville's best tours and exploring waterfalls near Knoxville by day, then end your day relaxing in a tranquil campground and sleeping under the stars!
Without further ado, here are 10 of the best RV parks near Knoxville! 🚐
10 Very Best RV Parks Near Knoxville
From waterfront campsites to well-known hot spots with every imaginable amenity and hidden gems, the best RV parks near Knoxville have a little something for everyone.
Note that the campgrounds listed here cater primarily (and in some cases, strictly) to recreational vehicles, rather than tents.
Also, many Knoxville RV parks are seasonal, opening in April or May and closing in October or November.
1. Loyston Point Campground
Location: 30.5 miles north of Knoxville
Campsite type: RVs, tents, cabins
Nightly rates: $38 (waterfront), $42 (non-waterfront)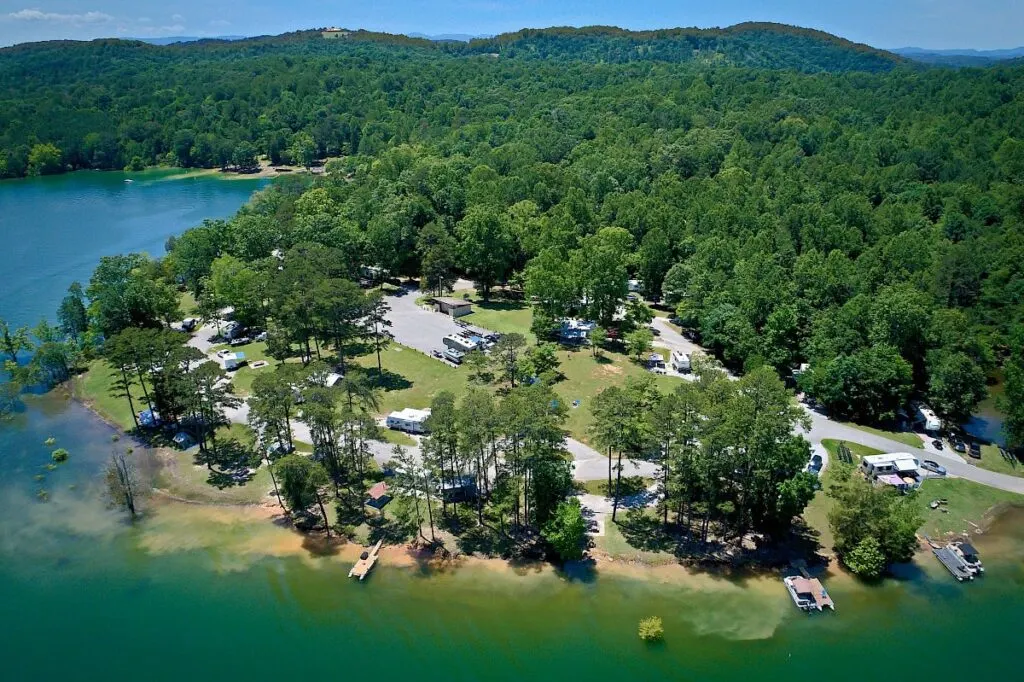 Located on the shores of Norris Reservoir, Loyston Point Campground is one of the best RV parks near Knoxville with waterfront sites.
In the foothills of the Appalachian Chain, the campground is dotted with trees and there are plenty of grassy areas to set up a picnic or relax with a good book.
There's also a boat dock where campers can launch their own kayaks or stand-up paddleboards. For anyone who doesn't have their own, rentals are available onsite.
If you visit Loyston Point Campground during the summer, you can take a dip in the roped-off swimming zone at the day-use area.
Most of the 64 RV sites have electric hookups, while all spaces are nicely spread out to give everyone a sense of privacy. The campground also has heated showers and flush toilets, all of which are kept spotlessly clean.
Another bonus of choosing this picturesque Knoxville RV campground: Dogs are welcome to share in their humans' camping adventure! 🐾
Last but certainly not least, the managers have a fantastic reputation for being lovely and greeting guests like family.
2. Soaring Eagle Campground
Location: 28 miles west of Knoxville
Campsite type: RVs, tents, storage
Nightly rates: Varies, $28 to $40+
A mere 30-minute drive from downtown, Soaring Eagle Campground is practically in Knoxville's backyard.
Situated on the banks of the Clinch River, each campsite has its own picnic table and fire pit. Soaring Eagle is known for its peaceful environment, with a fuss-free primitive area kept separate from the more developed RV sites.
What makes Soaring Eagle one of the best RV parks near Knoxville is its excellent array of amenities.
Ran out of propane? They sell it onsite.
Ate all your s'mores the first night (been there…)? You can purchase all the necessary ingredients at the campground's general store.
Want to update your social media story? Most campsites have strong, free Wi-Fi.
Seasonally, enjoy swimming in the saltwater pool, exploring nearby hiking trails, going fishing, and attending seasonal events with a family-friendly vibe. Bring the kids and bring the dogs; all are welcome!
In addition to standard nightly campground fees, Soaring Eagle offers discounted monthly rates and a variety of RV storage options.
3. Dumplin Valley Farm RV Park
Location: 22 miles east of Knoxville
Campsite type: RVs
Nightly rates: Call to inquire
Less than 20 minutes from the city center on Watts Bar Lake, Dumplin Valley Farm RV Park is another great option for a quick weekend getaway.
Fun fact: this campground was created out of a need to accommodate patrons of the popular Annual Dumplin Valley Bluegrass Festival, held every September. However, over time, it evolved into one of the best RV parks near Knoxville for seasonal camping.
RV sites range from large pull-through and back-in sites with a choice of 30- or 50-amp, or just water and electricity. Community restrooms with showers are maintained in pristine condition.
Dogs are welcome and even encouraged, but must remain leashed at all times when on the campground.
In addition to festival week, the campground also holds a special "Picking Weekend" in May for laid-back pickin' and jammin'. The premises are also available to host special events including birthdays, weddings, and corporate functions.
Note that while many Knoxville RV parks offer long-term camping, Dumplin Valley Farm does not. Also, tents are permitted ONLY during festival week in September.
4. Southlake RV Park
Location: 7 miles south of Knoxville
Campsite type: RVs
Nightly rates: $38 (water and electric) or $48 (full hookup)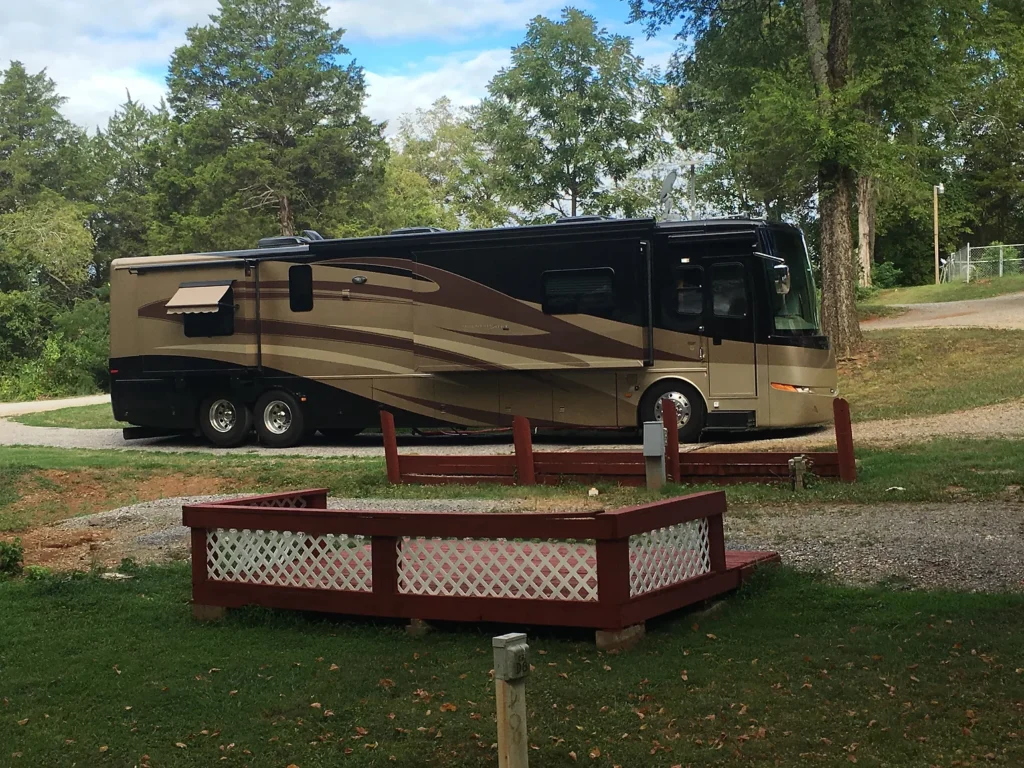 Minutes away from downtown Knoxville, Southlake RV Park is a wooded campground on the Fort Loudoun Reserve.
For those traveling to in from further away, this Knoxville area campground puts you within a 30-minute drive from Great Smoky Mountains National Park.
Originally built to accommodate people attending the 1982 World's Fair, which Knoxville hosted, the campground has been owned and operated by the same family ever since.
RV spaces include extra large pull-throughs, and a number of sites enjoy a coveted waterfront setting. Others also have a scenic view, overlooking meadows.
Friendly ducks roam the campground, dogs are welcome, and guests can kayak and paddleboard on the lake.
Southlake RV Park also has a laundry room and restrooms with hot showers, and the campground pool is a major perk for summertime visitors.
Extended stays are possible, but subject to approval; give management a call to inquire directly if you want to experience one of the best RV parks near Knoxville for longer than a quick getaway.
5. Volunteer Park Family Campground
Location: 13.5 miles north of Knoxville
Campsite type: RVs and tents
Nightly rates: Starting at $50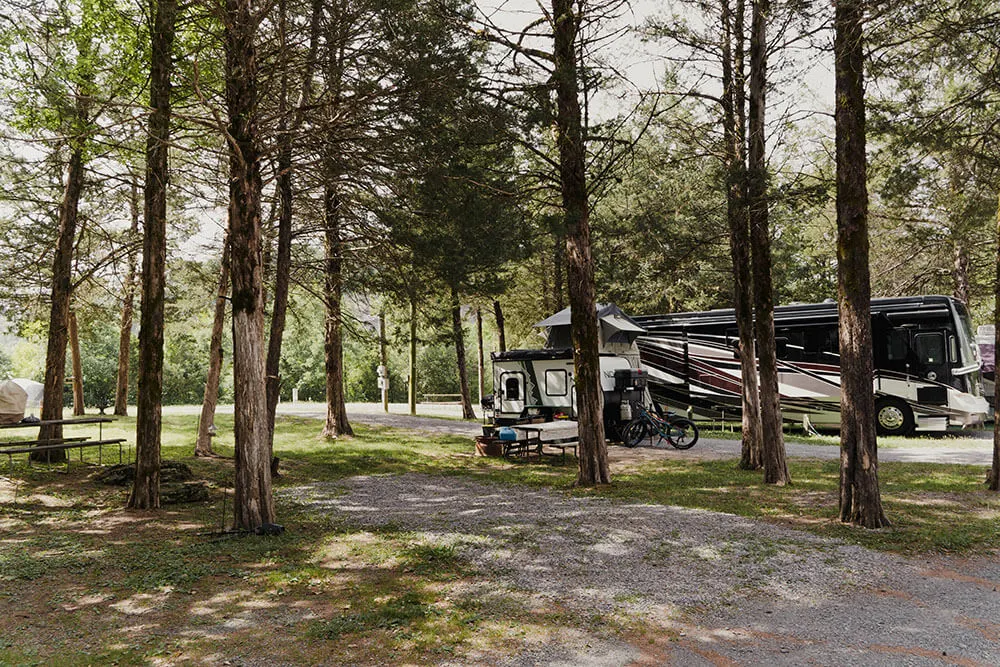 Volunteer Park Family Campground is one of the best RV parks near Knoxville for families with kids.
The whole family is welcome to enjoy the seasonal pool, while younger members of the crew can burn off some energy on the playground. At select times of the year, management also puts on fun themed movie nights.
There are nature trails of varying lengths and difficulty accessible directly from the park, including the popular Triple Falls Trail and River Bluff Trail.
Cyclists are encouraged to bring their own bicycles, and pooches can socialize at the off-leash dog park.
Each pull-through RV site at Volunteer Park features 30 amp and 50 amp connections, plus a fresh supply of water and a concrete pad with a patio and fire pit. There are also slightly less developed sites that provide solely water and electricity.
The campground is open year-round, and food trucks set up shop on the grounds on weekends during the high season.
6. Townsend/Great Smokies KOA Holiday
Location: 32 miles south of Knoxville
Campsite type: RVs, tents, cabins
Nightly rates: $62.50 – $140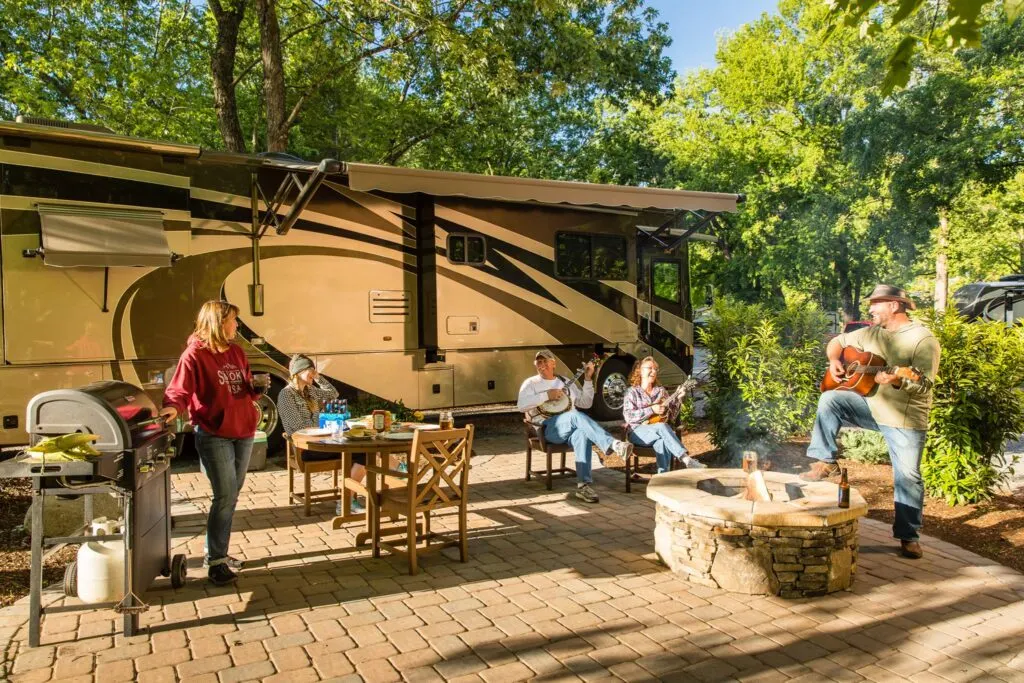 Situated right outside the Townsend entrance to Great Smoky Mountains National Park, Townsend / Great Smokies KOA Holiday is one of the best upscale RV parks near Knoxville for its location alone.
As you might expect, the RV park offers gorgeous views over the lush mountain landscape!
Amenities at this KOA are quite impressive. They include an outdoor movie theater and swimming pool (Memorial Day through Labor Day), camp store, wi-fi, laundry room, a playground, basketball court, river tubing, bicycle rentals, and onsite RV wash.
Although not technically an amenity, this Knoxville RV park also has KOA Patio Sites, which are all the rage in the camping world. These oversized sites include full hookups, private patios, and built-in fire pits.
The popular 5-mile Townsend Bike Trail is accessible nearby, and tubing on Little River is a can't-miss experience. You can rent tubes right at the RV park!
7. Two Rivers Landing RV Resort
Location: 24 miles east of Knoxville
Campsite type: RVs* )
Nightly rates: $70 to $100+
Occupying the banks of the pristine French Broad River, Two Rivers Landing RV Resort is a peaceful Knoxville area RV park with an upscale vibe.
This boutique resort has 25 riverfront sites, plus 30 with river views. Views stretch across the water toward the mountains, rewarding guests with fiery sunsets.
All sites sit on perfectly level concrete pads and come with a somewhat unique perk: every hookup includes a cable signal, so you can indulge in movie night from the comfort of your RV.
A pool overlooks the river, while the garden and grounds are impeccably maintained. Once you set up, you'll likely find that you're content to simply bask in the solitude of the site and enjoy riverside strolls.
Two Rivers Landing welcomes dogs, although owners must adhere to the park's pet rules to help preserve the blissful serenity of the RV park.
*Pop-up campers, slide-in trucks, horse trailers, converted buses, and hybrids with canvas slide-outs are not permitted.
8. Douglas Headwater Campground
Location: 28 miles east of Knoxville
Campsite type: RVs, rental RVs, tents
Nightly rates: $33 (waterfront), $31 (non-waterfront), $130-$150 (rental RV)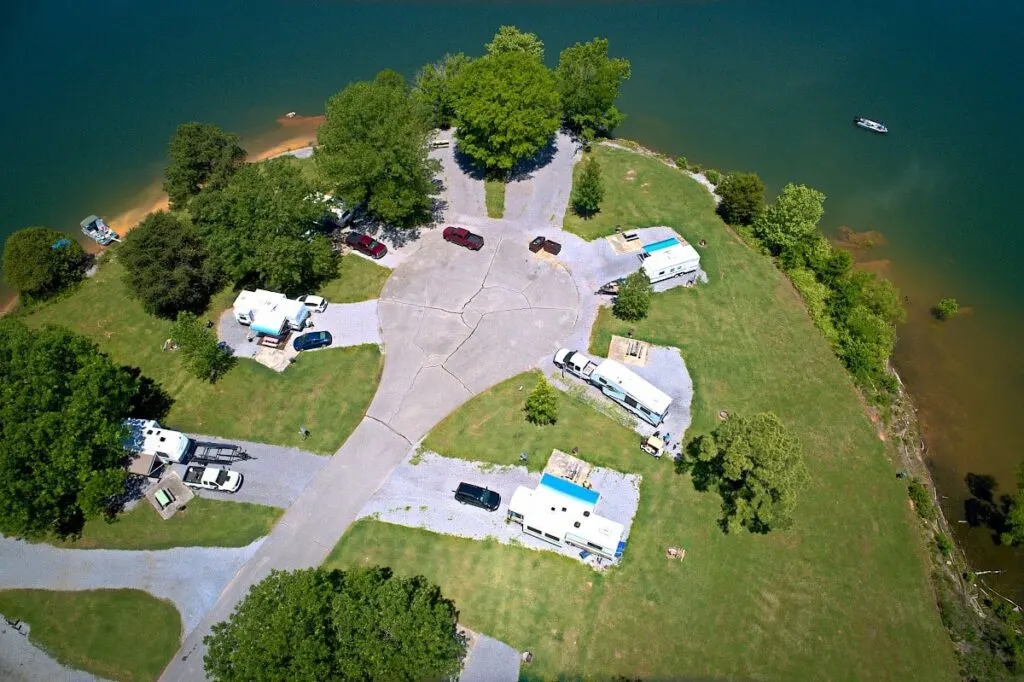 Douglas Headwater Campground sits at the confluence of Douglas Lake and the French Broad River, earning major points for one of the best RV parks near Knoxville in the scenery category.
The campground splits into two sections, with a public boat ramp acting as the divider. 21 of the 60 sites are mostly waterfront, sitting to the left of the ramp, while the remaining sites sit on top of a small hill to its right.
All sites come with a picnic table, and nearly all have a fire pit/grill combo. There are three bathhouses with hot water, as well as toilets scattered throughout the park, plus a dump station.
Douglas Headwater Campground is the perfect destination for outdoor enthusiasts. Activities include swimming, boating, cycling, hiking and wildlife watching on the Trotter Bluff Trail, and picnicking on the sandy beach.
The campground also has two rental RVs available for campers. One is 28 feet without slideouts, while the other is 30 feet with slides.
Note that this campground requires a 2-night minimum stay. However, once you arrive, you'll probably want to stay far longer!
9. Whispering River RV Resort
Location: 26.5 miles south of Knoxville
Campsite type: RVs, tents, cabins
Nightly rates: From $45.50 (winter) or $59 (summer)
Whispering River RV Resort is another of the top choices for RV parks near Knoxville, especially for accessing the Great Smoky Mountains National Park.
Like the KOA campground, this meticulously-maintained RV park is situated on the banks of the Little River.
The RV resort spans 40 acres of land, which includes over 1,000 feet of direct river access.
Activities include kayaking, rowing, and fishing.
Dogs are also welcome, and will likely enjoy the local hiking trails as much as you!
All RV sites, which include back-in, pull-through, and pull-in spaces, are equipped with 30 amp and 50 amp hookups, plus fire pits and wi-fi.
Shared facilities include a swimming beach, pool, volleyball court, bonfire area, children's playground, and laundry room.
Whispering River also offers weekly and monthly rentals at slightly discounted rates.
10. Royal Blue RV Park
Location: Caryville, TN (38 miles north of Knoxville)
Campsite type: RVs
Nightly rates: Starting at $50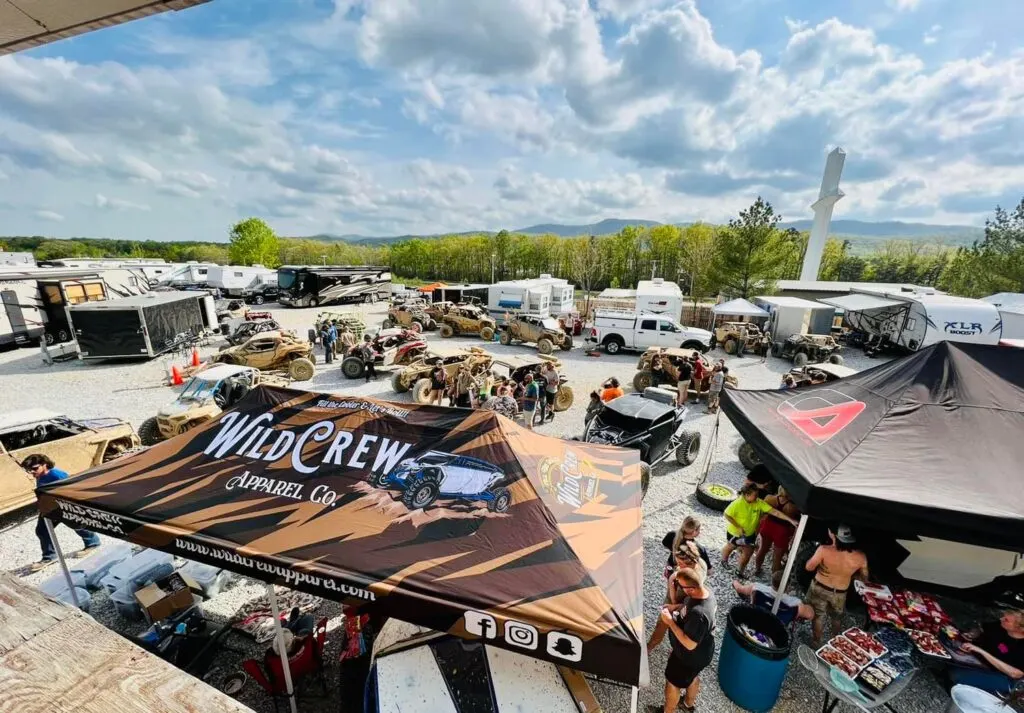 Last but not least, the Royal Blue RV Park is a unique RV park option near Knoxville if you enjoy partaking in this particular adventure activity — off-roading.
In short, this RV campground park is great for thrill-seekers, seeing as it's located right next to the Royal Blue, Tackett Creek, Brimstone Recreation, and Sundquist UTV trails.
In total, there are over 900 off-road trails to explore within minutes of the RV park.
These start with beginner-friendly gravel roads and advance to the most extreme trails, intended for skilled UTV drivers.
The owner of the RV park is familiar with the trails and happy to provide advice on which ones best suit your ability. For novices or anyone who doesn't bring their own "toys," the park also offers guided rides.
Other nearby activities include hiking, kayaking, and fishing!
At Royal Blue itself, amenities include a new bathhouse, large pull-through sites, and full hookups. Previous guests also rave about the RV park's hospitable owners.
We hope you found the perfect place to camp in your RV! Let us know your experience or thoughts in the comments below. Happy camping!
Read more outdoorsy guides here: