Cummins Falls State Park lies less than 20 minutes from the small town of Cookeville, and almost perfectly between Nashville and Knoxville.
As its name gives away, Cummins Falls itself is the park's crown jewel.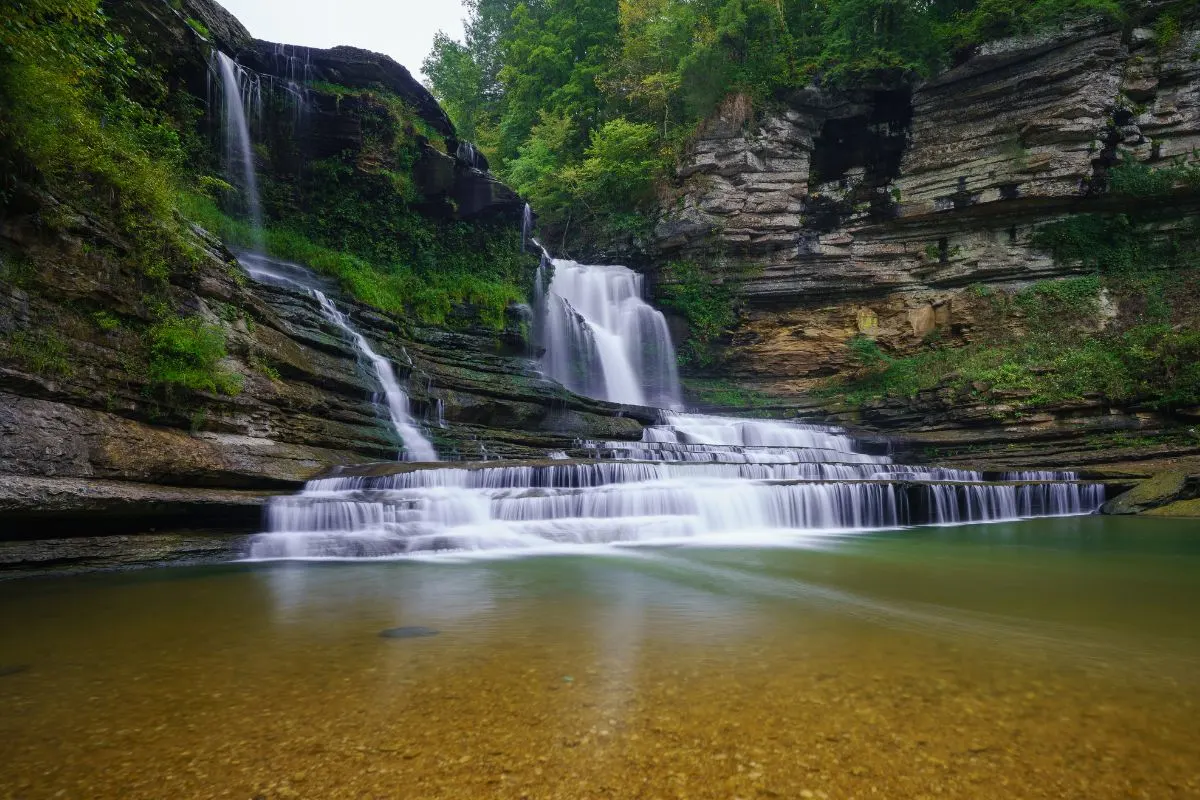 While it isn't the tallest waterfall in Tennessee, it's one of the most popular and certainly among the most scenic. And for those of you wondering, it stands 75 feet tall and is the eighth-largest waterfall in the state by volume.
Aside from the waterfall, however, Cummins Falls State Park has plenty to see and do. You can hike, camp, fish, pack a picnic, or swim. In fact, the perfect pool formed by Cummins Falls might just be the most popular swimming hole in Tennessee!
It comes as no surprise that Cummins Falls has been named the best state park in Tennessee. Or, that Travel + Leisure has repeatedly awarded it the state's best waterfall, along with one of the best swimming holes in the country.
Ready to learn more about all the fun things to do at Cummins Falls State Park? Keep reading!
Whether you have just a few hours or an entire weekend, we've got you covered with everything you need to know to plan the perfect visit!
9 Best Cabins in Cookeville, TN (Cozy & Unique Stays)
Cummins Falls State Park Essential Info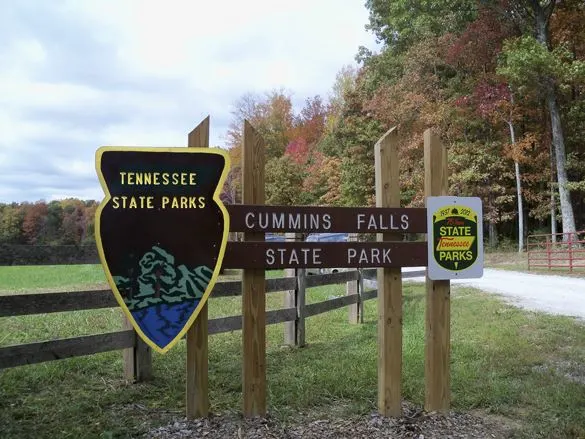 Cummins Falls State Park is a popular, easily accessible destination in Middle Tennessee. Still, there are several things you should know before heading there.
Getting to Cummins Falls State Park
This Tennessee State Park is in Jackson County, about seven miles north of Cookeville. Plug the physical address into your GPS: 390 Cummins Falls Lane, Cookeville, TN 38501.
While the park's somewhat remote location gives it a serene, untouched quality, it's still easy to access with a car. Here are some basic driving directions from other major Tennessee cities:
From Nashville (approximately 1.5 hours) – Head east on I-40 E, take exit 280 for TN-56 North toward Gainesboro, and follow the signs to the park entrance.
From Knoxville (approximately 2 hours) – Take I-40 W to exit 280 for TN-56 North toward Gainesboro, then follow the park signs.
Park Hours
Cummins Falls State Park operates year-round, but the hours may vary seasonally.
Generally, the park is open from 8:00 am to 6:00 pm in the summer months (April 1st to October 31st) and from 8:00 am to 4:30 pm in the winter months (November 1st to March 31st).
Important note: the gorge area (waterfall access) closes one hour before the park closes. This gives hikers ample time to get out of the park and safely back to their vehicles. Keep a close eye on the time!
Also, we always recommend checking the official park website or calling ahead for the most up-to-date information.
This is especially handy if you plan to visit during the shoulder seasons of spring and fall, when the river flow is at its most unpredictable. We dive into it in more detail down below, but park officials close access to the gorge in bad weather. So, it's definitely wise to take that few minutes and double-check!
Admission & Parking Fees
One of the absolute best things about Cummins Falls State Park is that it's completely free!
Actually, ALL Tennessee State Parks are free to enjoy! While none of them charge admission fees, keep in mind that there may be fees for specific activities, such as camping or renting kayaks, and some parks require a parking pass.
In the case of Cummins Falls State Park, there are no onsite boat rentals. There's also not a campground in the park.
If you're looking to stay somewhere close to Cummins Falls State Park, we recommend these cozy cabins in Cookeville!
The single thing that costs money within the park are permits to hike to the waterfall.
Gorge Access Permits: $6 per permit, plus tax
Best Things to Do in Cummins Falls State Park
Outdoor enthusiasts and other nature lovers will find no shortage of awesome activities in this gorgeous Middle Tennessee state park.
Hiking
Cummins Falls State Park boasts a variety of hiking trails, each offering a unique perspective on the park's beauty.
There are a few things to be aware of before hiking any trail in Cummins Falls State Park.
Permits are required to access the base of the waterfall and/or the gorge leading to it. You can reserve Gorge Access Permits up to 3 months in advance on a 90-day rolling basis. Permits cost $6 each, and 200 are available each day.

Cummins Falls State Park does not issue refunds or exchanges for Gorge Access Permits for ANY reason. However, if you need to change your date prior to your intended hike, the park will accommodate date transfers.
The park will also issue rain checks for permit holders who are physically there when gorge access is closed due to weather concerns.
Children under 12 must wear a life vest AND be accompanied by an adult at all times while at the waterfall.
Leashed pets are allowed. It should go without saying, but remember to be a good pet owner and practice Leave No Trace. Pick up after your pet and make sure he or she is under your voice control at all times.
Cummins Falls State Park closes the trails leading to the waterfalls during inclement weather. Check the weather forecast when you reserve your permits, then several additional times leading up to your hike. Especially if you're traveling, you don't want to risk being turned away for bad weather!
– Falls Overlook Trail
1 mile round-trip, easy
There's no question that hiking TO Cummins Falls is one of the best things to do in the park (and in the whole state!). However, the Falls Overlook Trail is short and sweet, and provides a different perspective. This may be of interest, particularly for photographers.
This trail leads from the parking lot directly to a stunning overlook of the falls, offering breathtaking panoramic views.
This overlook option is also fantastic for families and beginner hikers, a more laid-back alternative than the challenging and rugged gorge trails.
– Cummins Falls Trail
2.5 miles round-trip, moderate to strenuous
The highlight of Cummins Falls State Park, this trail takes you to the base of the 75-foot waterfall (and that amazing swimming hole!).
From the visitor center, you'll take a shortcut down to the river gorge, then hike along the river to the waterfall. You'll also have to navigate large boulders at several points!
Prepare to get wet, as you'll wade through water to reach the falls. Depending on the time of year, you may be walking through water up to your mid-calf. With that said, however, ankle-deep water is the norm for most of the year.
While this hike is downhill the way to the waterfall, it's all uphill on the way out. Neither direction is easy, so bring plenty of snacks and water!
– Downstream Trail to Falls
3 miles round-trip, moderate to strenuous
To get to the waterfall's base on this route, you'll actually take the entire Falls Overlook Trail first.
Then, at the overlook, you'll hop onto the last section of the Blackburn Fork River Trail to get down the gorge.
From the overlook, it's a 0.3-mile section down into the gorge before the trail joins up with the river trail.
Just beyond the visitor center, keep going straight at the fork in the trail. Going right will take you down to the river, as described for the Cummins Falls Trail.
– John Cummins Trail
0.9 miles round-trip, easy
If you want something a bit different in Cummins Falls State Park, consider hiking the John Cummins Trail. This hike takes you from the visitor center to the Falls Overlook, but doesn't go into the gorge.
Instead, it passes through a lovely picnic area and veers away from the wildly popular Falls Overlook Trail.
We recommend this option if you've visited the state park, want to avoid crowds, or have little ones in tow and you're looking for a quieter activity.
Swimming
Unsurprisingly, one of the best things to do at Cummins Falls State Park is swim.
The swimming area near the base of the waterfall is a popular spot, but exercise extreme caution. The current can be quite strong here and, of course, there's no lifeguard on duty.
Plenty of people swim in the Blackburn Fork Scenic River, but you'll also see others climb up the waterfall's "steps." The rock ledges form perfect tiers that are super fun to splash around and explore. If you plan to do this, just be extremely careful, because the moss-covered rock gets extremely slippery!
We highly recommend proper water shoes or hiking sandals, which will give you added grip on the mossy rocks.
Have a Picnic
Pack a picnic for lunch, then enjoy it at one of the designated sites surrounding the historic Cummins Family home. Bonus: throughout the year, each season provides gorgeous scenery that makes this a fantastic photo op.
Note there are no trash cans, grills, or other services, so plan to pack out everything you bring in.
Of course, you can also picnic at the base of the waterfall. Again, though, please pack out your trash!
Go Fishing
The Blackburn Fork Scenic River is known as a fantastic spot for catching bluegill and bass.
This particular stretch of the river is too shallow for boats, but the park offers excellent bank and wade-in fishing.
Camping in Cummins Falls State Park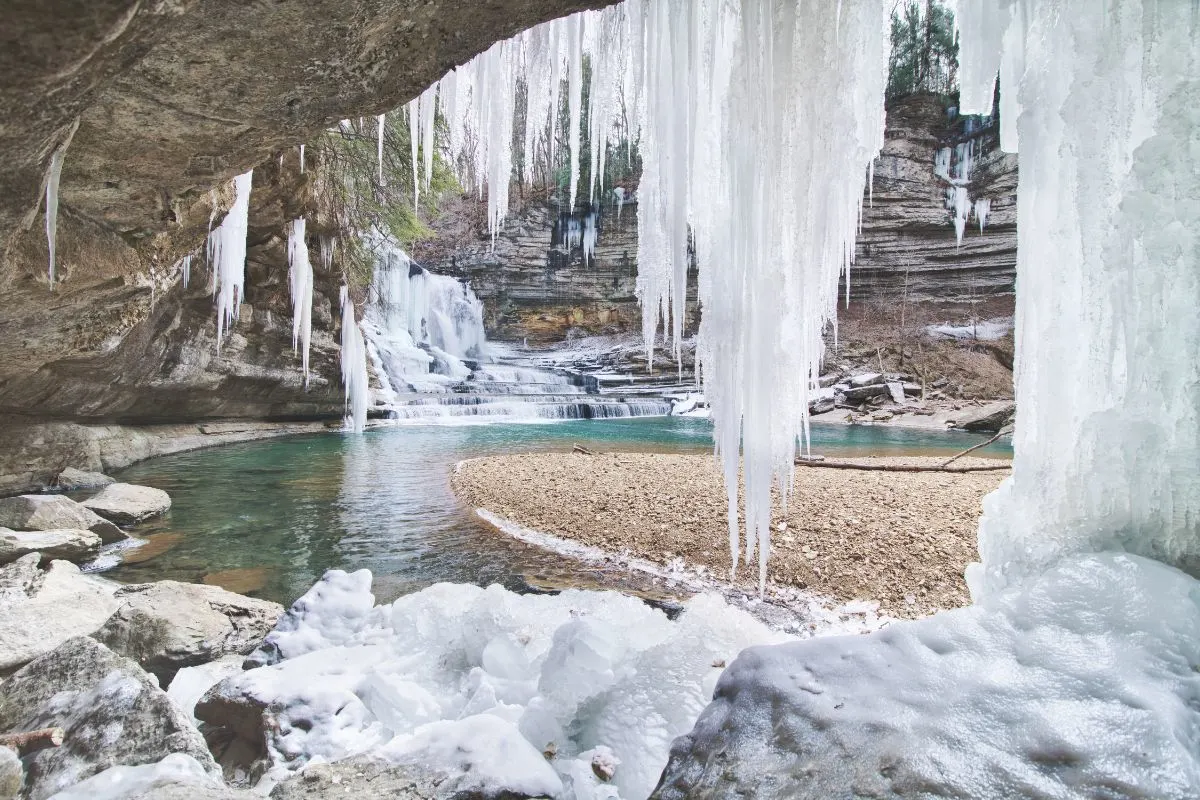 Cummins Falls State Park doesn't have any in-park campsites; it's a day-use only park. However, there are a handful of excellent options right near the park.
Old Mill Camp – open year-round and located directly across from the entrance to Cummins Falls State Park. RV camping only.
Whispering Falls RV Park – right next to Burgess Falls State Park, another must-see Tennessee waterfall less than 30 minutes away. RV camping only.
Standing Stone State Park – 30 minutes north of Cummins Falls, with 36 tent and RV sites. Open year-round.
Tips for Visiting Cummins Falls State Park
Arrive EARLY. This park is wildly popular (and only getting more popular…). If you wait until mid-morning to head there, or think taking a refreshing dip in the late afternoon sun sounds nice, just know that you'll share the park with a TON of other people.
If you don't like crowds, skip holiday weekends altogether. See the previous bullet point!
Trekking poles and water shoes help immensely on the hike. Remember, you'll hike over (and through!) varied terrain, including water. You want all the grip and stability you can get.
Leave the littlest ones at home. Again, this hike is rugged and fairly strenuous, plus you need your hands free to keep your balance. If you're not confident that your kiddos can

safely

hike to Cummins Falls with only minimal assistance, you should reconsider bringing them at all.
Use a dry bag for your valuables. This is especially true for phones, wallets, and DSLR cameras. It's entirely possible that you'll slip in the water during your hike, but the waterfall itself also moves very fast!
Bring a swimsuit and towel. Just trust us, bring these even if you don't plan to swim or you're not usually much of a swimmer. The vibe is awesome and you'll want to jump in!
BYO Life Vest. The park doesn't rent them, and while you may find some available by the falls, don't count on that.
Be prepared for zero cell service. We live in Tennessee, and we have yet to meet someone who said they got service at Cummins Falls State Park — especially near the waterfall.
Stop in charming Cookeville. Even if it was never on your radar, this quaint small town is an absolute gem with interesting historical sites, great places to eat, and even the Tennessee Legend Distillery.
Also Read: 15 Fun Things to Do in the Hidden Gem of Cookeville, TN
Let us know what you think of this Cummins Falls State Park Guide! Do you have any recommendations for us?