If you're looking to explore Middle Tennessee from Burgess Falls State Park to Cummins Falls State Park, then you may be looking for cozy cabins in Cookeville.
This small town packs a huge punch, within an hour's drive of several amazing state parks, waterfalls, historic sites, and more.
It's also just over an hour from Nashville, making it an ideal jumping-off point.
With so much to see and do in Cookeville, you'll definitely want to stick around for at least a weekend. That's where the best cabins or places to stay in Cookeville, TN come in!
Whether you're looking for a scenic lake view, a secluded forest retreat, or quick access to the area's famous waterfalls, the best cabins in Cookeville have it all.
Best of all, many have unique characters, making them destinations in their own right. So, let's take a look at nine of the best!
Best Cabins in Cookeville, TN
1. "Cozy Love Shack" Log Cabin Treehouse
Tucked away amid a dense forest, this is one of the best cabins in Cookeville for "getting away from it all."
The rustic log cabin dates back to the 1800s. It's been in the owners' family for that long, and amazingly, they moved it to this Cookeville property and completely refurbished it!
Today, the cabin's amenities are modern and comfy, but it still has a distinct historic feel. For example, there are 50+ year-old newspaper clippings on the wall and old-school stone fireplaces.
Relaxing at this Cookeville cabin is super easy, whether indoors or out. Inside, the tasteful oak-clad furnishings perfectly match the woodsy vibe outdoors.
In addition, there's both a deck and a large covered "living room" (there's also a more traditional one in the cabin) outside. Maximize time outdoors with places to enjoy coffee or wine, a wood-burning fireplace, and even a TV.
Since the 78-acre property has just two other cabins on it, there's loads to explore on the grounds, also.
If you do want to venture out, the location is convenient, mere minutes from Cookeville. Whether you head to the farmer's market or stroll the cute town center, it's close by.
Book the "Cozy Love Shack" Here
2. Homey Cottage in the Woods on 78 Acres
If you're looking for well-established rentals when it comes to the best cabins in Cookeville, your search ends here. Just look at the literally perfect reviews for this Homey Cottage!
Owned by the same family as the "Cozy Love Shack" we highlighted in #1, this rental shares the property, but has a completely different vibe. It's much more spacious and has an ultra-comfy, traditional Southern home feel.
There are three spacious bedrooms, and two of them have sets of two beds, which makes group sleeping arrangements easy.
Also, there's a welcoming shared kitchen and living area downstairs, perfect for gathering together in the evenings. Cap off your night with a soak in the clawfoot tub.
Like many of the other best cabins in Cookeville, the exterior has a photogenic, old-school design. Inside, however, the interior is fully renovated. There's a functional kitchen, cozy couches, and sparkling clean furniture.
The cabin sits in a clearing, with a patio overlooking the woods and a screened-in porch in the back. With over 70 acres available, this area's ideal for a stroll or playing yard games.
Another thing that makes this one of the best VRBO rentals in Cookeville is the availability of "edible art boards." These elaborate charcuterie boards are available for pre-order, so order one for your arrival and avoid worrying about dinner on the first night!
Book your Stay at this Homey Cottage Here!
3. 2 Lux Cabins & Treehouse on 50 Acres
When you're in search of the best cabins in Cookeville (plural!), only cabins will do. This listing is up for the challenge, with two individual cabins and an authentic treehouse!
To be clear, you get all three, which sit on 50 private acres with a lake view.
This setup is ideal for multiple couples, multi-generational families, or friend groups traveling together. You'll have plenty of opportunities to gather together, but can also enjoy some privacy.
There's an abundance of seating, from by a fireplace indoors and an outdoor fire pit to a screened-in porch and an expansive deck. And the views over Center Hill Lake are mesmerizing from several spots in all of the cabins (including the hot tub and fire pit!)
Besides its several social areas, the cabins' sleeping arrangements are also thoughtful. The treehouse has a cozy queen bed, plus six more beds sprinkled across the other two cabins.
Even after listing all these amenities, this Cookeville cabin still has several surprises up its sleeve. There's also a sauna and outdoor shower, and a barn with friendly farm animals a short walk away.
There are loads of activities in the surrounding area, too. Drive just 10 minutes to hike and marvel at the impressive Burgess Falls, one of the best waterfalls in Middle Tennessee.
Alternatively, rent a kayak and float through the gorgeous waters of Cane Hollow.
Book these Amazing Cabins Here!
4. Starlite Retreat Cabin – a "Step Back in Time"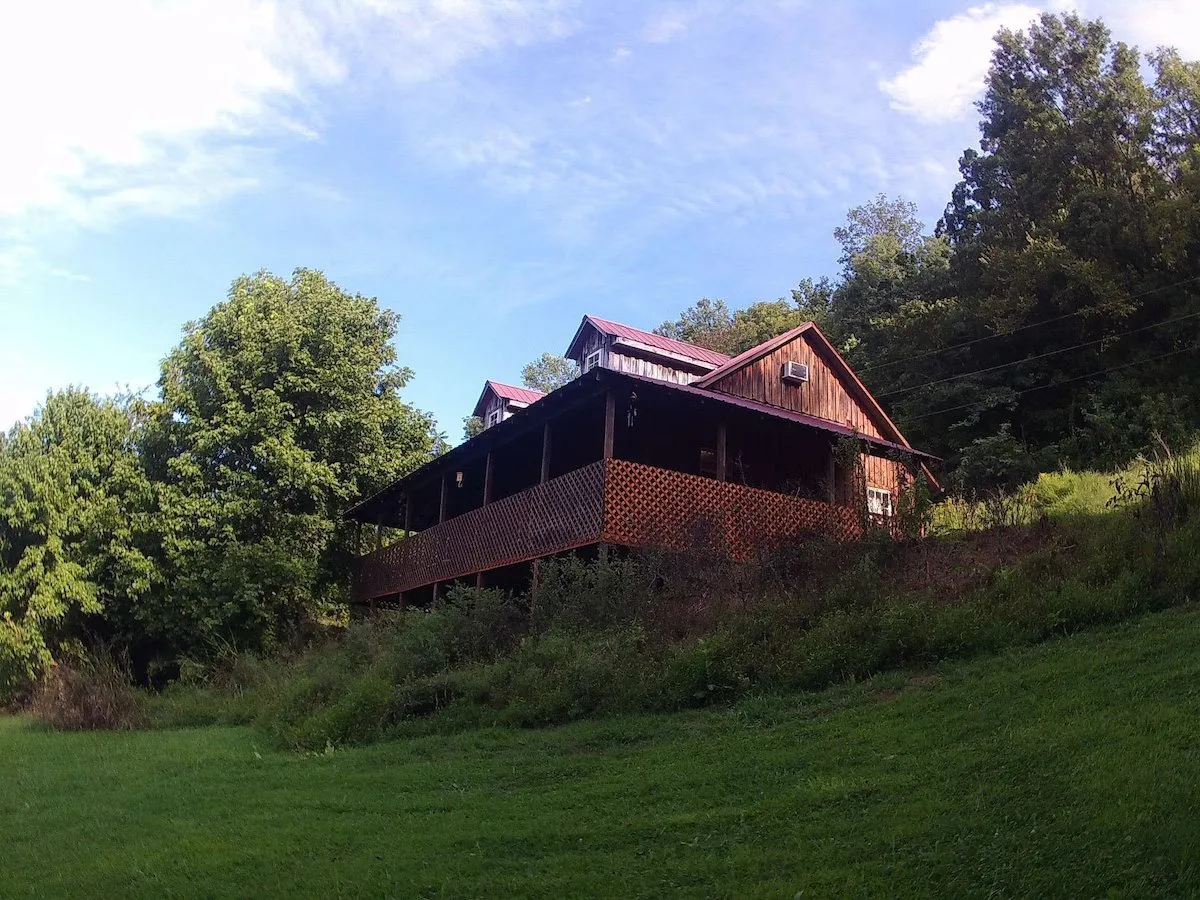 Entering this Cookeville cabin rental genuinely feels like stepping onto the set of a movie from the '50s.
The owners considered every Mid-century detail, from the all-cedar walls and the retro kitchen appliances to the old-school TV and working rotary phone.
We especially love the circular vintage bar, complete with everything you need to mix up classic cocktails. Old-fashioned, anyone?
The rare board games are a blast from the past also, confirming this as one of the best cabins in Cookeville. Think Tiddly Winks, Ten-Q, and classic Lincoln Logs.
Don't worry, because there's also a hidden modern TV with satellite and X-Box!
On the outside, the cabin is as traditional as they come. It overlooks Cordell Hull Lake in the scenic hills of Granville, a short drive from Cookeville. The Cumberland River is also just minutes away.
Enjoy the views of the property's two acres and rolling green landscape from the wrap-around porch. Day trip to all the adorable towns nearby, then enjoy a relaxing soak in the cast-iron tub at night.
Book the Starlite Retreat Cabin Here
5. Modern Cabin Overlooking Bear Lake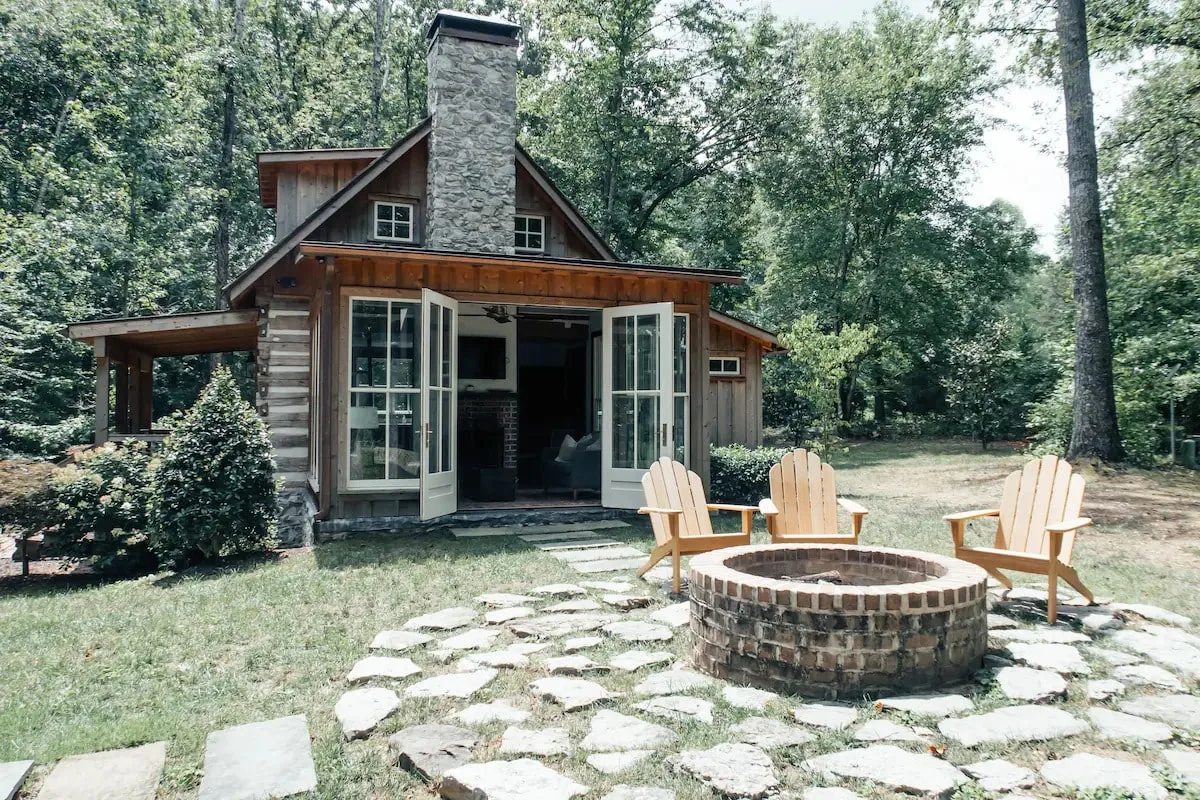 This rental offers all the classic appeal of a traditional lakeside cabin, but has ultra-modern amenities. All the Kitchenaid appliances are sparkling new, and the furniture's sleek.
Plus, the large windows let in an abundance of natural light, which lends it a brighter, more airy atmosphere than many other cabins in Cookeville.
In addition to a large deck and grill outside, there's a fire pit with views of Bear Lake. Meanwhile, inside, the cabin has two bedrooms (one a loft), with three beds divided among them.
There are also several comfy seating areas, including in the glassed-in sun room. These spaces are so cozy and thoughtfully designed, you may never want to venture out!
You should go explore, though. Golf fans will want to play a round at one of the several courses in the area, plus there's excellent swimming in Cummins Falls.
Also, Cookeville itself is only a 10-minute drive, with a multitude of grocery and restaurant options.
Book your Stay at this Modern Cabin Here!
6. A-Frame Getaway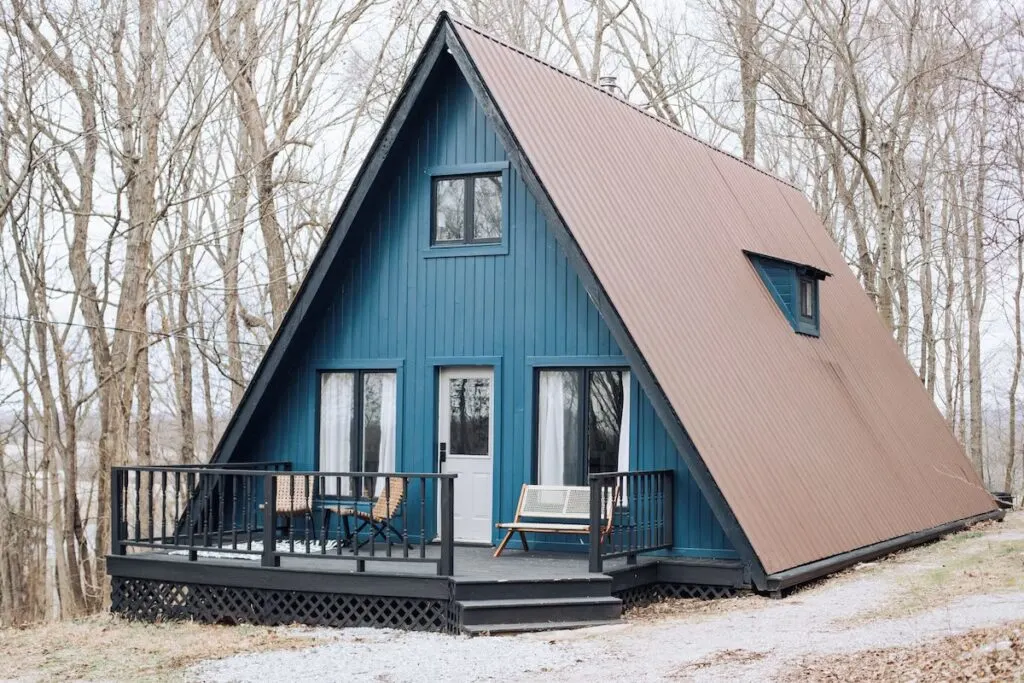 Relax in this eye-catching A-frame, perhaps the sleekest among VRBO rentals in Cookeville.
The decor is minimalist, but the cabin has a distinct homey character, with bright white walls and warm wooden accents.
The large porch is an ideal place to read, plus there's a fire pit for nighttime chats and drinks under the stars. We really love the traditional porch swing as fireside seating!
Of course, you'll want to spend time indoors, too. The main floor has a well-equipped kitchen and aesthetic seating area, complemented by a fireplace and old-school vinyl record player.
This cabin near Cookeville is perfect for a family, with two bedrooms, one of which contains two beds. The bathroom is also a highlight — everyone will want to soak in the show-stopping tub!
Located south of Cookeville between it and Sparta, stunning hikes at Burgess Falls are less than 20 minutes away. And there are dining options and attractions within close proximity, too!
Book this A-Frame Cabin near Cookeville Here!
7. "Lake N Logs" Upscale Cabin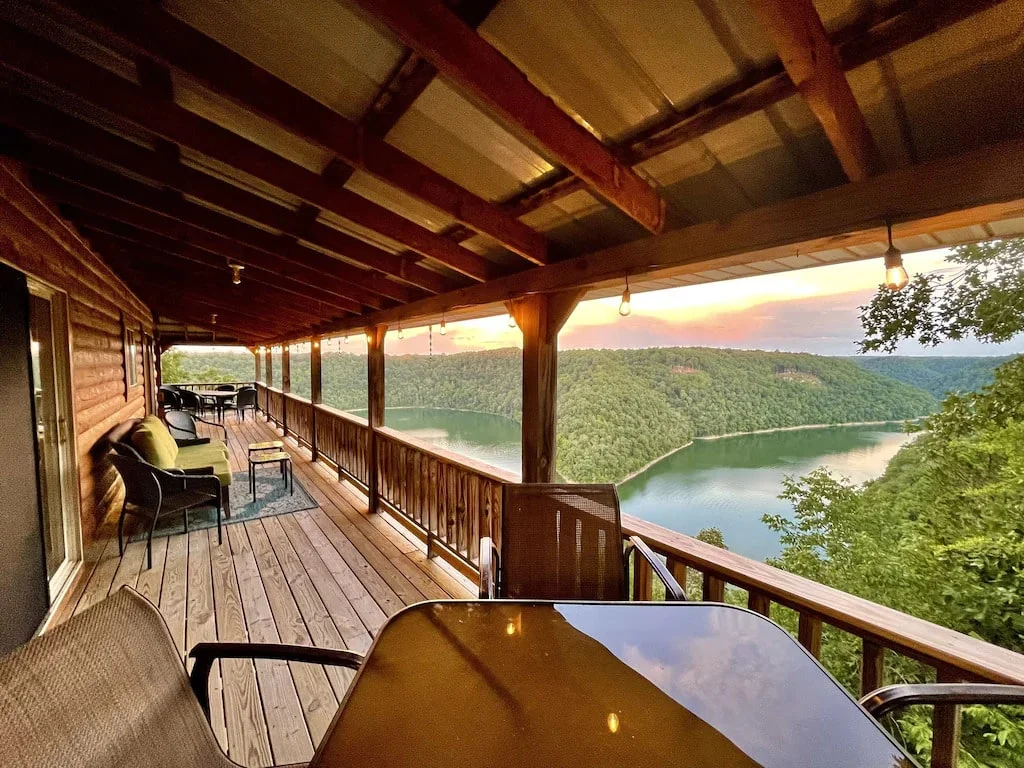 The deck alone makes this one of the best cabins in Cookeville!
The huge wrap-around deck overlooks Center Hill Lake and has tons of seating. There's actually a second, smaller deck downstairs, too.
Especially during sunrise, the surroundings pop, but there are lots of ways to enjoy this cabin's unique location. Even inside, you can take in the scenery while working from the office or even while lying in bed!
And once it's dark, move to the fire pit to enjoy the night sky.
The interior has a classic loft design, with tall ceilings and an all-wood interior. There are five beds across three bedrooms, including multiple king-size mattresses. The double-sided fireplace and Foosball table are particular standouts.
In addition to swimming and boating at the lake, this cabin is also close to Burgess Falls.
Try some local Tennessee wines at DelMonaco Winery & Vineyards, which is just down the road, or you could even day-trip to Dollywood!
Book your stay at this Cabin by the Lake Here!
8. Tiny Cabin on the Lake
Looking for a smaller cabin, perhaps for a romantic weekend getaway? This lakeside property, also on Center Hill Lake, is ideal!
Although the square footage is small, the studio-like design lends it a spacious feel. The kitchen has everything you need, and the living room has a surprising amount of seating, too. Besides, you'll want to spend most of your time outside on the deck overlooking the lake!
This cabin has plenty to love but is especially convenient for boat owners. The boat launch is just a few feet away down below, along with a designated swimming area.
This brand-new tiny home directly overlooks a swimming area and boat launch, as well as a golf course.
As far as location, it's easily one of the best cabins in Cookeville! The town itself, in addition to another small town called Baxter, is just a short drive.
Book this Tiny House near Cookeville Here!
9. Hidden Hollow Cabin on 52 Acres
Finally on our list of the best cabins in Cookeville is this one, right in town.
Situated on a 52-acre property known as "Hidden Hollow," you could easily make your vacation the cabin itself. But don't worry, there's plenty to see when you want to go explore, too!
On the property itself, play mini-golf, fish from the ponds, and play yard games. In addition, there are walking paths and plenty of places to just sit and enjoy the scenery.
Upon entering the property, you'll cross a photo-worthy bridge!
Then, inside the one-bedroom cabin, the whimsy continues. The open floor plan features a fun bar-style dining table, which appears to be made from a bicycle.
Finally, there's a spiral staircase leading upstairs to the bedroom, where a whiskey barrel sink continues the theme.
When you want to head out, attractions such as the Cookeville History Museum and City Lake Natural Area are just a few short miles away.
Book the Hidden Hollow Cabin in Cookeville Here!
🎶 Heading to Nashville? Also Read:
Pinterest Pin & Featured Image Credit: Modern Cabin via VRBO (#5) & Cabin Getaway (#6)