There are so many incredible things to do in Music City any time of year. However, there's nothing quite like Nashville in the fall as it's one of the best times to visit Nashville!
Come autumn, a special energy descends on the city.
Temperatures being to drop and leaves turn vibrant, jewel-toned colors. Every Saturday, seemingly everyone dons Tennessee orange or Vanderbilt black and gold.
Plus, since being outside in Nashville this time of year becomes so enjoyable, festival season kicks into high gear.
Locals love to celebrate the city's buzzing creative energy! Of course, there are concerts aplenty, but festivals also highlight various other mediums, like visual arts, film, food, and drinks.
The city offers its own spin on beloved autumn classics. Think family-friendly pumpkin patches, fun ghost tours, and a fabulous city fair. So without further ado, let's dive into what Nashville in the fall has to offer!
Book a Cozy Cabin in Nashville! 9 Best Luxury & Mountain Cabin Rentals in Nashville
Best Things to Do in Nashville in the Fall
1. Tennessee Craft Fair
Next Event: October 13th – 15th, 2023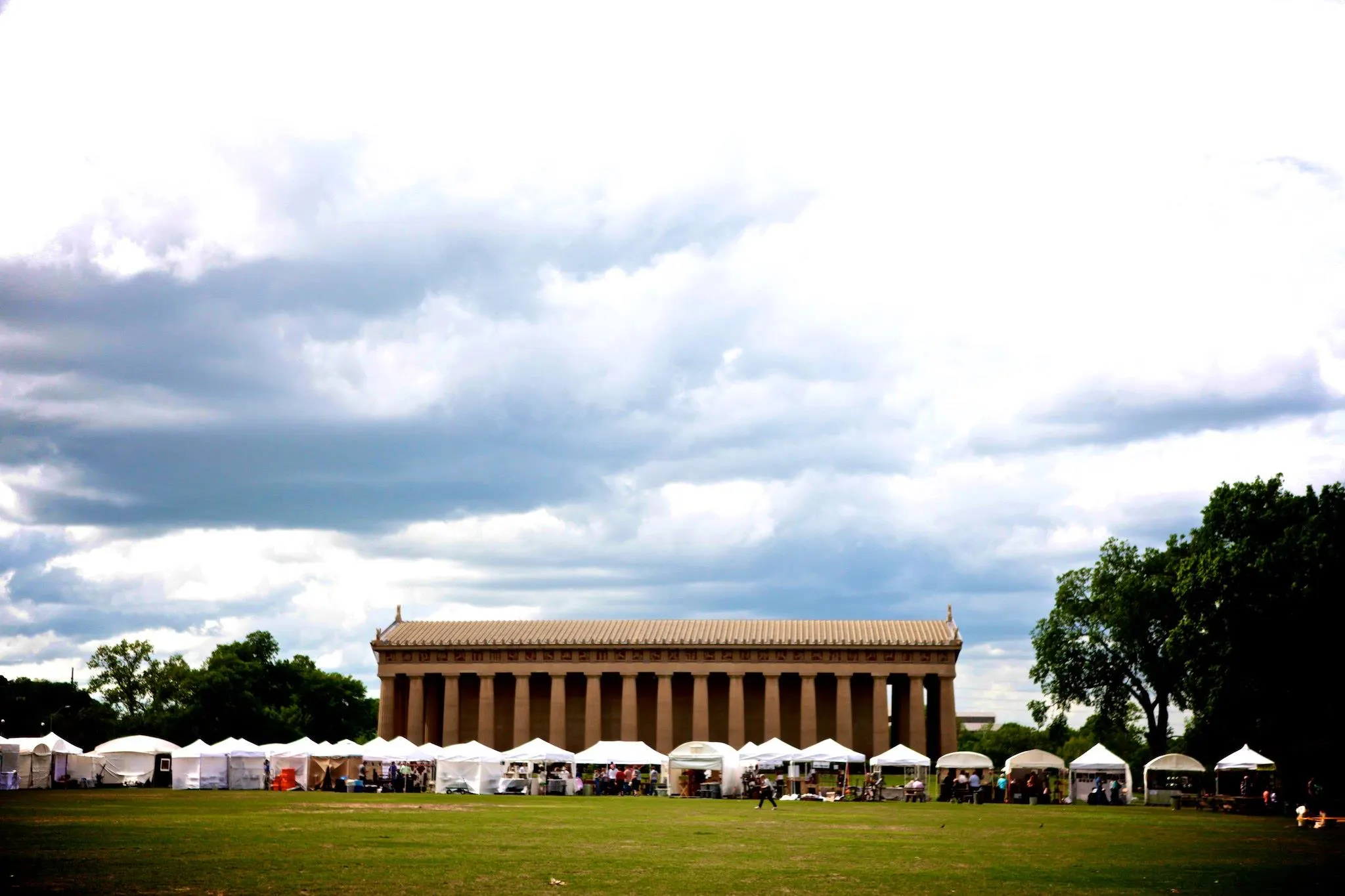 One of the most anticipated events in Nashville in the fall is the Tennessee Craft Fair.
Held on the Centennial Park lawn, this long-standing event is in its 45th year. It's one of the city's most popular and bustling fall marketplaces!
The craft fair is perfect for those looking to take part in a festive atmosphere, while also finding memorable, one-of-a-kind gifts in the process. Check off a big chunk of your holiday gift list in mid-October while also supporting small local businesses!
Shop jewelry, paintings, photographs, sculptures, and every other imaginable type of artwork. All the vendors are the artists themselves, meaning you'll be able to chat in-depth about their vision.
Bring the kiddos, too — there are hands-on, interactive craft stations where the artisans help little ones create. Plus, the event also brings in a multitude of local food trucks, making it the perfect afternoon activity. Best of all, admission is completely free!
2. Go Leaf-Peeping in City Parks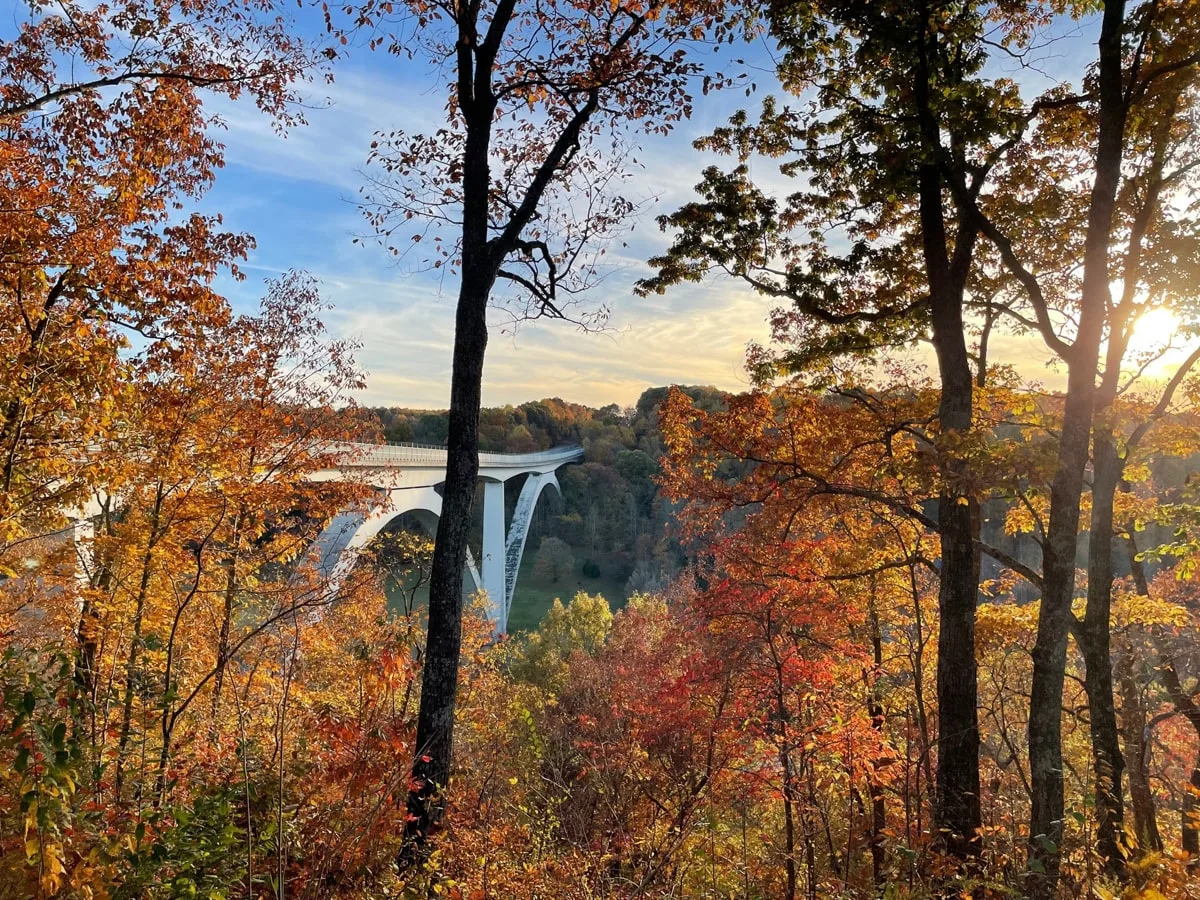 As soon as September hits, it's hard not to daydream about the beautiful changing of the leaves. The Smoky Mountains may be Tennesee's most famous setting for the highly-anticipated spectacle, but there are some incredible spots to see fall foliage right in town, too!
For some of the best fall colors within city limits, head to Percy Warner Park. A stroll along one of its many trails will reveal a kaleidoscope of colors. And don't forget to head to the scenic overlook for a panoramic view of Nashville in the fall!
Percy Warner Park is big enough that you'll find a fresh breath of air, even among the autumn crowds of fellow leaf-peepers. For this exact reason, the park is one of the best things to do in Nashville overall.
Also, drive along the Natchez Trace Parkway near Franklin, TN for even more fall foliage near Nashville!
Another beloved spot for fall foliage in Nashville is Radnor Lake. There's something special about seeing the water against a backdrop of multi-colored trees. Be sure to look out for wildlife, like deer and numerous birds, too.
And for an option that feels a bit more like an escape from the city, drive to Beaman Park! The preserve packs in tons of fall foliage photo ops across its 1,700 acres. And bonus, you won't need to wait in line to snap a pic!
3. Nashville Film Festival
September 28th – October 4th, 2023
While it may not have the spotlight of Tribeca or Sundance, the annual Nashville Film Festival is not to be missed! Now in its 54th year, it's one of America's oldest celebrations of cinematography and a beloved event in Nashville in the fall.
The week-long event packs in fascinating talks with media professionals and exclusive screenings. And, since this is Nashville, after all — plenty of music performances!
The festival is also dedicated to fostering homegrown talent, with competitions for both screenplays and standalone films. Catch under-appreciated mediums like shorts, self-start documentaries, and experimental cinema.
And, you can expand your knowledge of behind-the-scenes workings by attending one of the festival's panels. There's no need to make a hard commitment or even plan ahead, either. Simply check the roster of participating venues and find a screening that catches your eye!
4. Wine on the River
Next Event: September 9th, 2023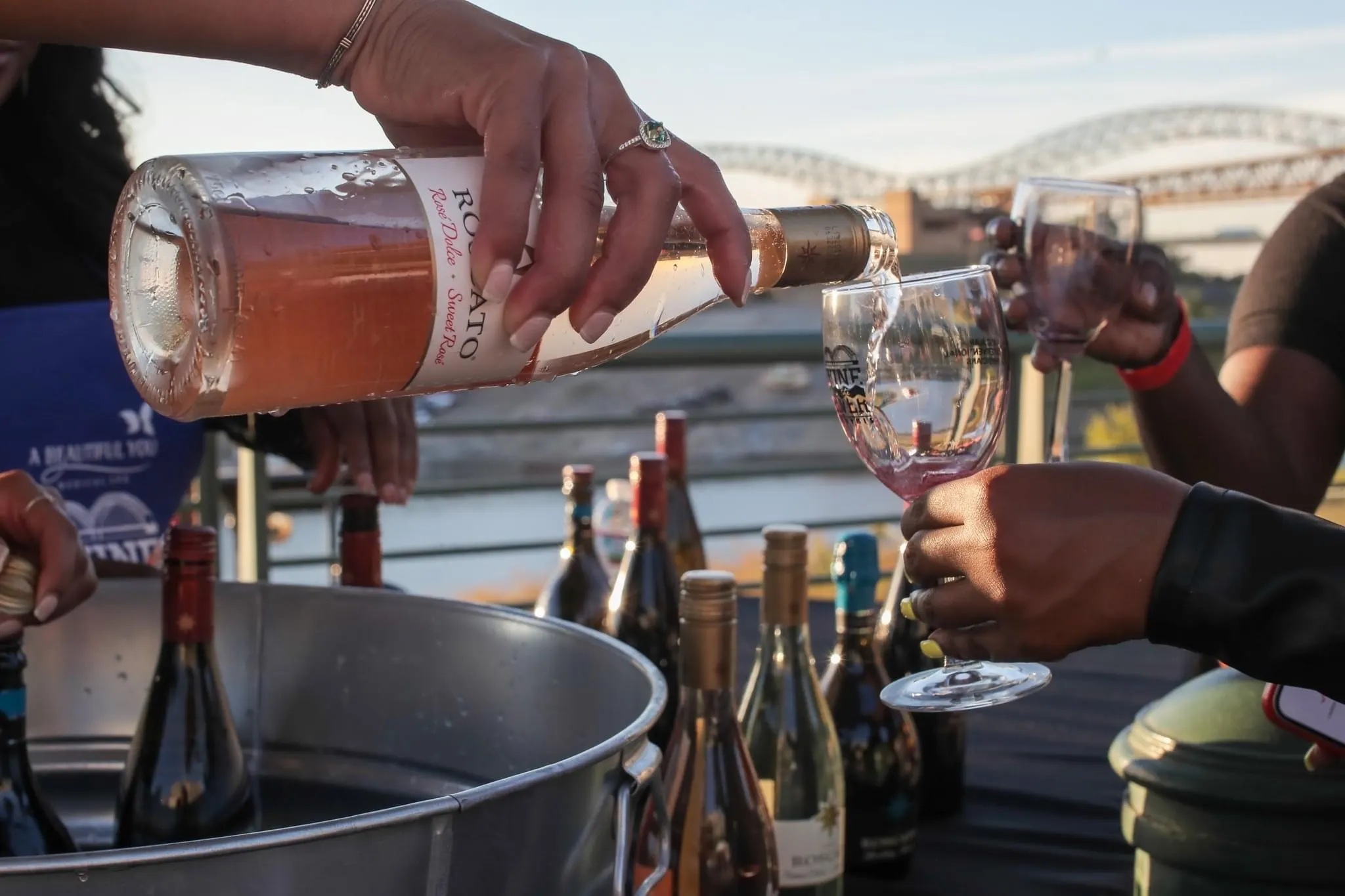 Now held for over two decades, Wine On the River packs loads of tasty entertainment into a single evening! With a bustling atmosphere at Riverfront Park along the Cumberland River, it's a night well worth a slot on your calendar.
As the name implies, wine is the star of the show. An entry ticket grants attendees samples from several dozen producers. You'll find both local vineyards and established brands from France and New Zealand.
Don't worry if you're not super into wine, because there's a nice variety of spirits and beers, too. Food is also available for purchase.
Live music sets the event's backdrop, featuring two acts over the 4-hour duration. Like we keep saying, this is Music City, after all!
The atmosphere is what makes Wine on the River so special, and one of the best things to do in Nashville in the fall. Sure, it gets more than a little buzzy, but never overwhelming. And for those who want to experience it without booze, there are discounted sober tickets, too.
Go Hiking Near Nashville to view Fall Foliage! 🍁
5. Oktoberfest
Next Event: October 5-8th, 2023
Since Nashville is home to its very own Germantown, it comes as no surprise that the city goes all-out to celebrate Oktoberfest. However, the scale of this particular festivity…now that's much more of a shock!
Spread over an impressive 10 blocks, this bustling event is one of the most memorable things to do in Nashville in the fall. In fact, it's the city's largest and oldest festival!
All the festival beer is imported directly from Germany, with draft stations strategically scattered throughout. There are polka dancing nights, folk music performances, and even a doggie costume parade. Come hungry and stop by vendors to sample goodies like bratwurst and schnitzel.
There's a designated party tent for those who want to really let loose. However, the rest of the event is totally family-friendly. Bring everyone along to celebrate the city's German heritage!
6. Celebrate Fall at Local Pumpkin Patches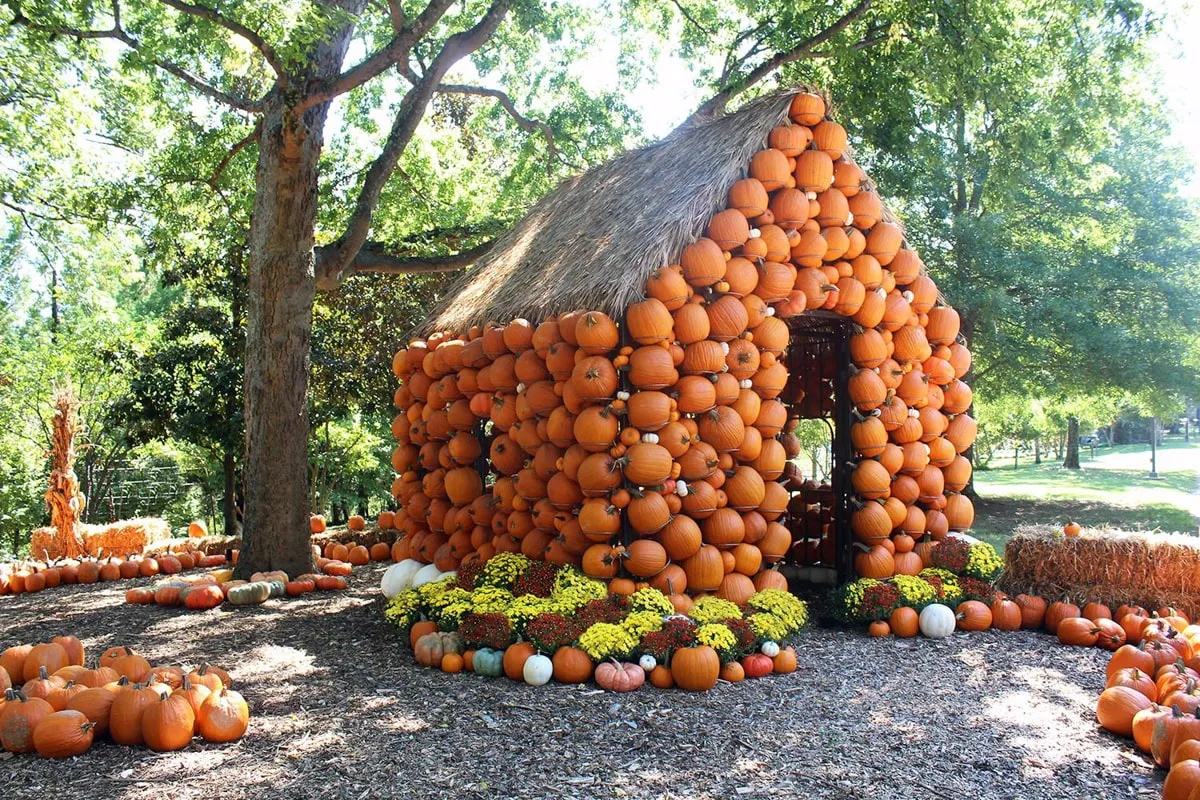 All those memories of kiddos playing among rows of pumpkins are something to cherish. Don't miss out on an opportunity to visit one during Nashville in the fall!
Honeysuckle Hill Farm is easily the city's best-known venue, with a wide range of attractions for all ages.
Older kiddos can let loose on outdoor activities. There are trampolines, zip lines, and rock climbing walls, while others can interact with farm animals or explore the corn maze. And of course, everyone can pick their own pumpkin from the patch, too.
If you're looking for an option that's more low-key, head to Shuckle's Corn Maze & Pumpkin Patch instead. There are many adorable photo backdrops, some made from hay and others painted by hand. This is a fantastic option for a date night or families with small children.
And if you want a more Instagram-worthy pumpkin patch, stop by Cheekwood Harvest at Cheekwood Estate and Gardens. The gourd-covered houses make ideal photo-ops for everyone! Plus, there are themed gardens and topiaries made of fall flowers, like chrysanthemums. There's even a beer garden!
7. Americana Fest
Next Event: September 19th – 23rd, 2023
What's a roundup of things to do in Nashville in the fall without a music-centered event?
Well, each September, the city hosts one of the largest folk and country events of the year: Americana Fest.
Welcoming incredibly talented musicians from around the globe, this festival offers more than 200 performances. Plus, it promotes American roots music through informational talks, screenings, and other special events.
Purchase a pass in advance to get access to ALL shows, or try your luck buying tickets for individual shows at the venue doors.
8. Immerse in Artville
Next Event: September 29th – October 1st, 2023
Nashville in the fall offers creative experiences not only in music and film, but in visual arts too. Artville brings cutting-edge works to the city, displayed in awe-inspiring, mind-boggling ways.
A large emphasis of the festival is on public art. It features incredible installations sprinkled around the eclectic Wedgewood-Houston neighborhood.
Stroll around the area, taking in sculptures, murals, and interactive art installations. Don't forget to stop by the Community Art Gallery, too. Like many other things to do in Nashville in the fall, it's all completely free!
In addition to the physical art installations, don't miss the art talks featuring esteemed local artists. And if you're feeling hungry, the festival is also throwing a food fair! It includes several of Nashville's most popular food vendors and chefs.
9. Andrew Jackson's Hermitage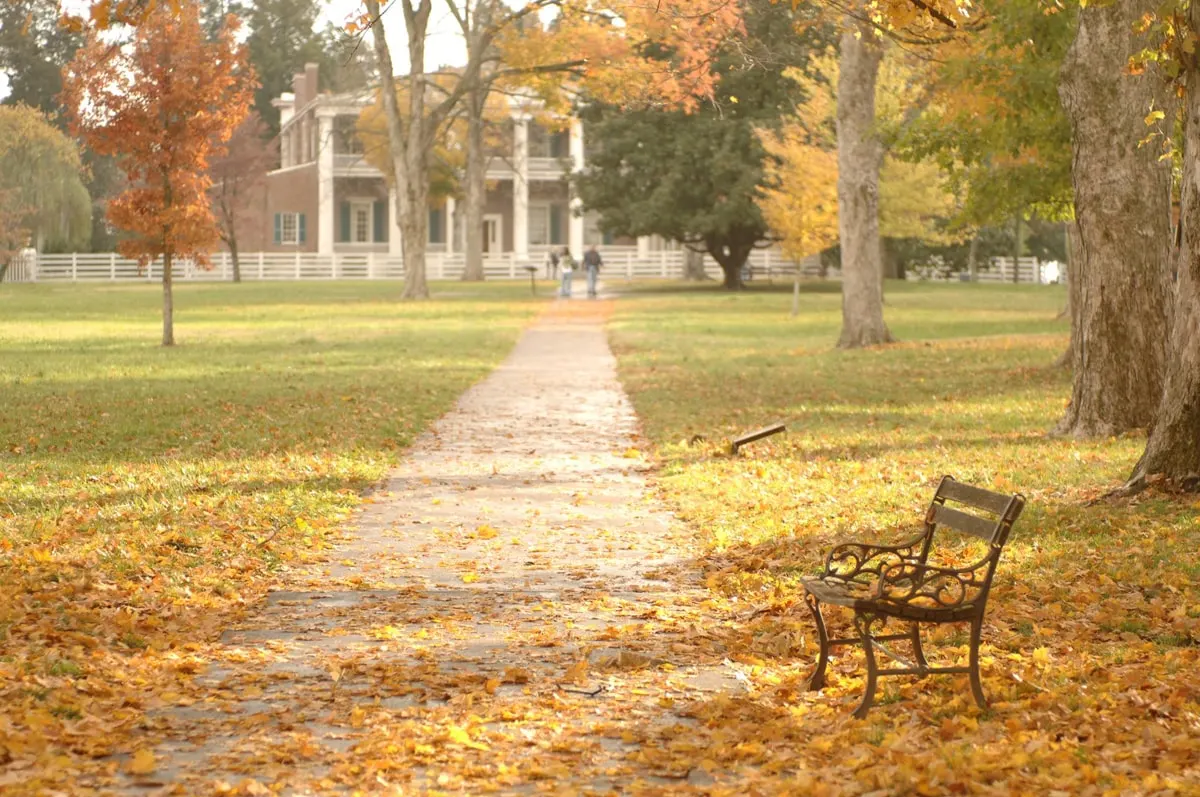 To experience Nashville in the fall under a historical lens, head to Andrew Jackon's Hermitage, where this former president's estate features beautiful fall foliage. But, that's just the tip of the iceberg in terms of activities.
Go on a tour to learn more about the president's history and legacy. In addition to informative exhibits outside, there are also accurate, meticulous reconstructions of the mansion's interior.
After your educational, immersive dose of history, finish with a sip at the on-site winery.
Come fall, the property also hosts a variety of memorable events. Get your Halloween spooky on by attending a ghost tour, or sign up for a fun presidential-themed 7K run.
10. The Nashville Fair
Next Event: September 8th – 17th, 2023
Celebrate fall the old-school way, by heading to the fair! Although the Tennessee State Fair has moved to neighboring Lebanon, Nashville still throws a fantastic festival right in the city.
From nostalgic neon rides to corn dogs and other quintessential fair food, this event will have everyone young and old grinning from ear to ear.
The Nashville Fair also offers a packed calendar of events. You'll find circus performances, animal shows, and tons of live music.
If you have a craft you excel at, be sure to enter one of the numerous competitions. In addition to classic farm-related events like pie-eating contests, the Nashville Fair presents awards in fields including sewing and photography.
11. Get Spooked on a Nashville Ghost Tour
One of the best things to do in Nashville in the fall is give your Halloween festivities a jump start by immersing in the city's haunted past!
A multitude of tours operate in the city year-round, with most touching on eerie history near the Capitol Hill and Printer's Alley areas.
Touching on stories from the Civil War era to famous music-related legends, it's an engaging, unique way to learn about Music City history. Even if you don't necessarily believe in the supernatural lore!
And since Nashville loves to combine its legacy with a good party, look for ghost tours that combine bar crawls, too. What better way to learn about the city's spooky history than while getting your buzz on?
12. Tip it on Back at the Nashville Whiskey Festival
Next Event: October 7th, 2023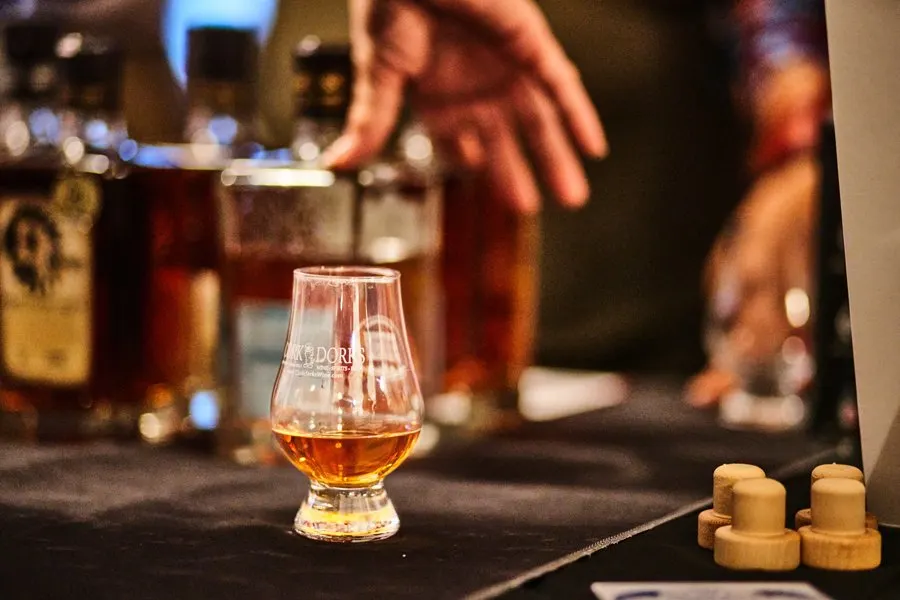 Smooth as Tennessee whiskey…so the song goes, and this state truly knows how to distill.
For the largest conglomeration of Tennessee whiskey producers in one area, don't miss the Nashville Whiskey Festival!
With over 50 distilleries presenting their unique offerings, this event involves an astounding selection of liquor. However, the festival not only aims to showcase the breadth of the product, but its complexity, too. Seminars highlight women-led distilleries, the intricacies of production, and so much more!
And once the evening gets underway, the festivities really start, with musical performances and a lively crowd. If you have even a remote interest in spirits, this is by far one of the best things to do in Nashville in the fall!
13. Musicians Corner Nashville
Next Event: Fridays or Saturdays in September (see dates here)
Nashville in the fall brings lower temperatures and perfect evenings. And what better way to enjoy them than catching free concerts?
Held on September Friday nights in the beautiful Centennial Park, Musicians Corner Nashville assembles serious talent in a family-friendly environment.
Acclaimed local musicians play everything from rock-folk to jazz on a strategically placed stage so there's not a bad seat in the park. Even better, the event was founded by a non-profit.
Meanwhile, the general public is free to picnic anywhere available. Loads of local food trucks and vendors come, and artisan vendors also set up shop. Even if you have no idea who's performing, such an assembly of talent creates a delightfully convivial atmosphere.
What do you think about these fall activities in Nashville? Let us know in the comments below!
Pinterest Pin Credit: Cheekwood Estate & Gardens