Escape rooms are such fun activities for the whole family. Solve puzzles and riddles, unlock treasures, and put your critical thinking skills to the test as you race against the clock to escape. If you're looking for your next escape room in Johnson City or the Tri-Cities, you're in the right place!
Whether you want to get scared or just laugh the night away, the escape rooms featured below will deliver on their promise!
Before you choose, know that not all escape room games are created equal; some are fun, light-hearted, and family-friendly while others are gory, dark, and intense.
That said, the escape rooms in Johnson City and the surrounding Tri-Cities are varied and unique, with storylines and themes that range from classic escape room scenarios (i.e. heists, murders) while others are whimsical and imaginative (i.e. Jurassic parks, aliens).
The only question is… Will you escape in time?
The Best Escape Rooms in the Tri-Cities
1. Tri-Cities Escape Game
Price: From $18.95 – $24.95 per person
Where: 642 State St, Bristol TN (get directions)
For: All ages and skill levels
Style: Edgy, Fun, Exciting, Challenging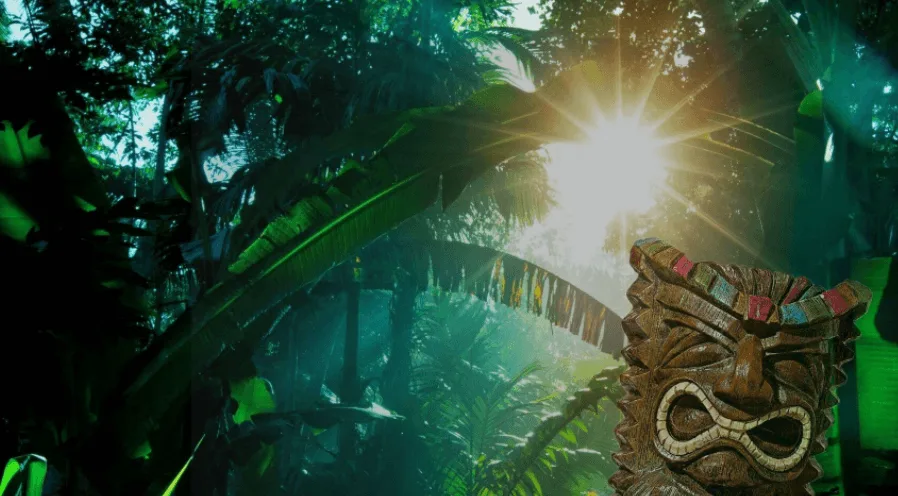 The award-winning Tri-Cities Escape Game center has stellar reviews of its unique and fantastical escape room themes. It was named one of the "Top 10 Escape Games" in the entire state and has been recognized with the Traveler's Choice Award by TripAdvisor.
Here, you can choose from three exciting escape rooms with original, custom-designed storylines.
Into the Amazon (Difficulty 7/10) — You just returned from your vacation in South America with a cute tiki souvenir. Turns out, it's an ancient relic belonging to the indigenous Jivaro and they want it back!
Alien Deception (Difficulty 8/10) — Famous ufologists have suddenly disappeared… Was it aliens? Investigate the Yellow Saucer Café to find evidence and make your case!
The Leviathan Lab (Difficulty 9/10) — A nasty cyclone leaves your cryptozoologist team scrambling to save perfectly-preserved Jurassic habitats. Figure out the puzzles to save the prehistoric DNA, and yourself!
The Tri-Cities Escape Game offers some of the best escape rooms in the Tri-Cities and East Tennessee. Bristol is located just 30-minutes from Johnson City, making it a great day trip adventure.
Note: All rooms are private and welcome up to 8 players when booking online. If you have more than 8 in your party, give them a call or email.
2. Perplexodus Mystery Manor — Dinner Theatre & Escape Adventures
Price: $29.95 Adults, $19.95 Children
Where: 132 Chapel St, Johnson City near the Gray Fairgrounds (get directions)
For: Great for all ages, skill levels, and occasions
Style: Fun, Thrilling, Live Actors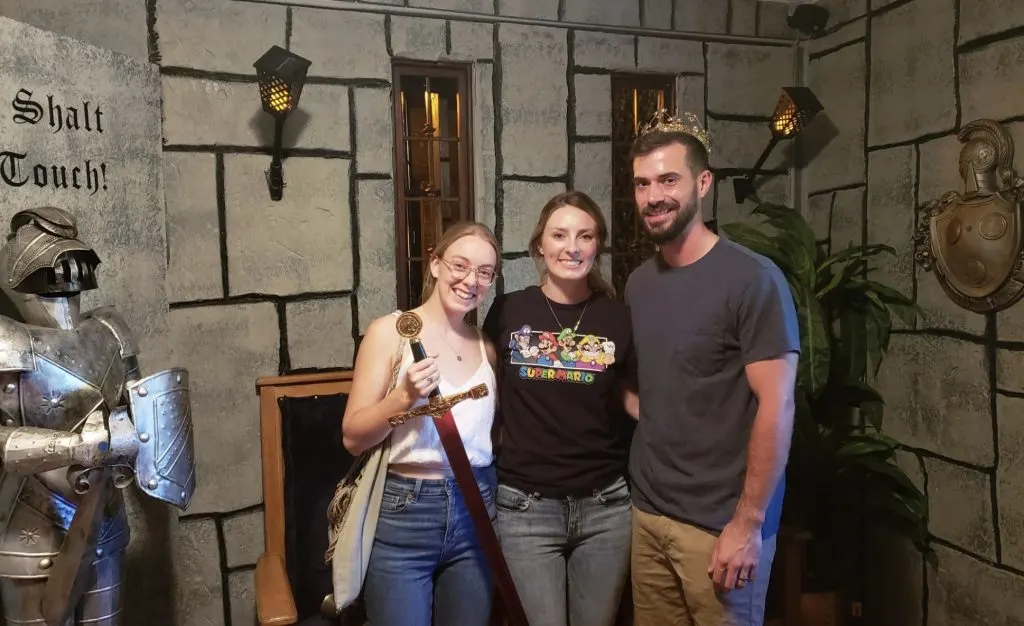 Perplexodus Mystery Manor over in Gray, TN, is definitely one of the best escape room centers in Johnson City right now.
Previously, the Art of Escape located in downtown would have rivaled them simply because of convenience and proximity, but they are permanently closed. Don't worry, though — the 20-minute drive from Johnson City to Perplexodus is worth it!
While the escape room center may not look like much on the outside (in fact, it's a converted community church), the rooms are elaborately decorated.
You can tell that a lot of thought and attention went into creating the puzzles, challenges, and storylines so that you can really immerse yourself in the setting. It helps that they use live actors to bring your escape room to life.

For my birthday, we did the Quest for Excalibur.
In brief, darkness has fallen over the Kingdom of Camelot, twenty years after King Arthur's death. Your live actor character plays the role of a ghostly King Arthur, who's here to help you find Excalibur and pull it from the legendary stone.
Level: Intermediate
Time: 60 minutes
3-10 players
I don't want to spoil the fun, so I'll leave the details and secrets of the room left undisclosed. 🤫
In addition to the Quest for Excalibur, Perplexodus offers these escape rooms:
Dr. Jekyll's Laboratory (Advanced, 4–10 participants) — Find the cure to prevent Dr. Jekyll from turning into a hideous creature!
Baby Come Back (Intermediate, 3–10 participants) — The baby of a wealthy family has disappeared from its crib! Find the baby before the parents get home.
Split Competition Room (Difficulty 8/10, up to 16 participants) — Split up into two groups to compete against each other in identical escape rooms! Which group will escape first?
The Perplexodus Mystery Manor also hosts fun and interactive Dinner Theatre shows ($49.95).
In these live spectacles, you'll enjoy a full-service dinner prepared by their in-house chef and be an active participant to help solve a murder (or you might be the suspect!).
Right now, there are two shows: "Til Death Do Us Part" and "eHomicide – A Date to Die For". These tend to fill up fast and sell out with a full house; so book ahead!
Visiting Perplexodous is a fun and family-friendly thing to do in Johnson City!
3. Escape Room Kingsport (Currently Closed)
Price: $22.93 Adults & Children (aged 6–12)
Where: 1101 E Stone Drive, Kingsport (get directions)
For: Ideal for adults and friends/family looking to get scared! (18+)
Style: Gory, Intense, Scary
Kingsport makes for a fun day trip from Johnson City, being only a 30-minute drive away. And at Escape Room Kingsport, lots of fun will be had! Choose your mystery adventure with three different themed rooms.
Backstage Breakout (Beginner, 4–9 players) — As you sneak backstage to get a glimpse of your fave rockstar, you overhear someone plotting his murder live on-stage. This 80s Rock theme escape room is family-friendly with a 2/10 fear factor and 6/10 difficulty rating.
SERIAL (Moderate–Hard, Fear 8/10, 2–8 players) — Blood, screams, and darkness! Awake handcuffed in the dark in a room full of "strangers." Work together to escape… alive!
Taken (Moderate–Hard, Fear 6/10, 2–9 players) — You and your friends get kidnapped while hiking in the Great Smoky Mountains National Park and are led, blindfolded, to an abandoned cabin in the woods. Escape before your captor comes back to finish the job!
These escape rooms are thrilling, suspenseful, and dramatic! If you are under the age of 18, you'll need to fill out a waiver. Children 13 and under must be accompanied by an adult. Book ahead and request to make your room private if you wish to play with only your group.
With raving reviews, Escape Room Kingsport boasts some of the best escape rooms in the Tri-Cities!
4. Elizabethton Escape
Price: $21.95 Adults, $13.99 (ages 8–15), Free (ages 1–7 w/paid adult), 25% Military Discount
Where: 526 E Elk Ave, Elizabethton (get directions)
For: Best for families and kids
Style: Fun, Humorous, Exciting

Elizabethton Escape won the 2021 Reader's Choice Awards for the "Best Escape Room" in the Johnson City area and the "Best Family Entertainment" in Carter County in 2022.
Currently, there are only two escape room games to choose from:
Jurassic Island (Beginner–Intermediate) — Your team has been sent on an expedition to discover lost dinosaur DNA on a deserted island. Turns out, dangerous dinos are still alive and you must escape from an emergency bunker!
Redneck Rampage (Beginner–Intermediate) — Will you survive a hilarious hillbilly shootout deep in moonshine country?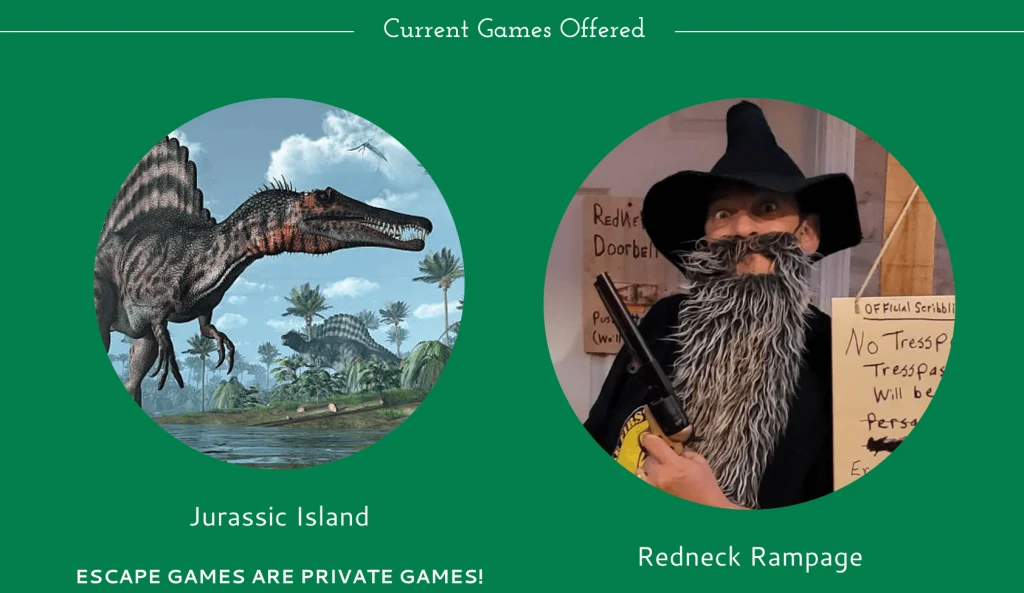 The price of the escape room games also includes free entry into the Retro Arcade room, which features all the classic arcade game machines, a foosball table, Nintendo 64, PC games, board games, and more.
Call for birthday packages, special events, private arcade parties, and early/late hours.
Other escape rooms around the Tri-Cities and beyond:
Escape Game 101 in Jonesborough
Breakout Games Knoxville
Gatlin's Escape Room Games
Trapped Escape Game in Pigeon Forge
Intense Escape in Bristol, VA
Have you ever done an escape room with your friends or family before? Let us know which one of these escape rooms in Johnson City and the Tri-Cities tempts you most!
📌 PIN IT FOR LATER