Are you looking for a park in Johnson City where you can walk your dog, take the kids to practice their baseball throw, or simply connect with nature?
You won't have to travel far as Johnson City has an abundance of parks perfect for outdoor activities.
Parks provide many outdoor activities including trails for hiking, biking, walking, and running to hosting recreational sports, dog parks, picnic areas, playgrounds, and more.
From local city parks to nationally accredited state parks, Johnson City has many parks to choose from! There are parks offering beautiful mountain views and inner-city parks with shaded trails that will be perfect for your next afternoon run.
Keep reading to see where you can find the best parks in Johnson City.
🍁 Planning your Tennessee fall vacation? These are some of our favorite hotels and places to visit: The Carnegie in Johnson City, The Oliver in Knoxville, and The Bristol in Bristol TN-VA!
Best Parks in Johnson City, Tennessee
1. Winged Deer Park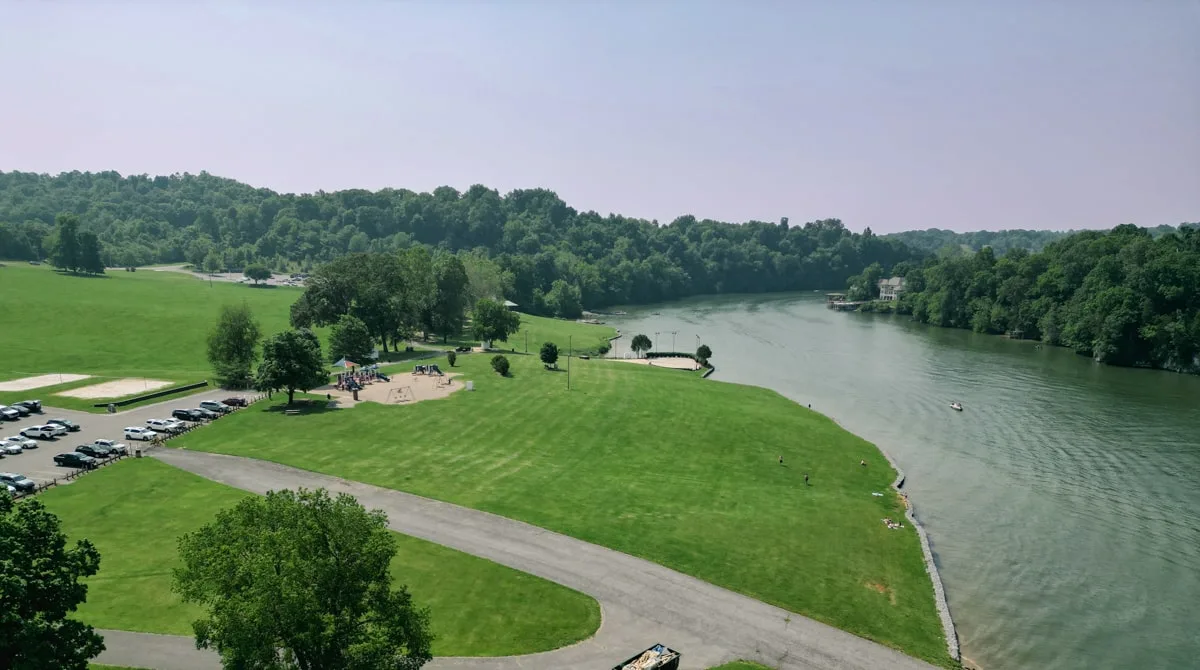 Location: 4137 Bristol Highway
Hours: 7AM-10PM (Summer Hours) / 7AM-7PM (Winter Hours)
Allows Dogs: Yes
Winged Deer Park was established in 1991 and offers many outdoor activities for the whole family to enjoy. This park is best known for being lakefront on Boone Lake with a boat access ramp, disc golf, and sports recreation.
Park Amenities: Softball fields, soccer fields, batting cages, 18-hole disc golf course, playground area, walking track, paved trails, volleyball courts, picnic pavilion, public boating access, and more.
This park can be rented out for events and weddings.
2. Jacob's Nature Park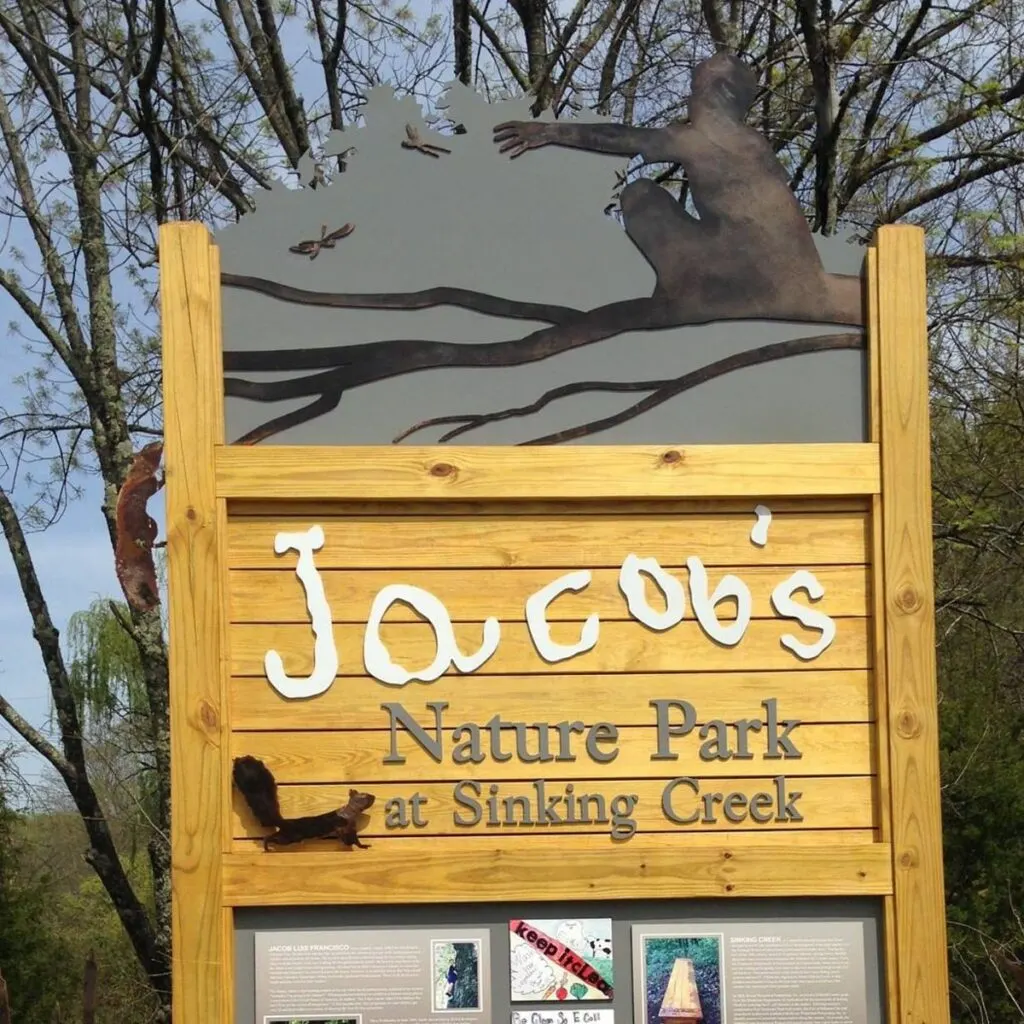 Location: 1220 King Springs Rd
Hours: 5AM-10PM
Allows Dogs: Yes
This 28-acre nature park is just 5 minutes from downtown Johnson City but you wouldn't know it, as you'll feel completely surrounded by nature.
Sinking Creek flows through Jacob's Nature Park, making it that much more relaxing. There are a few hiking trails, as well as a living-roof pavilion, and a wetland area. Although the creek may be inviting, there are many signs warning against doing so due to high levels of E.Coli.
This park was dedicated to Jacob Fransisco, who sadly passed away in 2004 due to an E.Coli infection.
Jacob's Nature Park has been certified as a wildlife habitat. So expect to see many birds, frogs, salamanders, and fish.
3. Founders Park
Location: 225 S. Commerce Street (Downtown)
Hours: Open to the public 24/7
Allows Dogs: Yes
Founders Park is located in downtown Johnson City and is a 5-acre green space known for its displays of public art.
This park is within walking distance of many restaurants in downtown in addition to Johnson City's best breweries including JCBC, Yee-Haw Brewing, Wild Wings Cafe, and more.
Park Amenities: Walking paths, creek, amphitheater, public art, and open-air pavilion.
Founders Park is often a great location to find local events and festivals hosting live music, food trucks, and more.
See Also: 13 Drool-Worthy Restaurants in Downtown Johnson City
4. Willow Springs Park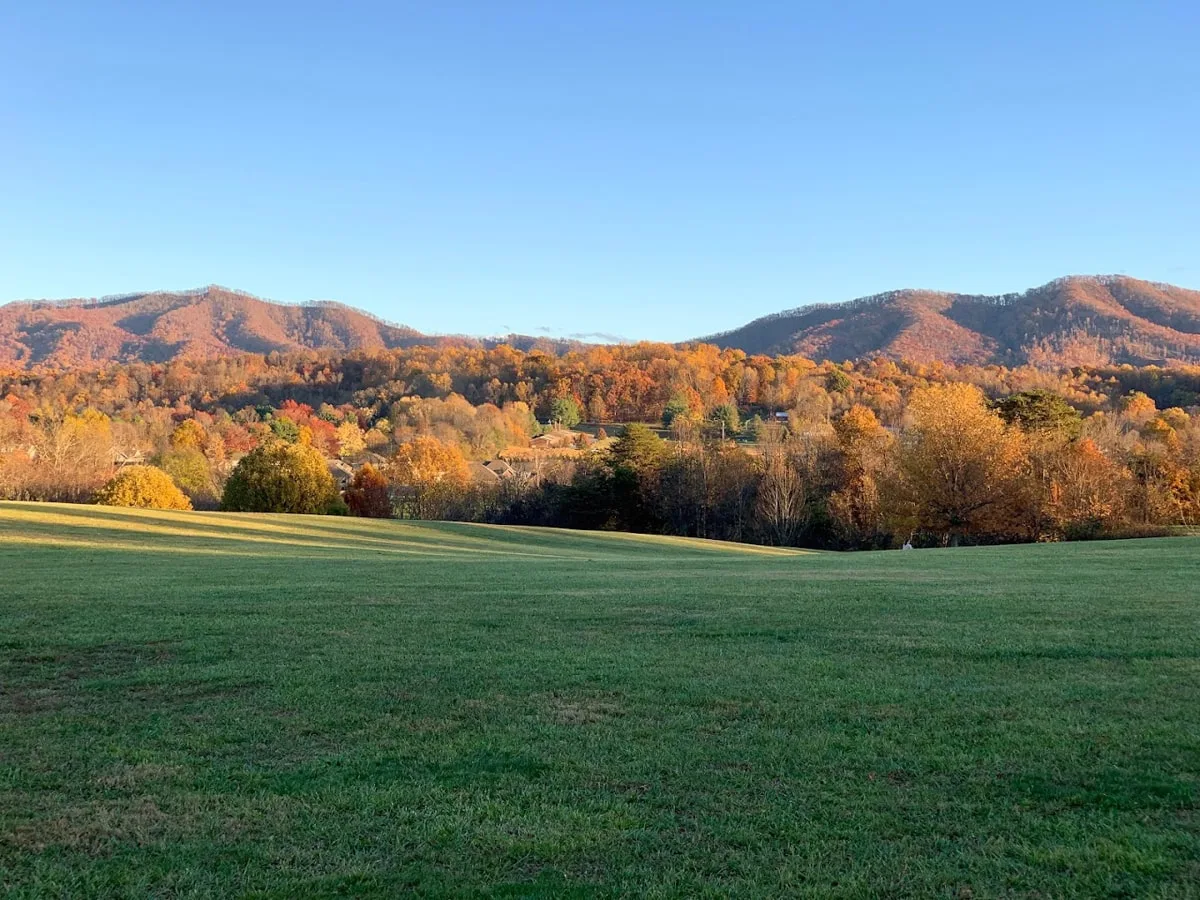 Location: 1201 Huffine Road
Hours: 7AM-10PM (Summer Hours) / 7AM-7PM (Winter Hours)
Allows Dogs: Yes
Willow Springs Park is approximately 36-acres in size featuring a dog park, paved and nature trails, and a train-themed playground.
Willow Springs Dog Park is a fenced-in lot for your dog, allowing your furry friend to play without the restraint of a leash. This dog park is for members only and requires an annual fee with proof of vaccinations. Water fountains and bone-shaped dog pools are provided during the spring and summer months.
Park Amenities: Dog park, picnic tables, picnic pavilion, paved trails, native trails, basketball court, volleyball court, and pond.
5. King Commons Park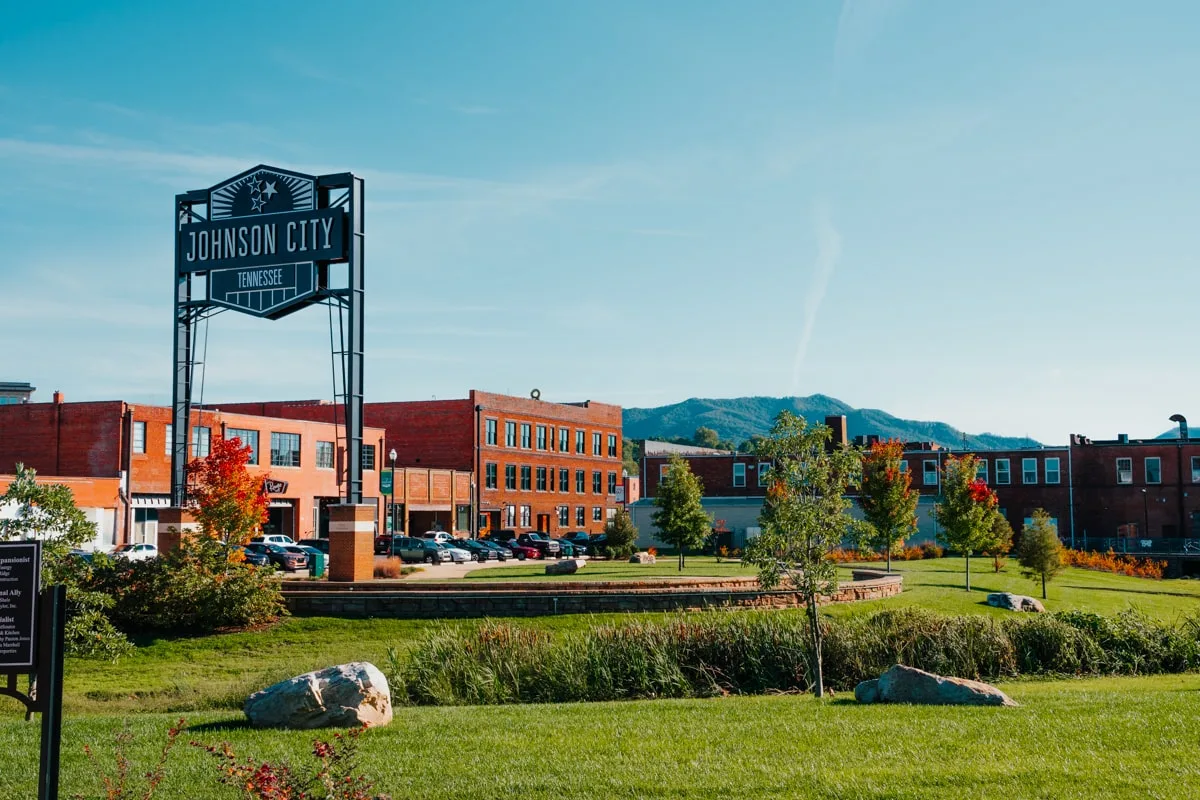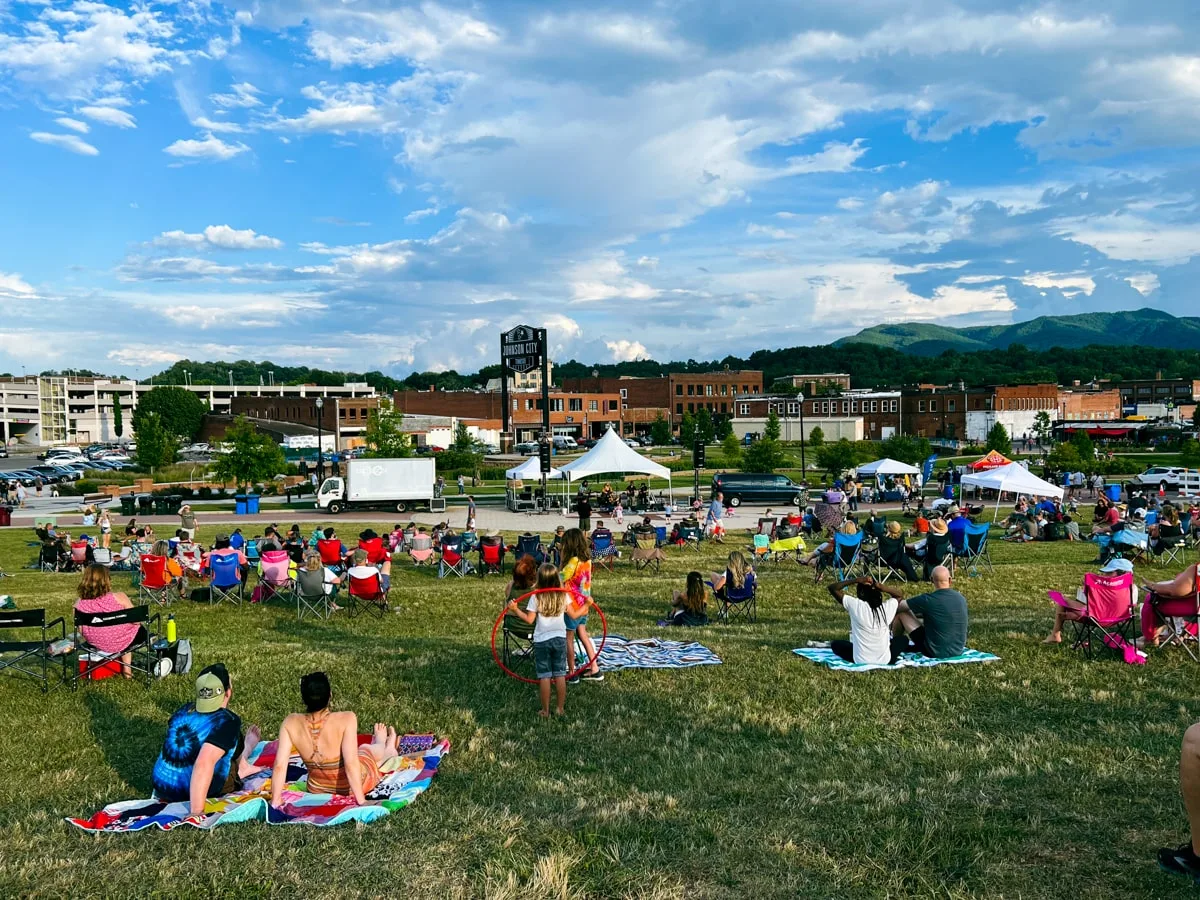 Location: 112 N. Commerce Street (Downtown)
Hours: Dawn to Dusk
Allows Dogs: Yes
King Commons Park was recently completed in 2018 as a stormwater retention project. This park is located in downtown Johnson City surrounded by breweries, food trucks, stores, and restaurants.
This park is host to many events including 'Fridays After 5' — a free summer concert series hosting live music and food trucks.
After visiting King Commons Park, we recommend stopping by either Watauga Brewing or the Atlantic Ale House for a craft beer as both of these are located within steps of the park.
Park Amenities: Walking path, art mural, natural-element playground, and a history circle.
6. Tannery Knobs Mountain Bike Park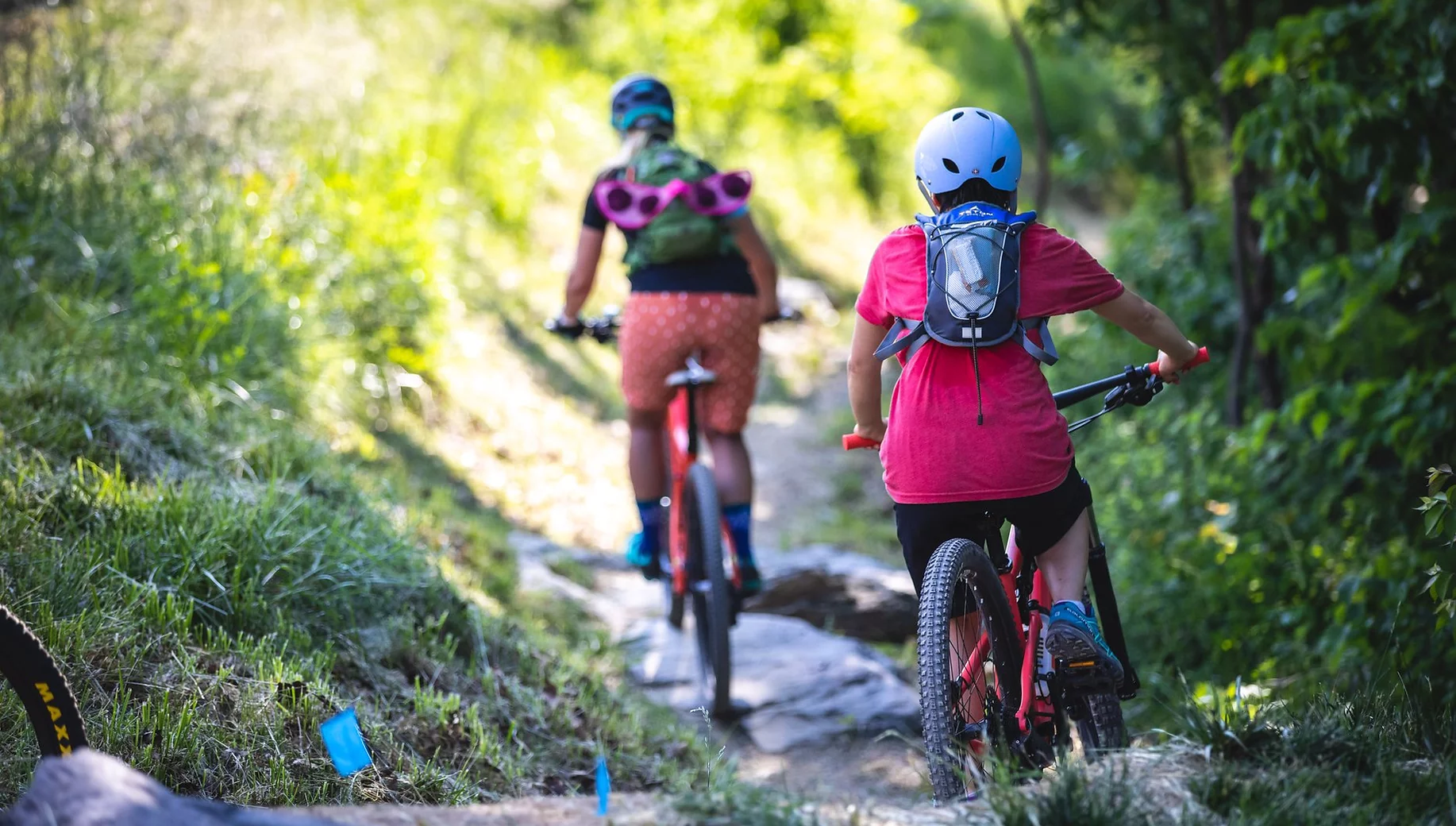 Location: 18 Tannery Knob
Hours: 7AM-9PM (Summer Hours) / 8AM-7PM (Winter Hours)
Allows Dogs: Yes
Consisting of over 40-acres of heavily wooded terrain, Tannery Knobs Mountain Bike Park is a great park for biking, hiking, and running. Designed as a skills park for all ages, you'll have a variety of mountain paths from rough and rocky to smooth and steady.
Experience the thrills of off-road mountain biking and don't forget to bring your helmet! If you aren't interested in biking, Tannery Knobs is also great for hiking and running offering beautiful views of the Appalachian Mountains.
Tannery Knobs is also located within riding distance of downtown Johnson City's breweries, restaurants, and shops. We recommended exploring downtown Johnson City after experiencing Tannery Knobs for a pint of cold beer and good food.
7. Rotary Park
Location: 1001 North Broadway
Hours: 9AM-9PM (Summer Hours) / 9AM-6PM (Winter Hours)
Allows Dogs: No
Rotary Park is one of the most popular parks for kids in Johnson City. This park is over 10-acres in size and is reported to have over 40,000 visitors each year.
Kids love this park for the large inclusive playground, covered picnic areas, and a splash pad — perfect for those hot summer days.
Pavilions can be rented for the day and would be a great location for birthday parties or other events.
8. Buffalo Mountain Park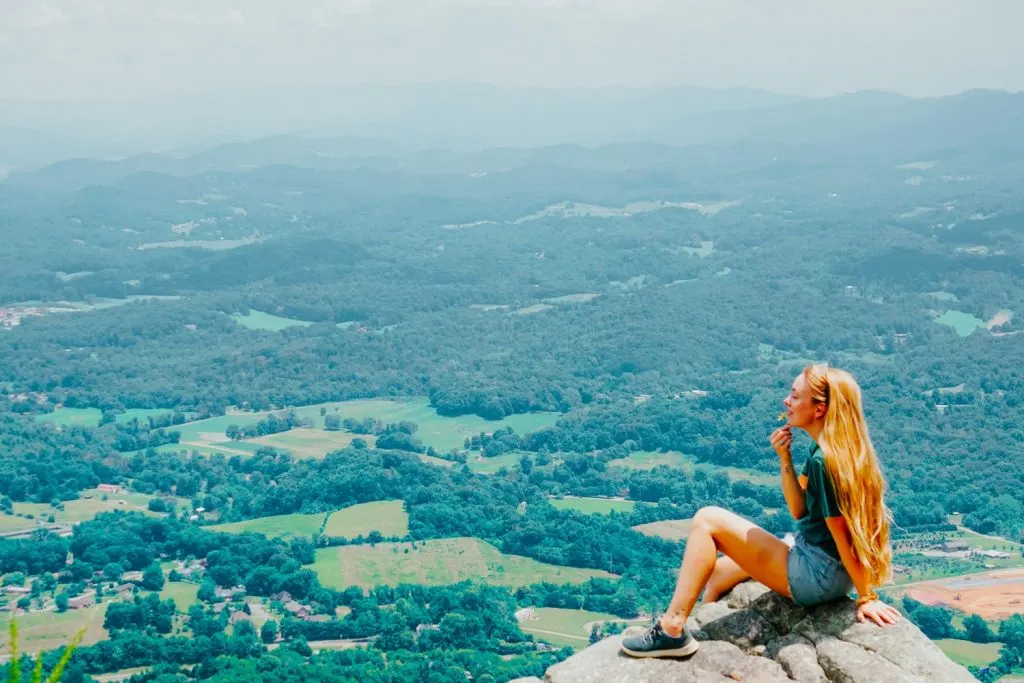 Location: 570 Highridge Road
Hours: 7AM-9PM (Summer Hours) / 7AM-8PM (Winter Hours)
Allows Dogs: Yes
Buffalo Mountain is a 725-acre park offering some of the best overlooks in Johnson City. This park functions as a nature preserve and is great for hiking, picnicking, as well as nature programs.
There are many different trails to choose from for different skill levels, with trail lengths ranging from under a mile to over 4 miles.
Picnic tables and overlooks are located on many of these trails so we recommend packing some food and having a picnic while enjoying great views of the Appalachian Mountains.
9. Off-Leash Social Dog Park
Location: 234 Denny Mill Rd
Hours: Mon: Closed / Tue-Friday: 2:30-9pm / Sat: 11am-9pm / Sun: 11am-8pm
Allows Dogs: Yes
If you're looking for a spot to take your dog, then look no further than Off-Leash Social.
While your dog is playing in the fenced-in lot, you can sit back and relax. Listen to music, sip on beverages such as wine, beer, and cocktails, grab food from the snack bar or food truck of the day, or watch TV.
It's a great place to hang out and let your dog burn off some energy.
Daily, monthly, or yearly dog membership passes can be purchased. All dogs must be registered online and veterinarian records must be uploaded. Two dogs maximum per person. Sadly, pitbulls are no longer allowed due to insurance purposes. 😢
If you don't have a dog, no worries — you can still join in on the fun!
Other Parks Near Johnson City:
David Crocket Birthplace State Park (Limestone)
Roan Mountain State Park
Lincoln Park (Jonesborough, TN)
Bay's Mountain Park & Planetarium (Kingsport, TN )
Warrior's Path State Park (Kingsport, TN)
Steele Creek Park (Bristol TN/VA)
Rocky Fork State Park (Flag Pond, TN)
Sycamore Shoals State Park (Elizabethton)
Unaka Mountain Recreation Area (Unicoi)
Rocky Mount State Historic Park (Piney Flats)
Don't Miss: 50 Best Things to Do in Johnson City (The Ultimate Bucket List!)
What park do you think you'll visit? Let us know what you think in the comments below!
PIN IT FOR LATER