Known as the "Little Chicago" of Tennessee, Johnson City is a must-visit destination as it offers great outdoor activities with beautiful scenery as well as some of the best restaurants located in the Tri-Cities and East Tennessee region.
Whether you are looking for an outdoor patio to grab lunch or a great dinner spot for date night, you'll find that downtown Johnson City has many restaurants to try.
From sticky chicken wings to German schnitzel to southern bbq and jackfruit tacos, downtown offers a diverse variety of drool-worthy food and drinks to please!
In this guide, we're going to break down the best restaurants in Downtown Johnson City for your lunch or dinner cravings.
🏨 Planning your fall vacation? Check out these great hotels: The Carnegie in Johnson City, The Oliver in Knoxville, and The Bristol in Bristol TN-VA!
The Best Downtown Johnson City Restaurants
1. Label Restaurant
Location: 112 Tipton Street
Hours: Sun & Mon: 11AM-9PM, Tues–Thurs: 11AM-10PM, Fri & Sat: 11AM-11PM
One of the best restaurants located in the Tri-Cities region is the Label Restaurant. Here you will find an eclectic atmosphere with fantastic food and a great variety of alcoholic beverages.
From mild & buttery sea bass to a filet sushi roll, this restaurant offers a large variety on their menu.
The Label Restaurant is also known as one of the best places to find hard-to-find bourbons for those bourbon connoisseurs. Here you can find E.H Taylor, Elijah Craig Toasted Barrel, or even try a flight of Pappy Van Winkle. Check out our guide to learn more about the best bars in Johnson City.
Another great perk of the Label Restaurant and the Stir Fry Group is that they are highly involved with their community and charity organizations, including the Coalition for Kids — a non-profit organization committed to helping children in need.
If you are planning on visiting the Label Restaurant, we highly recommend making reservations days in advance as this place is usually fully booked on the weekends.
2. Southern Craft BBQ
Location: 601 Spring Street #101
Hours: Sun–Thurs: 11AM-9PM, Fri & Sat: 11AM-10PM
Looking for that BBQ fix? Southern Craft offers some of the best BBQ around! From smoked beef brisket to jackfruit tacos, they have bbq for everyone.
Southern Craft BBQ can also be found in Bristol, Greeneville, and at Watauga Lake.
While eating some great food, you can also try a craft beer from their very own brewery — Great Oak Brewing. From the Twin Eddies Coffee Porter to the Honey Red Ale, they offer some of the best beer in the Tri-Cities.
Want to see what other breweries Johnson City has to offer? Read our guide on the Best Breweries in Johnson City.
3. Watauga Brewing Company
Location: 142 W Market Street
Restaurant Hours: Tues–Sat: 5-10PM, Sunday: 11AM-3PM
Watauga Brewing Company is a recently opened 3-story brewery, restaurant, and rooftop bar offering great views of downtown Johnson City.
The restaurant here offers unique fine fusion foods with a menu that is always changing. Recent favorites listed on their menu have been items such as Mussel Frites or the Pierogis of the day. They offer both tapas-style small plates and large plates for those with a big appetite.
Not only do they have their restaurant menu, which can be ordered from on all 3 floors, but they also offer a brew-bites menu offering items such as Fish & Chips or the Brewer's Burger.
Looking for a great brunch location? They also serve up some of the best brunch located in the Tri-Cities — serving up favorites such as Chicken & Waffles and Chilaquiles.
Also Read: The Best Breakfast Spots in Johnson City 🥞
4. Main Street Pizza
Location: 300 E Main Street #101
Hours: Mon & Tues: Closed, Wed & Thurs: 11-9PM, Fri & Sat: 11-11PM, Sun: 11-9PM
Main Street Pizza is one of the best restaurants to satisfy your pizza craving. Offering locations in both Johnson City and Kingsport, where they offer gourmet hand-made pizzas, subs, salads, pasta, and more.
One of our favorite pizzas to get here is the Thai Pie — a creamy coconut-sriracha base topped with arugula, roasted chicken, jalapeños, onion, red pepper, and finished with an apple chutney sauce to give you that sweet heat flavor. 🤤
If you aren't wanting to try one of their specialty pies, you can create your own and have a choice of topping it with over 50 toppings to choose from.
They also have a good selection of microbrews and cocktails to choose from. Happy Hour is offered from Sunday to Thursday from 2–6 PM.
5. Timber!
Location: 415 West Walnut Street
Hours: Sun & Mon: Closed, Tues–Saturday: 5 -10PM
Inspired by the mountains, lakes, rivers, and valleys of East Tennessee, Timber! is a great restaurant to find great chef-creations and craft cocktails.
Timber! offers a great patio for lunch and dinner as well as a casual dining room with a wood fire. Find favorites on the menu such as the Beyond Beef Burger or Lamb Meatballs.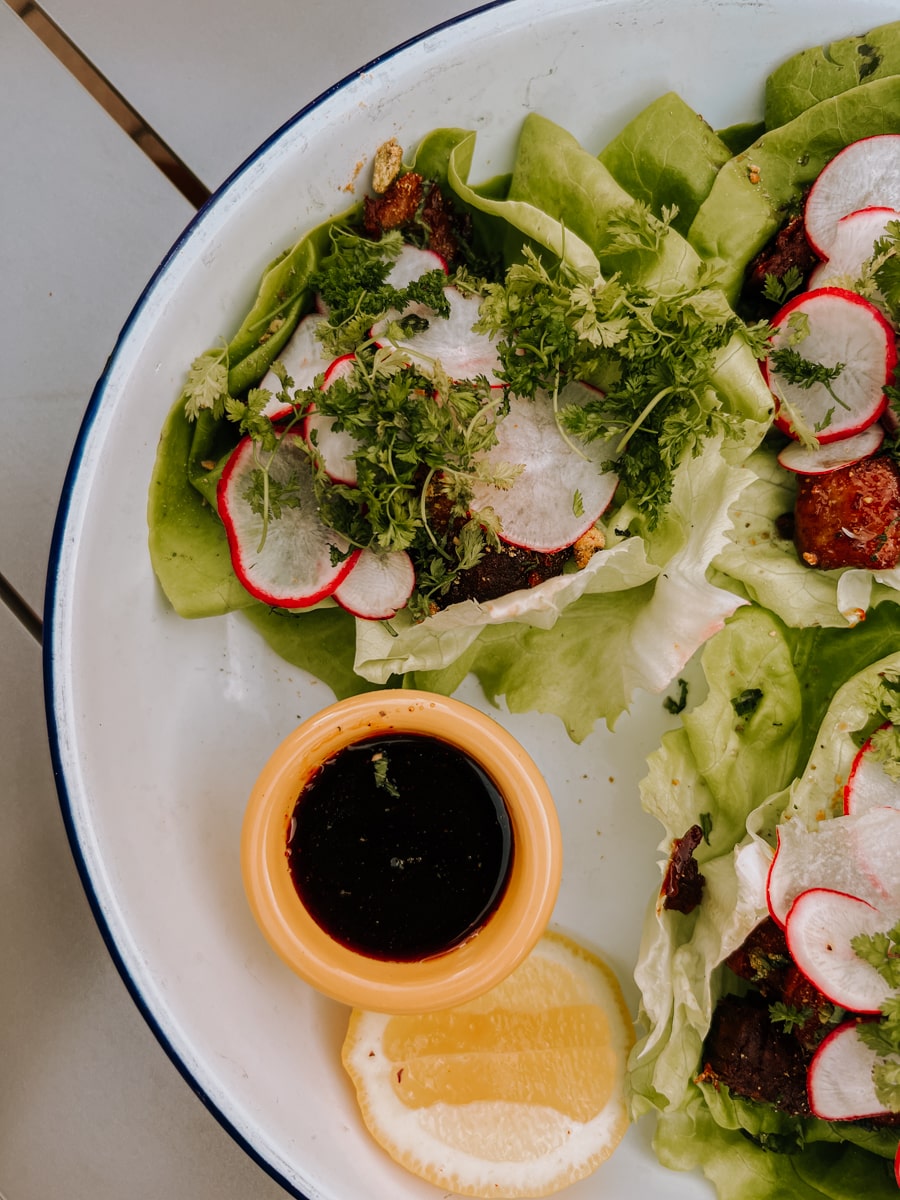 Along with great food, Timber! also offers a great selection of spirits — Rum, Scotch, Bourbons, and Liqueurs, etc. are all offered to give you a good selection for a good cocktail.
6. Juan Siao
Location: 104 Tipton St
Hours: Sun – Tues: 11AM–9PM. Wed&Thurs: 11AM–10PM. Fri&Sat: 11AM-11PM.
Specializing in Mexican-Asian fusion recipes, Juan Siao is the newest trendy restaurant located in downtown Johnson City. This restaurant recently opened in Spring 2022 and is becoming another popular restaurant downtown.
We have tried a few dishes at this restaurant including the Mussels, Umami Tots, Izakaya Fried Chicken Tacos, and the Chicken Miso Ramen. We highly recommend trying the Umami tots as well as any of the tacos on their menu. The Chicken Miso Ramen was good but could have used a little more broth!
Along with great food, this restaurant also offers a large range of Mezcals — an agave spirit distilled from cooked agave piñas.
7. Freiberg's
Location: 203 E Main Street
Hours: Sun: 11AM-8PM, Mon–Thurs: 11AM-9PM, Fri & Sat: 11AM-10PM
Freiberg's restaurant located right on the corner of downtown Johnson City offers a great selection of authentic German dishes and beer imported directly from Germany.
The owner's hometown of Freiberg, Germany is where these dishes are inspired and derived from, allowing you to travel to Germany for lunch or dinner.
All the dishes here are handmade from scratch and usually take hours to prepare and cook. Some favorites offered here are Chicken Schnitzel to Pork Bratwurst. They also have great sides from Bavarian Potato Salad to Sauerkraut.
They also offer great lunch specials starting at $4.99 and up with large portions and happy hour is offered daily from 2-5 PM.
8. Red Meze
Location: 109 Buffalo Street
Hours: Sun: 11AM-8PM, Mon-Thurs: 11AM-9PM, Fri & Sat: 11AM-10PM
Red Meze is a relaxed family-owned café located in the downtown area offering Greek and Turkish Mediterranean fare.
Offering gyros and pitas, specialty pizzas, Turkish kebabs and more, all with great reviews from customers. Try the Musakka — layers of eggplant, sirloin, and béchamel sauce topped with mozzerella cheese, a customer favorite!
End the night with Baklava — a traditional Turkish dessert with layered pastry, chopped nuts, and sweetened with honey or syrup.
Based on the reviews of this place, you will not be disappointed.
9. Mid City Grill
Location: 106 South Commerce Street
Hours: Mon: Closed, (Lunch) Tues–Sun: 11AM-2:30PM, (Dinner) Tues–Sat: 5-11PM, Sun: 5-9PM
Mid City Grill has been popular among locals in the Tri-Cities for many years. They are known for having the "best burgers in town" as well as one of the biggest vegan menus in Johnson City.
Try a fan-favorite burger known as The Outlaw — an 8oz. patty topped with 2 slices of bacon, cheddar cheese, onion rings, mayo, and smothered in nothing else but barbeque sauce.
BYOB as they do not serve alcohol but they do allow you to bring your own!
10. Korean Taco House
Location: 101 Buffalo Street
Hours: Sun–Wed: Closed, Thursday–Saturday: 11AM-3PM & 4-9PM
Located in a little hole in the wall in downtown Johnson City, you'll find the Korean Taco House. This is a hidden gem that everyone should be willing to try as you will find great food and service.
One of my favorites is the Chicken Korean Tacos or the gigantic bowl of Ramen. Most dishes cost under $10.00 making this place budget-friendly!
Keep in mind this is a very small restaurant with about 4-5 tables located inside. If you have a large party, we recommend getting take-out instead!
11. White Duck Taco
Location: 126 Buffalo Street
Hours: Sun–Thurs: 11:30AM-9PM, Fri & Saturday: 11:30AM-10PM
Located in the same building as Yee-Haw Brewing Company, White Duck Taco Shop offers a variety of unique tacos offered from an a la carte menu.
Choose from Bangkok Shrimp Tacos, Thai Peanut Chicken, Banh Mi Tofu, and more. All tacos can also be substituted with Tofu or Jackfruit for those out there who are vegetarian or vegan.
We recommend ordering a few tacos, maybe some chips and salsa, and then heading over to Yee-Haw Brewing for a craft beer!
Also Read: 15 Best Finger-Licking Food Trucks in Johnson City (& Tri-Cities)
12. Holy Taco Cantina
Location: 211 East Main Street
Hours: Sun–Thurs: 11AM-1AM, Fri & Sat: 11AM-3AM
Holy Taco Cantina is located right on Main Street in downtown Johnson City with an outdoor patio for those beautiful summer days.
Try the Carne Asada burrito platter or the blackened cod fish tacos. Don't forget the chips and guacamole! 🌮
They also offer daily happy hours specials from 3-7PM with $3.00 Margaritas in many different flavors including Strawberry, Peach, Mango, Passion Fruit, and more.
13. Wild Wing Cafe
Location: 71 Wilson Ave
Hours: Sun–Tues: 11AM–Midnight, Wed–Sat: 11AM–2AM
Wild Wing Cafe is a great location for anyone wanting a cold beer, chicken wings, and to watch sports on one of the many large-screen TVs.
A chain location and offered in many different cities and states, Wild Wings made this list for their great wing selection. My favorite is the Honey Mustard Chicken Wings, as they are tangy, sticky, and tasty.
Wild Wings also offers events with live bands and karaoke nights, check their Facebook page for upcoming events.
Have you tried any of these restaurants in downtown Johnson City? Do you have any recommendations for us? Drop them in the comments section below!
📌 Pin this Guide to Restaurants in Downtown Johnson City