If you and your special someone are looking for romantic things to do in Johnson City, you're in luck! In this guide, we've compiled some of our favorite activities to do as a couple.
Johnson City may be a mid-sized city, with roughly 70,000 people, but it's got a lot of heart and soul—plenty enough to swoon your date! ❤️
Think panoramic views that'll sweep you off your feet, food and beer that'll make your belly (and heart) full, indoor games that make for a perfect rainy day, and plenty more.
No matter what your budget, style, or occasion is, there's always something fun and new to do for everyone.
Whether it's your first date or your 100th, here are fun date ideas to do in and around Johnson City!
Fun & Romantic Things to Do Around Johnson City, Tennessee
1. Take Your Date to a Secret Speakeasy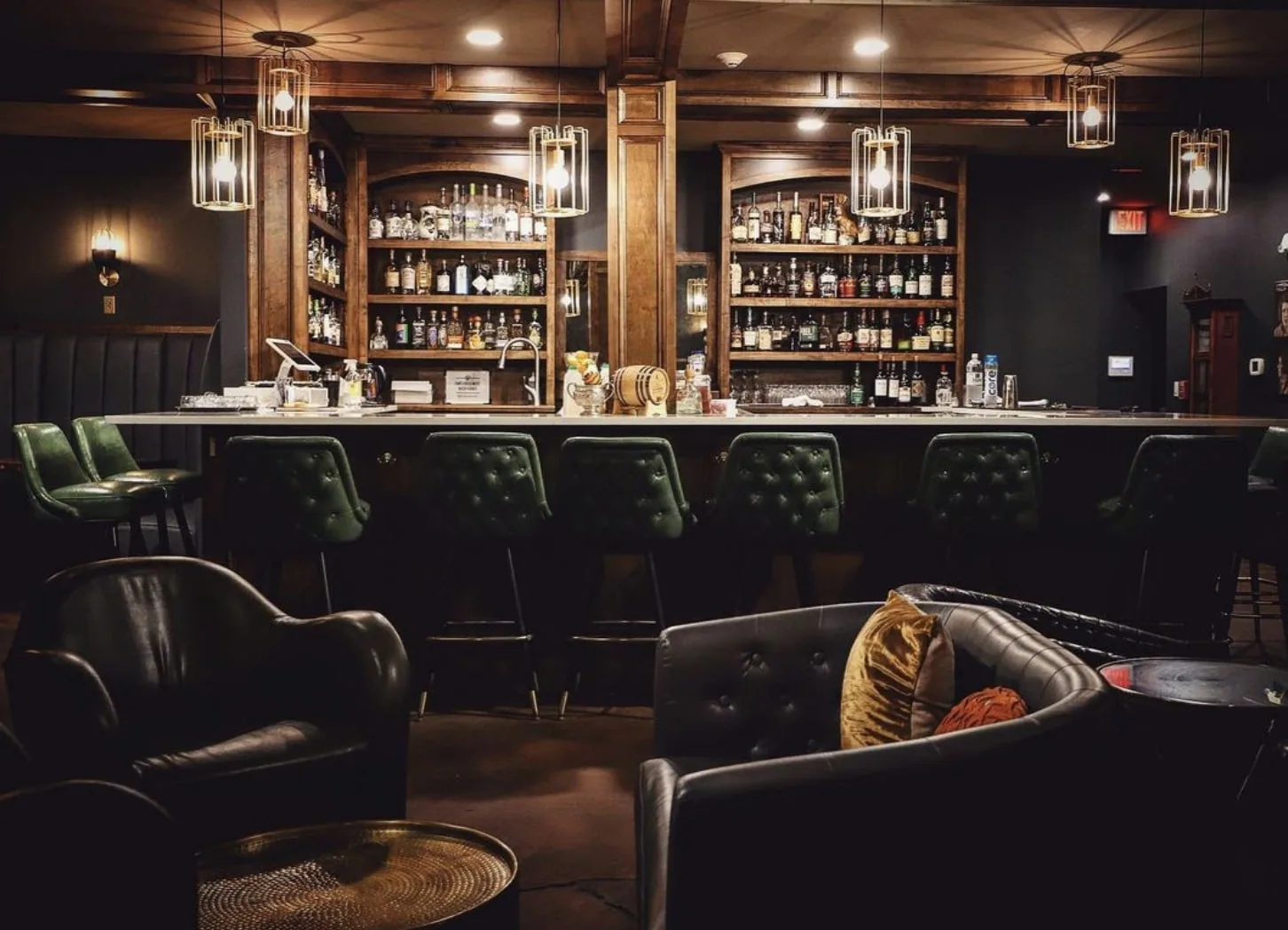 Plush leather seating, cozy lighting, and creative, craft cocktails — need I say more? If that doesn't sound like a romantic place for a date (21+), then what is!
The best part about this speakeasy located in downtown Johnson City is just that — it's "technically" a speakeasy, meaning it's somewhat hidden from plain view.
To get inside, pull back the secret vending machine-looking door…
Need a hint? Check out The Windsor Speakeasy in Johnson City on Instagram.
2. Bike the Tweetsie Trail Together
The Tweetsie Trail is a 10-mile urban trail that connects downtown Johnson City to Elizabethton and beyond.
It's a scenic, mostly flat trail that will take you and your significant other under shady trees, across bridges, and past quaint countryside houses and farms.
You can rent bikes nearby the trailhead at Local Motion Cyclery ($24/pp) or bring your own.
3. Go Brewery Hopping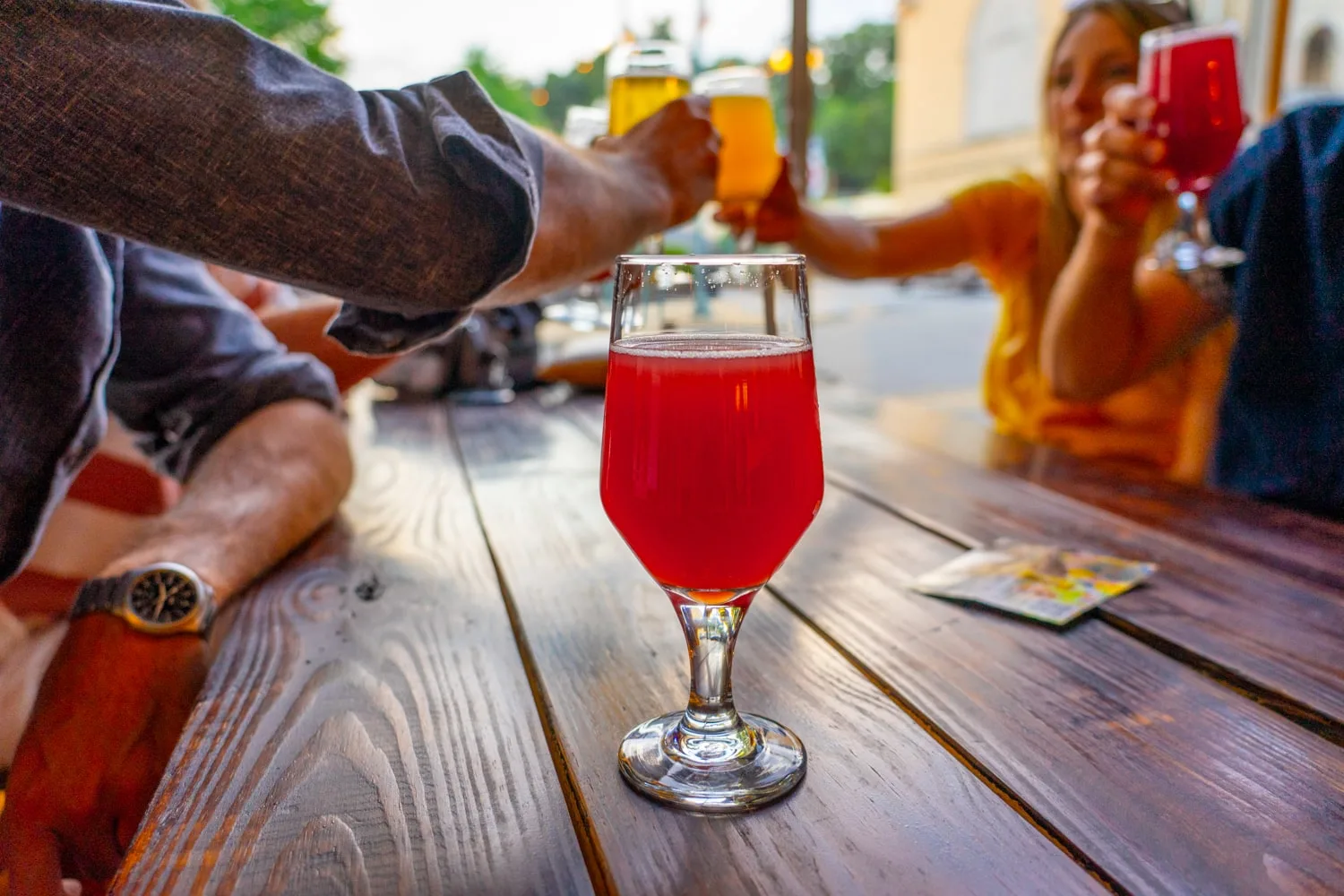 There are a handful of breweries in Johnson City that offer a fun time for you and your date! Choose from a variety of creative or classic brews while eating comfort snacks and playing party games.
From corn hole at Yee-Haw to mini Jenga at JCBC, there's always something "extra" to discover and enjoy together at one of the breweries in town.
Of course, stay safe and get an Uber or DD to drive you two love birds home!
4. Laser Tag & Axe Throwing at Quantum Leap
If you and your date are playful and full of energy, then the perfect date idea for you might be a night out chasing each other with lasers and throwing Nordic battle axes (not at each other, hopefully).
At Quantum Leap in Johnson City you can do both, and then some. You'll find tons of fun games to play inside this fun amusement center and sports arena, such as:
Laser tag
Badl Axe throwing (beer on tap available for 21+)
Trampoline park
Battle beam pit
Dodge ball courts
Arcade
Private party rooms
5. Watch a Movie at a Vintage Drive-In Theater
While you can catch a movie at the comfortable and spacious AMC 14 movie theater in Johnson City, why not take a drive back in time and pull up old-fashion style at a vintage drive-in outdoor theater?
Sounds cool, right?
Well, it is! And you can check out the movies and showing times yourself at State Line in Elizabethton, TN. It's an easy 20-minute drive from downtown JC).
While concessions are available on-site, you're free to load up on all the snacks, drinks, and popcorn you can fit in your vehicle. 🍿
6. Hike to a Gorgeous Waterfall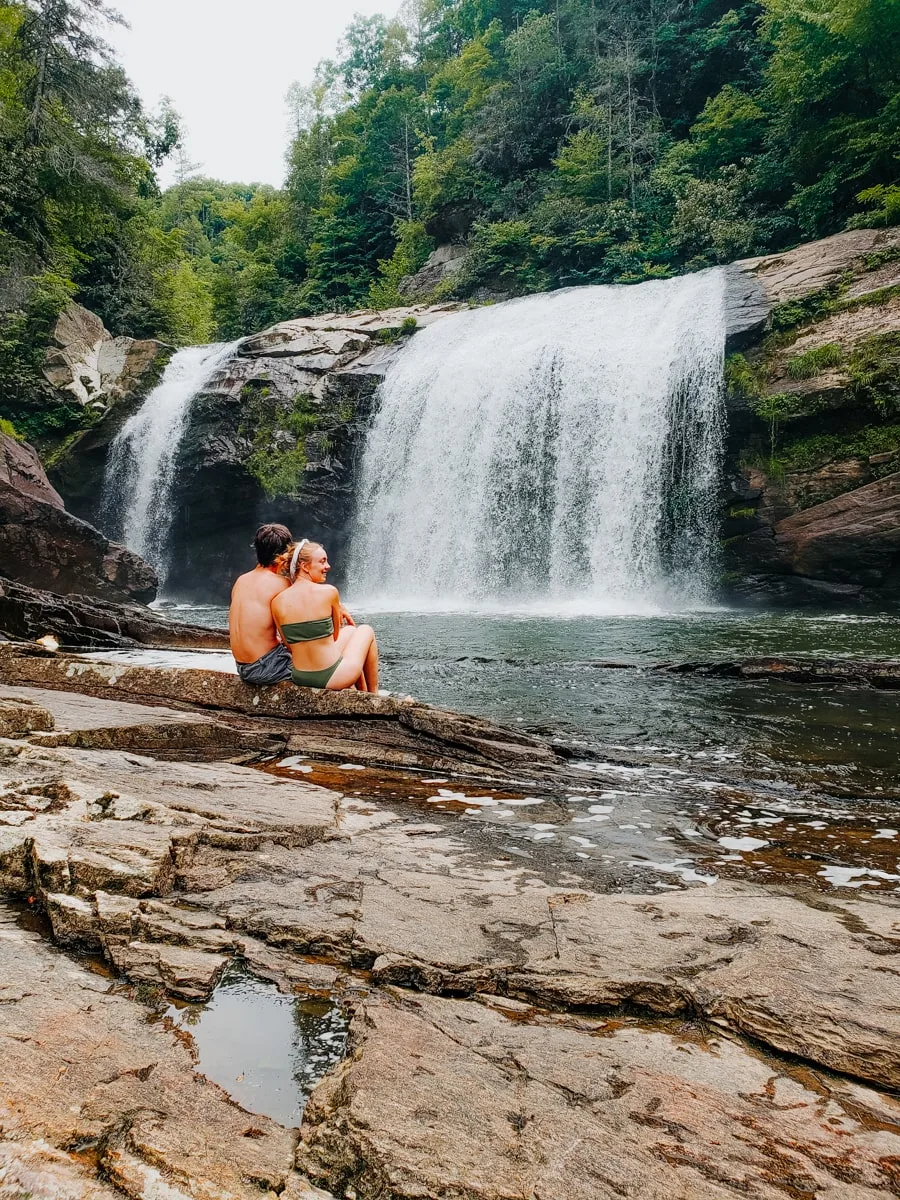 Did you know Johnson City has dozens of waterfalls you can hike to? And all within a 20–30 minute drive away.
The best waterfalls near Johnson City are perfect for outdoorsy dates. If you have a #granolagirl on your hands, then you must take her hiking to this waterfall!
Our three favorites are:
Laurel Falls
Blue Hole Falls
Compression/Twisting Falls (pictured)
7. Grab Rooftop Dinner & Drinks Downtown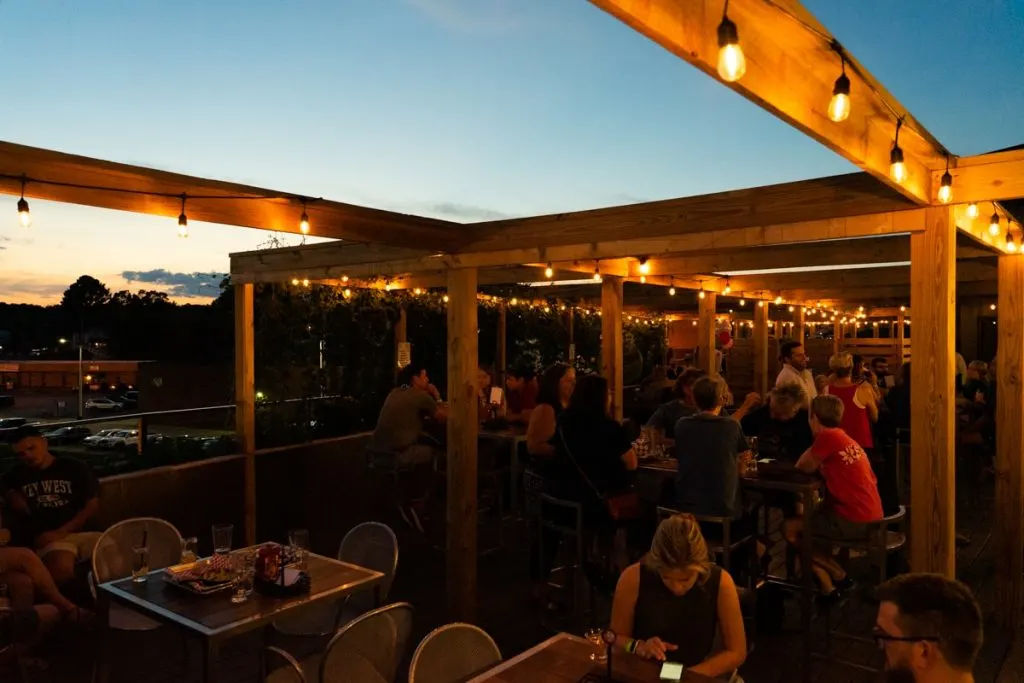 There are so many delicious restaurants in downtown Johnson City that are ideal for a date night out.
Good food and good drinks make for a good time!
If you want to make the night extra special, head up to Johnson City's exclusive rooftop bar — Skybar at 3 — at Watauga Brewing Company for sunset.
The terrace overlooks downtown JC and is striking when the sun sets and becomes fiery orange.
8. Hit the Bars & Clubs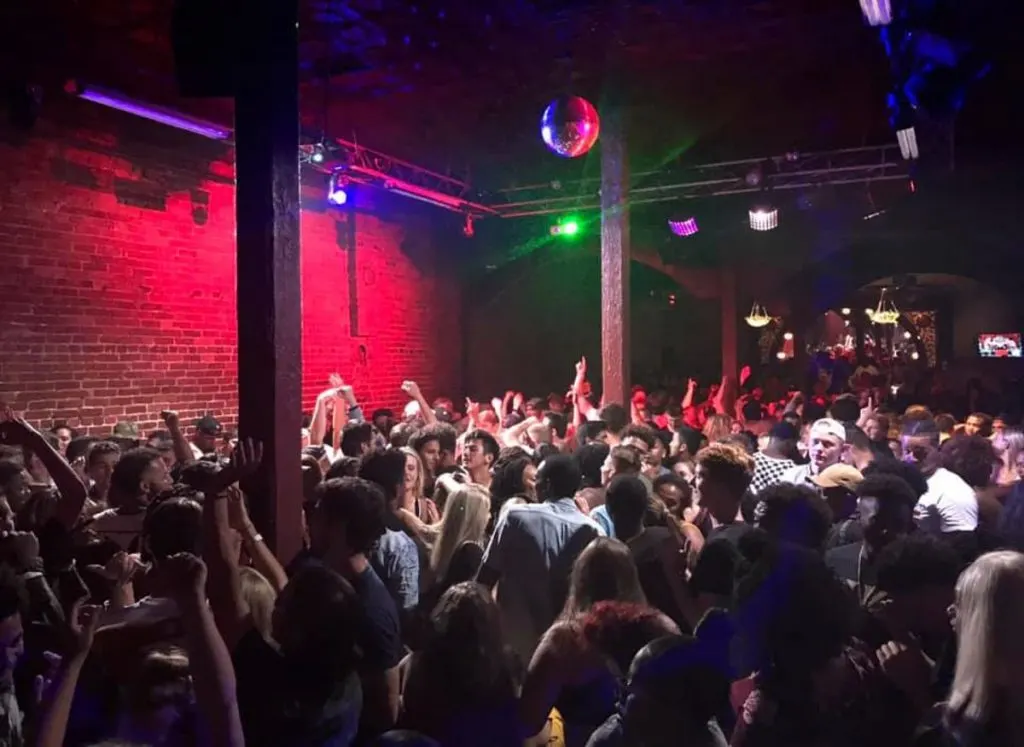 There aren't dozens to choose from, but that doesn't make any of Johnson City's bars and clubs less fun or worthwhile.
The only decision to make is where to go!
For live music, karaoke, and a round of pool, head to Numan's.
For something a bit smoother and refined, check out the Wonderland Lounge for Sunday Jazz nights and cocktails.
Discover other places to go in our nightlife guide to Johnson City. 🪩
9. Play a Friendly Game of Putt-Putt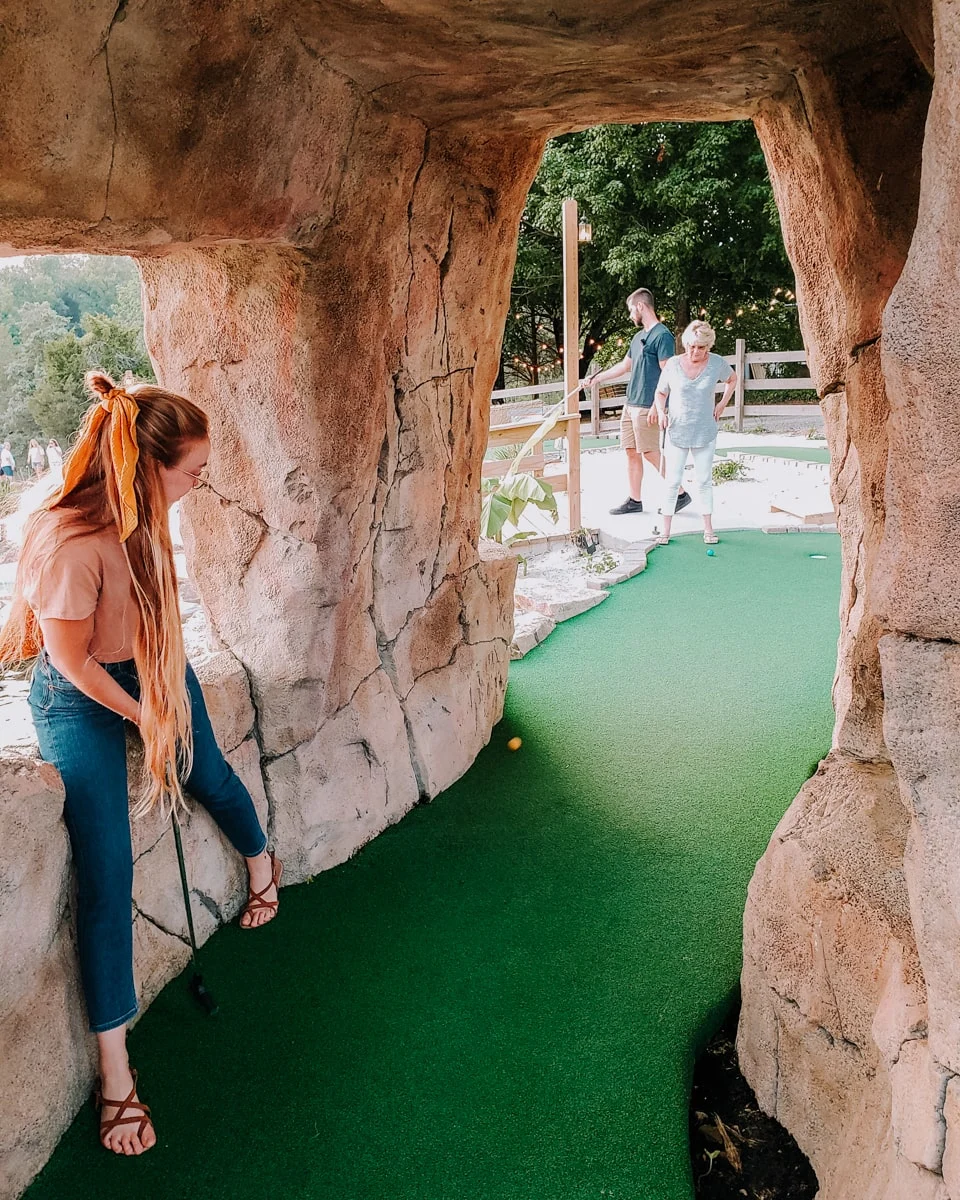 Putt-putt is fun no matter the occasion, but it especially feels sweet when you want to impress your date by getting a hole-in-one. ⛳️
Paradise Acres has a super cute, fun, and challenging miniature golf course located right outside of Johnson City in Gray.
In addition to their mini golf course, they offer hayrides, movie nights, outdoor laser tag, pumpkin patches, and more family-friendly activities.
Putt-putt games cost $9 per adult or $10 if you go at night and play "Glow Golf" with glow-in-the-dark golf balls!
Ask about their Date Night Combo, which includes Glow Golf, concession snacks, and either a U-Cut wildflower bouquet, hayride, or gift shop credit (depending on the season).
10. Enjoy a Picnic Atop Buffalo Mountain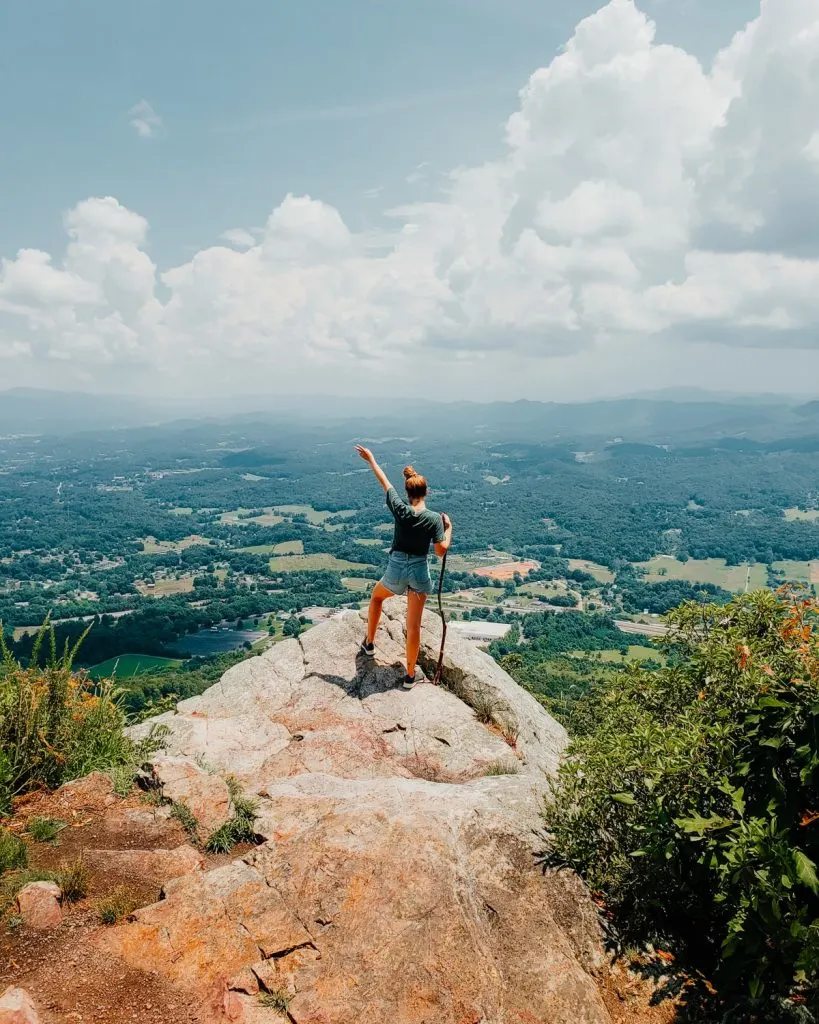 Buffalo Mountain Park is located right outside of downtown (just five minutes away) and offers some of the best hiking trails around.
It would be a fun and thoughtful date idea to pack a picnic and go walking or light hiking with your sweetheart and take in panoramic views of the Unicoi Valley from atop Buffalo Mountain.
You can hike bottom-up or take a shortcut and drive. Whichever you choose, Buffalo Mountain has rewarding views for whoever makes it to White Rock!
11. Solve an Escape Room Together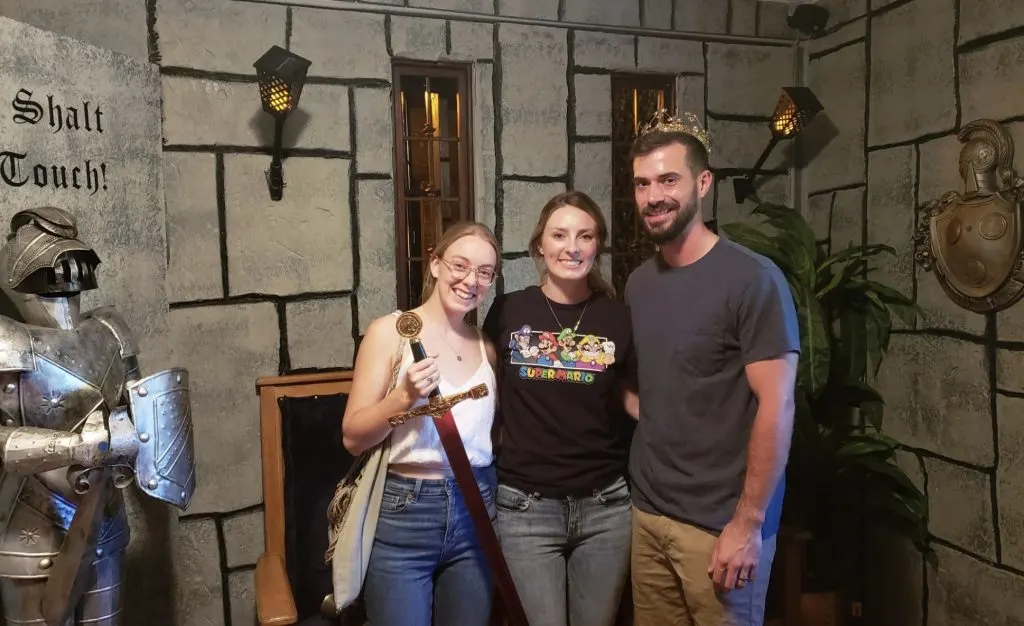 Escape rooms are super fun activities to do with friends, family, or a date!
They require you to work together, be patient, and combine all those creative brain juices — perfect for challenging you and your partner and putting your strengths to the test!
For my birthday, we chose to go to Perplexodus in Gray, TN (just outside of Johnson City).
We did the Quest for Excalibur and escaped with one minute to spare! It was so much fun to work out the puzzles. The live actor who role-played for us nailed it and was so friendly.
Will you escape in time?
Other Fun Date Ideas to Do in Johnson City
Did you find something that would be perfect for you and your date? We hope so! In any case, here are a couple of more date ideas to do around Johnson City.
If you have any suggestions to add to this list, let us know in the comments below. Have a safe and fun time enjoying these activities with your date!
📌 PIN THIS DATE IDEA FOR LATER