Are you looking for a Middle Tennessee adventure? Well, then check out the best cabin rentals in Murfreesboro!
Enjoy the convenience of being less than 35 miles from Nashville, while also being ideally located to explore several adorable small towns. (We're looking at you, Tullahoma, and Shelbyville).
Perfect for a weekend getaway, the Boro is also near several popular Tennessee waterfalls.
In just under 1.5 hours, you can be at Cummins Falls, Fall Creek Falls, or Burgess Falls. Likewise, the several cascades in Rock Island State Park are nearby.
With so much to experience, renting one of the best cabins in Murfreesboro is the way to go.
Whether you're a local Nashvillian looking for a close-to-home escape or you're visiting from out of state, the perfect Tennessee weekend starts in the Boro!
Let's take a look at 10 of the best VRBO cabins you can rent in Murfreesboro.
Best Cabin Rentals in Murfreesboro, TN
1. Urban Cabin Downtown
First, we have a downtown cabin. Nestled close to MTSU and the main square, you'll find one of the best cabin rentals in Murfreesboro.
The charming historic 1927 bungalow-style Bilbro Cabin has two cozy bedrooms and a single bathroom, as well as an additional futon for extra guests.
Aside from its convenient location, what sets this Murfreesboro cabin apart is its huge fenced backyard. This provides the perfect setting for outdoor gatherings or simply relaxing under the Tennessee sun.
On cooler days or those with less-than-ideal weather, cozy up in the airy sun room. Be sure to pack a good book!
Inside, the Bilbro Cabin has a full kitchen equipped with all the essentials to whip up your own meals. Remember, the Square is just half a mile away if you prefer to go out!
Also, you'll find a well-stocked supply of board games in the cabin, ensuring a fun-filled night even if you don't venture out.
Start a fire in the fireplace, make a batch of cocktails, and settle in for some friendly competition.
2. Cheerful Cozy Retreat
This lovely cabin is tucked off the beaten path, in the adorable town of Eagleville. It sits on eight sprawling acres just a short drive from both Murfreesboro and Franklin.
With three inviting bedrooms (one is upstairs and on the smaller side, perfect for little ones!) and two well-appointed bathrooms, this cabin comfortably accommodates up to five guests.
Inside, you'll find modern amenities, including a convenient washer and dryer. Every room has a TV, which is nice for giving everyone their own space to unwind.
Outside, two covered decks provide the perfect setting for relaxing or even working remotely. From the back deck, you even have a clear view of Main Street!
Whether you're looking for a peaceful retreat or an adventure-packed vacation, the location alone makes this one of the best cabin rentals in Murfreesboro.
While surrounded by open nature, you're also within walking distance of charming boutiques and restaurants and close to Arrington Vineyards — one of our recommendations for the best things to do in Nashville.
And, if you're looking for more options, you can be at Nashville restaurants in just 45 minutes!
🏡 Book the Cheerful Cozy Retreat Here
3. Mountain View Cabin on 12 Acres With a Hot Tub
This beautiful cabin has everything you need for a relaxing mountain retreat.
For example, outside, it has a tire swing, fire pit area with a variety of seating, and yard games including cornhole. And of course, the crown jewel — a hot tub. All this, and it sits on 12 sprawling acres.
Inside, there's a wood-burning fireplace, game room with a pool table, and even a mobile office. Of course, we don't recommend working too much!
While all those amenities are great, they're actually not the factors that make this one of the best cabin rentals in Murfreesboro. Instead, what makes this cabin stand out are the thoughtful little details.
The owners keep a stocked snack bar in the game room, installed a child/pet-safe gate at the entrance to the steps on the deck, and have a variety of toys onsite.
Better, yet they organized the toys! There are baby/toddler toys, toys for bigger kiddos, and toys just for outside.
One last bonus: this Murfreesboro cabin is exceptionally pet-friendly! It even has an enclosed area on the side yard designated for pet relief.
🏡 Book this Mountain View Cabin Here
4. Darling Hill Retreat
Introducing the epitome of the best cabin rentals in Murfreesboro – Darling Hill Retreat.
Situated on a sprawling 21-acre estate, this picture-perfect haven combines luxury, relaxation, and entertainment.
The cabin has four bedrooms, each with a whimsical theme and name such as "Cowboy Up" and "Hello Darlin."
As you step inside, a stocked coffee bar greets you just outside the fully-equipped gourmet kitchen. The dining space has seating and supplies for 12, making this an excellent cabin for hosting a group.
To add to that point, Darling Hill Retreat has ample parking for up to 15 vehicles, a full bar area, an oversized deck, and an outdoor hammock setup.
A screened porch off the kitchen invites you to enjoy Tennessee's amazing nature. You may never want to leave this space, with a grill, fire pit, and dart board for friendly competitions.
Back inside, a reading nook/game area provides endless entertainment.
For outdoor enthusiasts, hiking trails and corn hole invite you to get some fresh air. And when it's time to let loose, head over to the photo-op area with a saddle and other Western props.
🏡 Book the Darling Hill Retreat Here
5. Secluded Mountaintop Lover's Cabin
If you're looking for a romantic getaway, this is one of the best cabin rentals in Murfreesboro for couples.
The charming 1-bedroom, 1-bathroom log cabin offers an intimate, secluded escape like no other.
Nestled on 50 private acres in the Appalachians, this cozy retreat is the perfect hideaway for couples and nature enthusiasts.
This cabin's knotty pine construction and open loft design lend it even more of a romantic vibe. There's also a full kitchen for cooking meals in and a TV, but honestly, we don't think you'll want to stay inside!
Although the cabin has a fairly small footprint, its outdoor spaces are larger than life. You'll want to sit on the wraparound porch for hours, doing little more than sip coffee and watch for wildlife.
In the evening, enjoy s'mores by the fire pit and then stare up at the Tennessee night sky.
6. Cozy Manchester Cabin With Hot Tub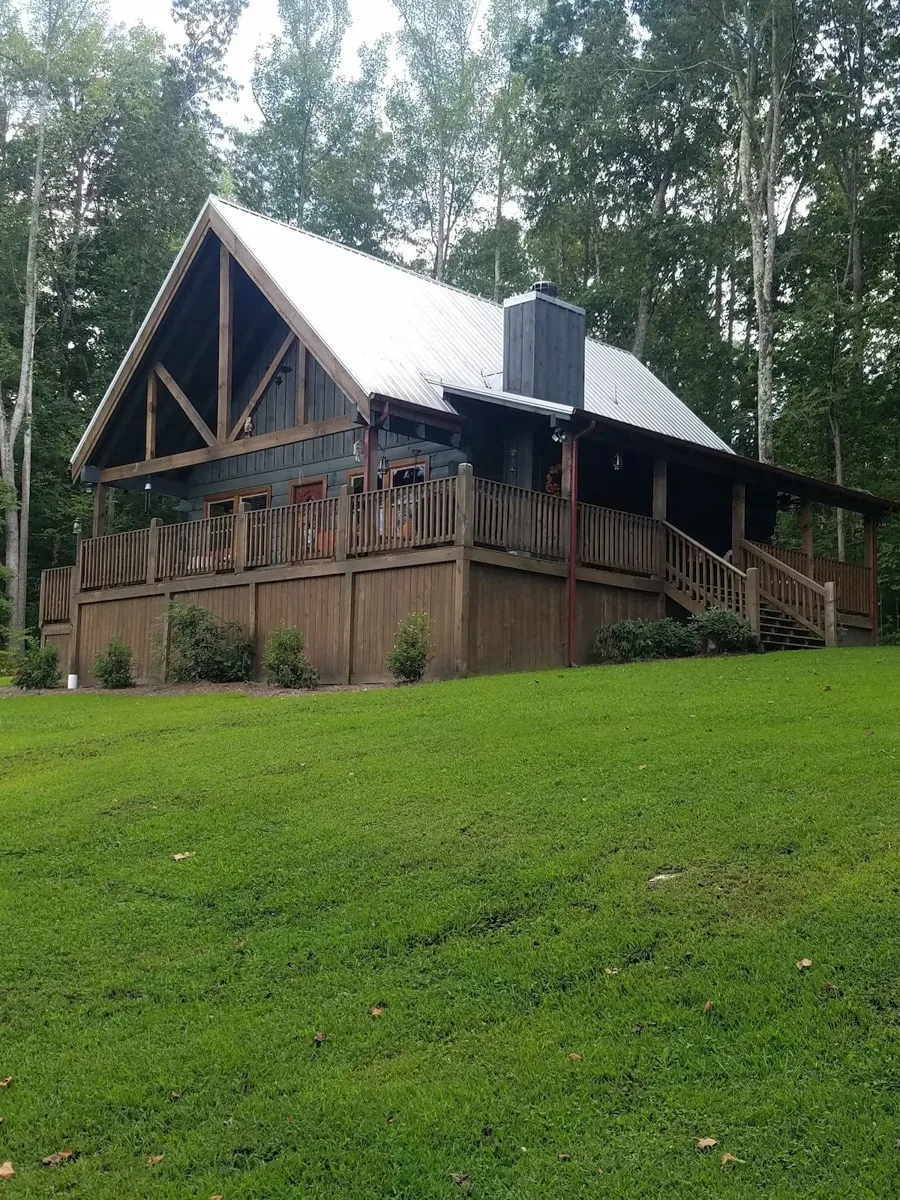 Nestled in the charming town of Manchester, just a stone's throw from Murfreesboro, you'll discover this cozy 1-bedroom loft cabin.
One of its best features is the location. Sitting at the end of a dead-end road and surrounded by woods, you'll feel like you're hours from the city.
The cabin's focal points are the huge kitchen and wood-burning stone fireplace, inviting you to unwind on chilly evenings. In the kitchen, you'll feel like you're right at home as you whip up meals around the live-edge island.
Upstairs, the loft offers additional sleeping space, which is ideal for little ones or a couple.
Outside, a fire pit beckons you to gather 'round. Of course, the wraparound porch is a true gem, complete with a hot tub and grill.
Finally, the owners really make this one of the best cabin rentals in Murfreesboro. The perfect 5-star reviews consistently mention the cabin's thoughtful decor, as well as the owner's hospitality.
🏡 Book the Cozy Manchester Cabin Here
7. Clean, Sunny Cabin Close to Music City
Discover the ultimate retreat near Percy Priest Lake – this impeccably clean 1-bedroom cabin.
If you want to be close to Nashville but not too close, plus be able to enjoy the lake, this is one of the best cabin rentals in Murfreesboro.
You enter the cabin's huge front porch before going inside. Once there, you'll find a simple but inviting and spacious living space with a full kitchen.
In the bedroom, sink into the king-sized bed that guests consistently rave about. Many reviews say it's the best night of sleep they had in a long time!
Another highlight of this cabin is the frequent wildlife sightings, which includes wild turkeys and deer. Keep your eyes peeled for them (and drive carefully in the neighborhood!).
Also, the owners live right next door. Guests have plenty of space and privacy, but it's nice knowing they're on hand if you need anything.
8. Whiskey Lovers' Paradise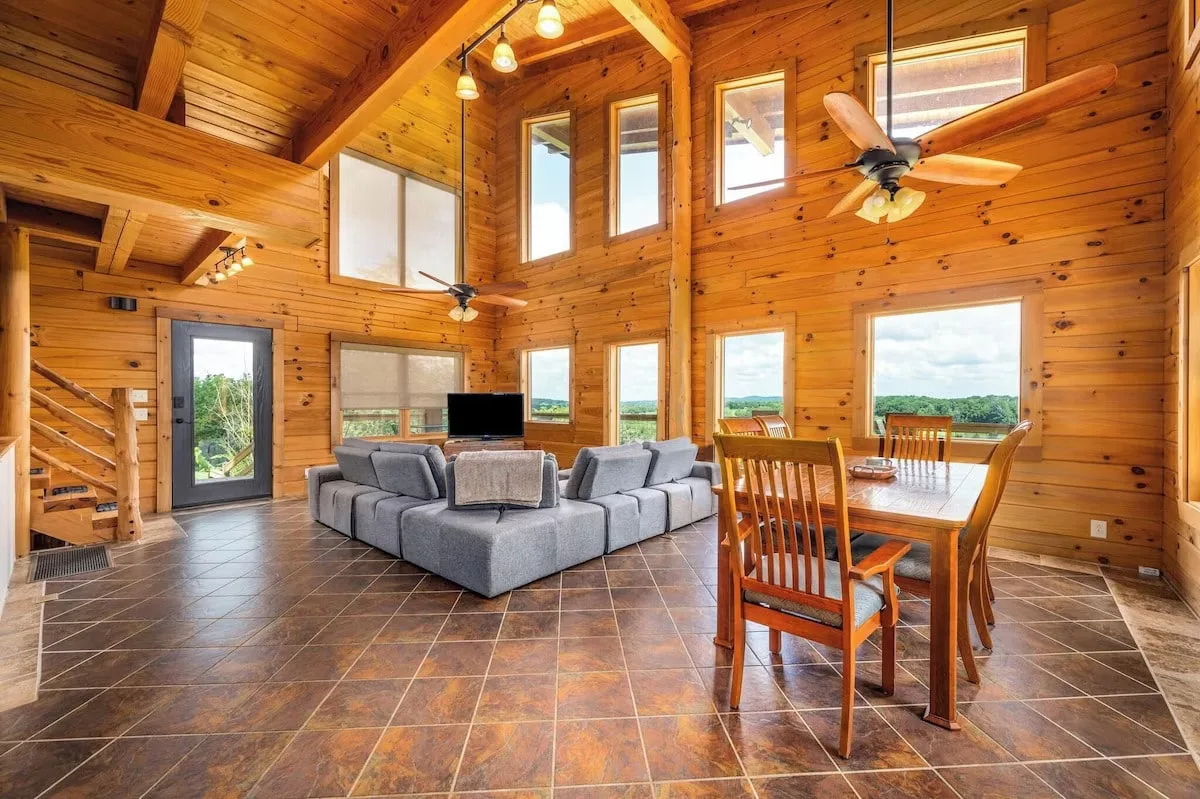 Calling all whiskey lovers! Located in Wartrace, just a short drive from some of Tennessee's most popular distilleries, this is the Panoramic Paradise Cabin.
The large 3-bedroom, 3-bath cabin accommodates up to 10 guests and effortlessly blends rustic charm and modern luxury. Also, it's set on a gorgeous 10-acre property, surrounded by natural beauty.
Inside, the open loft design and huge picture windows make the cabin seem even larger than it is. The views seem to stretch all the way to the horizon!
There's a full gourmet kitchen, a wet bar in the downstairs living area, and multiple decks, including a lower wrap-around deck. Even if you're inside, the cabin highlights views from every angle.
One of the bedrooms is a bunk room to accommodate more guests, which makes this cabin perfect for large families or groups. In the same way, for added convenience, there's even a laundry room.
Finally, the master bathroom is a true sanctuary. It has an amazing soaking tub and a unique circular walk-in shower, where you can indulge in spa-like relaxation.
🏡 Book the Panoramic Paradise Cabin Here
9. Civil War-Era Cabin on 75 Acres
Take a step back in time with a stay at Uncle Pete's Cabin, a unique 1-bedroom Civil War-era log cabin on a private 75-acre ranch.
This historic gem offers a one-of-a-kind experience in a setting that's tranquil, yet just outside of bustling Nashville.
Importantly, this cabin is an adults-only retreat. This means it's one of the best cabins in Murfreesboro for couples or a sibling trip.
Also, it's pet-friendly, so feel free to bring your furry companions along for the adventure!
On the property grounds, a picturesque pond and fountain set the scene for relaxation. Your cabin's deck greets you, complete with a grill for al fresco dining. Then, inside your cabin, the huge soaking tub offers a perfect place to unwind.
In addition, there's plenty of parking space for your "toys," whether it's boats, trailers, or any other adventure gear.
🏡 Book Uncle Pete's Cabin Here
10. Fallen Timbers Cabin in the Woods
You'll feel right at home at this comfy cabin in the woods!
The 2-bedroom, 2-bath cabin sits on 10 secluded acres, so you can get away without having to actually get away.
Inside, the cabin has a pleasant, welcoming vibe, all centered around a wood-burning fireplace. Plus, it has a fully-equipped kitchen, so you can stay in all weekend if you prefer.
In fact, it's one of the best cabin rentals in Murfreesboro for people looking to simply relax.
Enjoy a huge back deck overlooking the surrounding scenery, as well as Adirondack chairs for watching wildlife. Also, out front, there's a smaller front porch with a grill. If you want to enjoy the property grounds, head out to explore the walking paths.
And, as a bonus, the owners have a separate guest studio available for rent.
Not only does that make this an excellent cabin for multiple couples or a multi-generational family group, but it also adds to its uniqueness.
🏡 Book the Fallen Timbers Cabin Here
Looking for more cabin options? 9 Best Luxury & Mountain Cabin Rentals in Nashville
Featured Image Credit: Peggy F. via VRBO