Looking into the best cabins in Nashville for a getaway? Grab some cozy clothes and a favorite book, because we have several options for you!
Nicknamed "Music City," most people associate Nashville with country music and the neon-clad honky tonks lining Broadway. However, it's a lot more than just a party town!
Just outside the bustling city center, you'll find beautiful, tranquil nature: mountains, lakes, waterfalls, picturesque state parks, and endless opportunities to hike, fish, bike, and even camp.
Best of all, many of the best VRBO cabin rentals near Nashville sit in the center of these gorgeous areas.
Covering a range of styles, sizes, and prices, the Nashville cabins in this guide offer the peaceful getaway you need — and so much more!
Whether it's a family get-together, a romantic weekend, or just downtime to enjoy the outdoors — one of these cabins near Nashville will be the perfect fit.
Best of all, the majority are less than 30 minutes from downtown Nashville.
Don't worry, though, if being in the center of all the action is more your jam, there are even a few cabins hidden right in the city!
Cozy Cabin Stays in Nashville, TN
1. Artist's Cabin Nature Retreat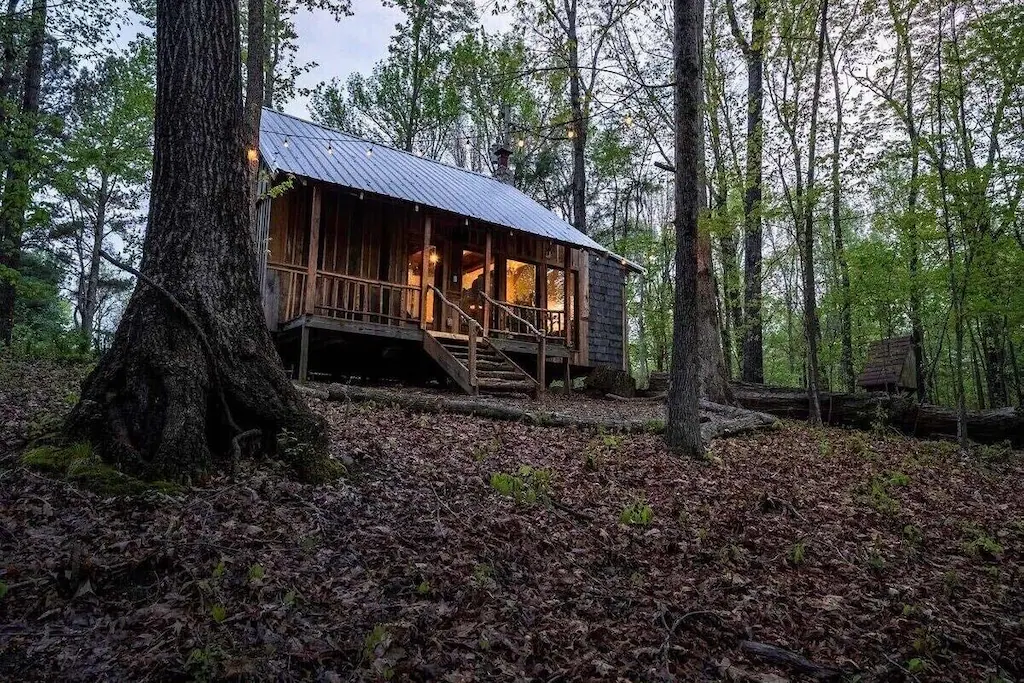 Although it's a short distance from downtown, this Woodsy Cabin retreat feels like a step straight into a wooded fairytale.
A dense forest completely surrounds the 2-bedroom Artist's Cabin, while a creek runs mere steps away. Twinkling string lights, the stepping stone path, and a rough-hewn, in-ground fire pit add to the whimsical feel.
Even with the picture-perfect setting, however, the cabin itself is the real eye-catcher.
The rustic, all-wood design, open shelves in the kitchen, a wood stove in the center of the living room, and a claw-foot soaking tub are like something from a movie.
As if all that wasn't enough, the hosts will deliver farm-fresh eggs on your first morning!
Even among the very best cabins in Nashville, it's hard to imagine a better place to get out of the city and let the creative juices flow. No wonder it has a perfect rating…what more could you ask for?!
🏡 Book the Woodsy Cabin Retreat here
2. Luxury 'Come Away Cabin'
If you specifically want to entertain family and friends, it doesn't get much better than the Come Away Cabin.
The gourmet chef's kitchen comes fully equipped to help you cook up a storm, complete with a pizza oven and a top-notch Super Automatic espresso and coffee machine. Who needs to make a coffee shop run when you can whip up custom lattes right in the kitchen?
An oversized front porch and the three-bedroom, two-bathroom open floor plan offer plenty of space for everyone. There's also a fire pit out back, and the host stocks the cabin with plenty of firewood and roasting sticks for s'mores.
Inside, enjoy two 75-inch TVs and the luxury of Turkish marble showers, alongside luxurious robes and slippers.
There are two other major bonuses that make this one of the best VRBO cabin rentals near Nashville. The cabin includes a complimentary bottle of wine AND one breakfast of either farm-fresh eggs or local donuts.
The cabin is 40 minutes from Nashville, as well as conveniently close to the historic small town of Franklin.
🏡 Book the Come Away Cabin here
3. Midcentury Modern View Cabin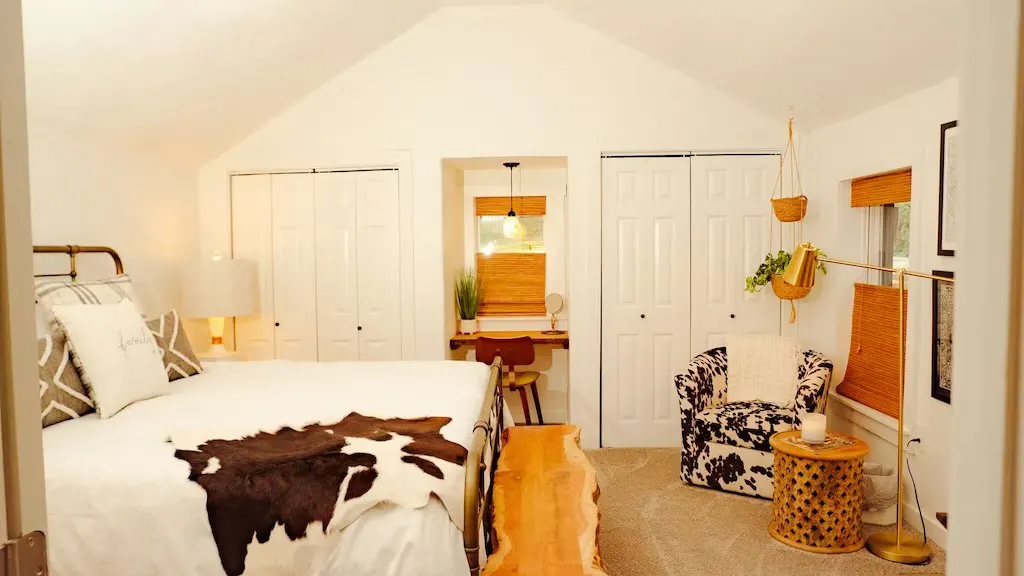 This modern Midcentury stunner combines the best of an outdoor escape with an urban location.
Just 20 minutes from central Nashville in Sullivan Ridge, the 3-bedroom cabin sits on 3.5 acres. It makes an excellent launching pad for exploring, but it's also a destination in itself.
With two full bathrooms and a roomy kitchen, the cabin easily accommodates large groups. Plan a couples' trip, invite a group of friends, or bring the whole fam!
The interior boasts a tasteful, very Nashville edge, with cowhide accents alongside Midcentury Modern art and furniture. Then outside, in stark contrast, the multi-level deck looks out over picturesque rolling hills. Don't worry if rain rolls in, because you can enjoy those views from inside, too!
Without a doubt, this is one of the best cabins in Nashville for those who don't want to go without big-city amenities. Who says you can't enjoy a night out, and then wake up to chirping birds and mountain views?
🏡 Book this Midcentury Modern View Cabin here
4. The Relaxing Cabin
Light-filled, chic, and just 11 miles from iconic Broadway, yet still tranquil and nature-focused, this property's name says it all — Welcome to the Relaxing Cabin.
Floor-to-ceiling windows and white decor give the property a modern edge without relinquishing that classic cabin vibe. There's a spacious bathtub for soaking, as well as a deck and fire pit to take in the forested view.
The cabin sits on a steep hill, which lends it a treehouse-like feel. On the other hand, guests with limited mobility should beware that this means there are numerous steps.
Perhaps the single feature that makes this one of the best cabins in Nashville is the loft.
Here, the homeowners stashed a few guitars and a set of drums for guests to try their hands at. This is Music City, after all!
🏡 Book the Relaxing Cabin here
5. Log Cabin on 100 Acres
The surrounding forest, rolling hills, and private pond will have you convinced this cabin is in Gatlinburg, not Nashville!
Not only that, but the free-roaming peacocks and abundance of wildlife including deer and turkeys will make you feel like you're in the center of a nature preserve.
In a way, you are, since this cabin sits on 100 acres.
Enjoy the unique atmosphere from the deck overlooking the pond or by exploring hiking trails that weave right out the front door.
Follow up your adventures with a refreshing dip in the in-ground pool or, if you're visiting Nashville in Winter, cuddled up by the wood fireplace.
You may truly never want to leave the cozy confines of your cabin, especially because the host, who lives elsewhere onsite, serves a complimentary daily breakfast. Guests rave about the freshly baked bread, served warm each morning.
🏡 Book this 100 Acre Cabin here
6. Pecan Valley Cabin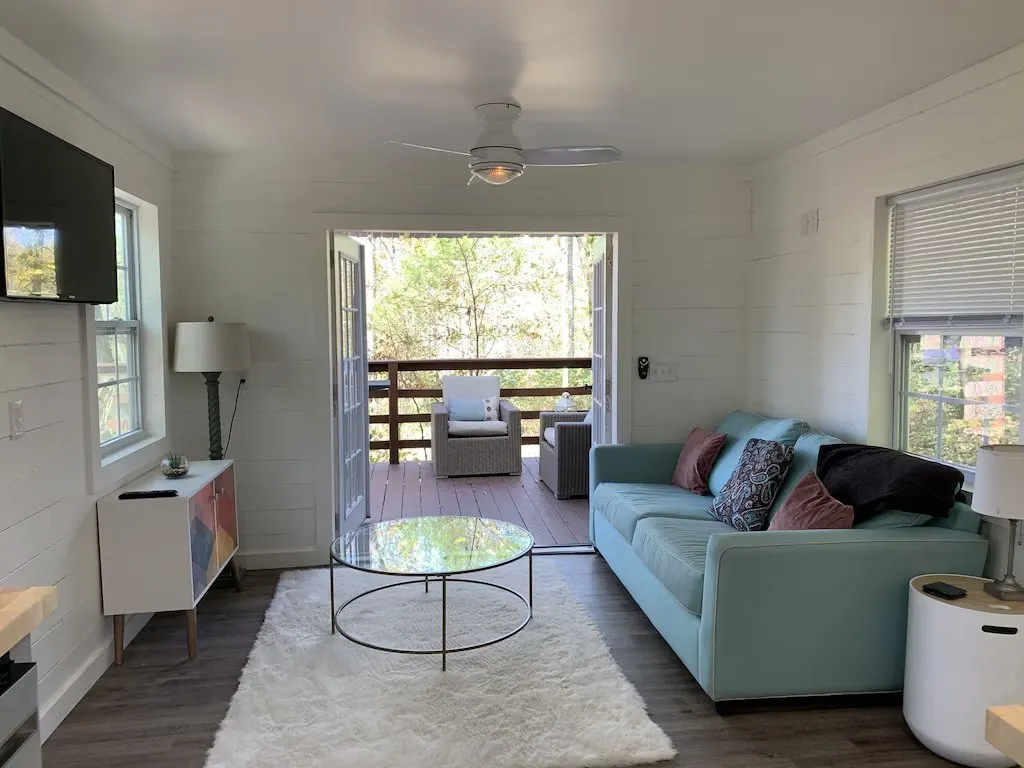 Finding a place where your "fur baby" is also welcome among cabins in Nashville can be tricky. However, dogs (of any size!) are welcome at the Pecan Valley Cabin.
From the exterior, the cabin has a delightful rustic design, reminiscent of a barn. Yet inside, everything is modern and sparkling clean — not to mention efficient. Although the cabin is just 400 square feet, it has a complete kitchen and plenty of clever storage.
There's one bedroom and bathroom, so this cozy cabin is best suited for a couple. Having said that, though, the sofa also converts to a bed, so it can accommodate up to four guests.
Outside, the picturesque deck overlooks rolling hills and has a grill for easy dinners outdoors.
There are also rocking chairs and a fire pit for conversations under the stars, and the host has been known to leave a complimentary bottle of wine for guests.
🏡 Book the Pecan Valley Cabin here
7. Red Roof Cabin in the Woods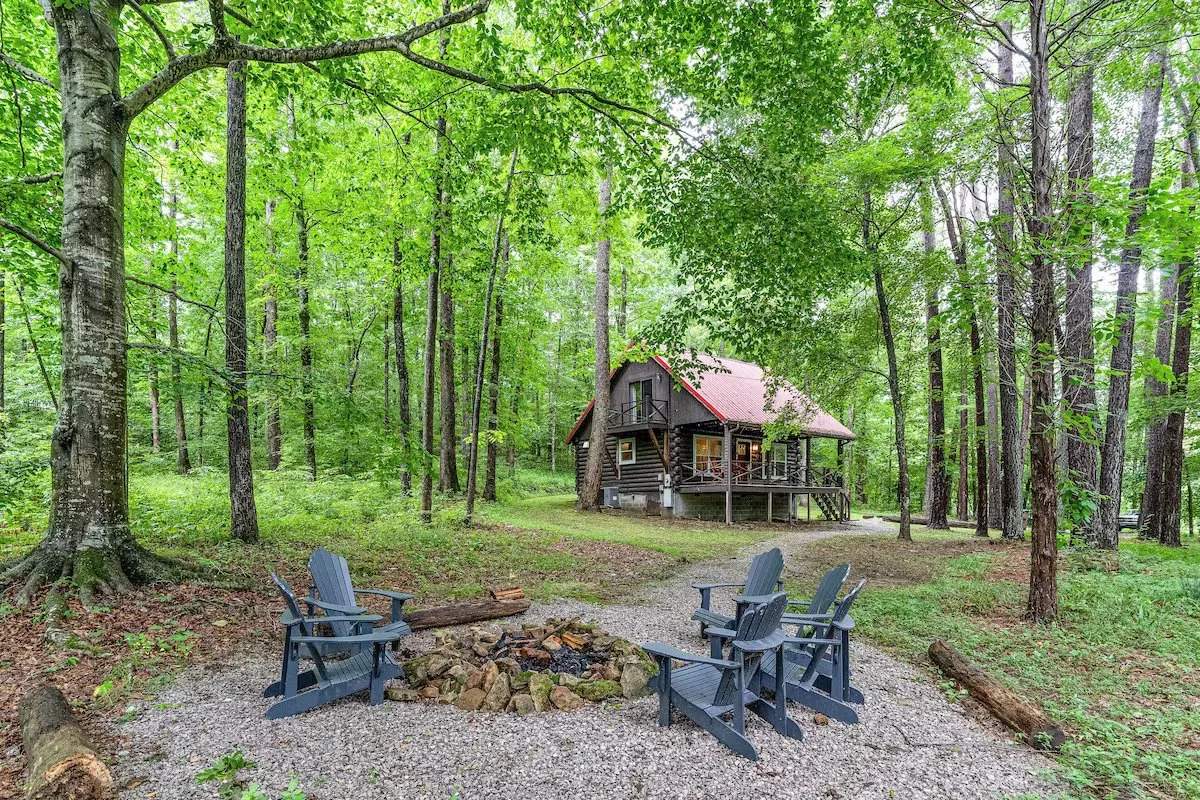 Looking for a classic family getaway or a romantic, off-the-beaten-path couples' weekend? The Red Roof Cabin in the Woods is one of the best VRBO cabin rentals near Nashville.
Outside, it looks exactly like a Lincoln Log cabin, complete with a red roof and gently bubbling stream!
The picture-perfect location on 3 secluded acres feels like a literal breath of fresh air, and the hosts make sure guests have plenty of places to enjoy it.
There's a large fire pit (bring your own wood), a covered front porch with a quintessential pair of rocking chairs, and a deck with chairs and a grill. Keep your eyes open for deer, as they frequently run around the woods.
The extensive collection of classic board games invokes just the right amount of nostalgia. A wood-burning fireplace (again, bring some wood!) makes the living space warm and cozy, while the high ceilings keep it light and airy.
Finally, there's an uber-comfy Nectar California King bed, along with two full-size mattresses on the floor. Because of their position and size, these beds would be best for kiddos.
Best of all, despite its totally secluded location, the cabin is just 35 minutes west of Nashville along I-40.
🏡 Book the Red Roof Cabin here
8. Theta Hill Cabin
It's not always easy to find a cabin that comfortably accommodates large groups. Not only is this one spacious, with enough room for 11 people, but it was also just built in 2023!
With six beds across three themed bedrooms, the Theta Hill Cabin has a unique, eclectic feel. Will you stay in the luxe Victorian room, or is the hunting and fishing room, complete with a gas fireplace, more your style?
The kitchen is well-equipped, ready to host meals for the whole crew. And for nights when you just want to relax and enjoy the beautiful space, it's easy to order Uber Eats or other food delivery.
Additionally, there's even an adorable coffee bar, which includes a variety of coffees, creamer flavors, and all the other fixin's. There's also a laundry room, which of course, is incredibly helpful with a large group.
Truthfully, you probably won't want to spend much time inside. This cabin's outdoor spaces are the star attractions! There are multiple seating areas on the back deck, as well as grills and even a hiking trail right on the property.
Best of all, though, is the oversized curtained porch, affectionately called "the hangout spot." Here, you'll find plenty of comfy chairs, vibe-setting fountains and lights, and bug zappers to keep everyone comfortable.
🏡 Book the Theta Hill Cabin here
9. Civil War-Era Historic Log Cabin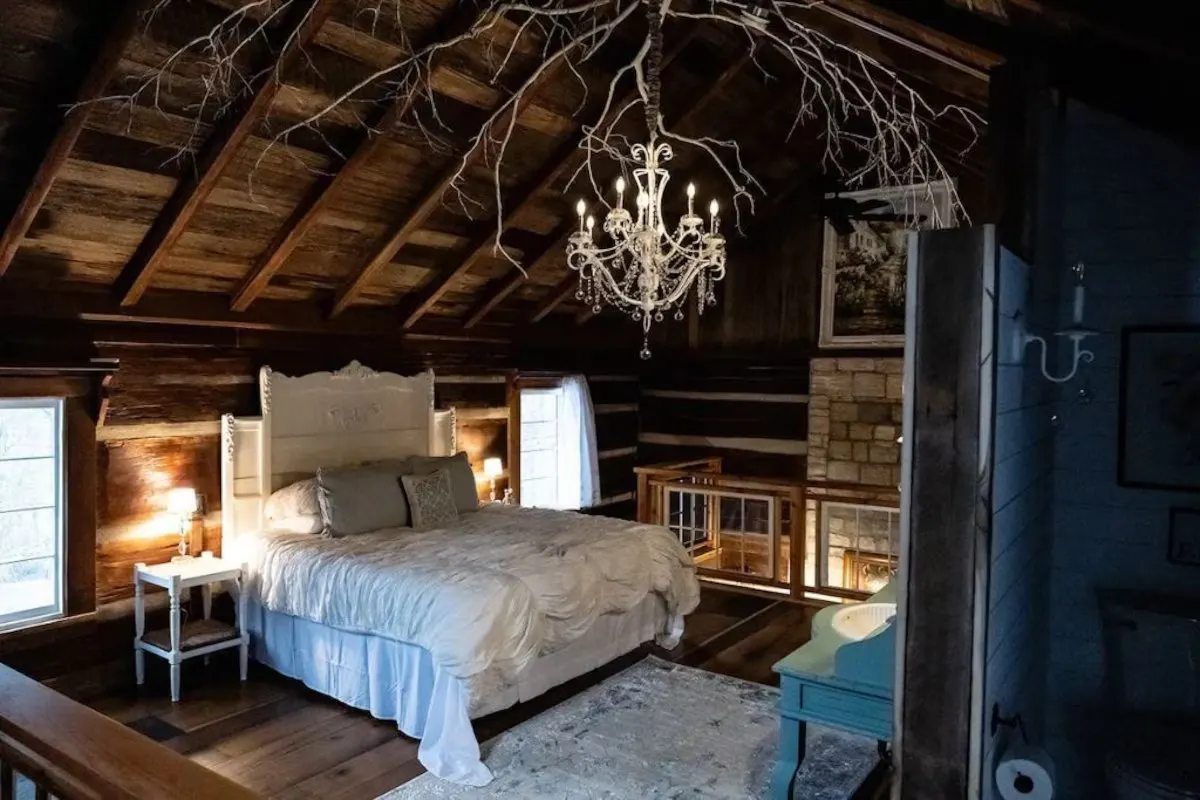 Equal parts rustic and Tennessee-chic, this historic log cabin has some fascinating stories to tell.
Located on "Cash Mountain" (yes, as in Johnny Cash), the antique cabin was constructed by "builder to the stars" Braxton Dixon. As you may expect, Dixon built homes for Johnny and June, among other A-listers.
While it was constructed and decorated almost entirely from reclaimed Civil War-era logs and artifacts, all the cabin's amenities have been updated. As a matter of fact, it now has a modern kitchen, as well as a dreamy soaking tub!
Upstairs, the "loft honeymoon suite" is spacious, but has an open design. Because of that, this is one of the best cabins in Nashville for couples.
You'll also find a show-stopping antique chandelier in this space, complete with real tree branches, along with a gorgeous vanity.
The cabin is 30 minutes from just about everything in Nashville, but truthfully, its distinct character and palpable history make it a destination in itself.
It's an especially perfect retreat for artists, writers, and those content with catching up on a good book (or each other!).
🏡 Book this Historic Log Cabin here
Read our other Nashville Guides Below!
What do you think of these unique cabins near Nashville, TN? Let us know in the comments below!