Fall in Tennessee means crisp weather, changing leaves, football on the weekends, and festivals galore.
This is the best time of year to really dig into exploring the stunning Volunteer State!
With its endless rolling hills, charming small towns, vibrant foliage, and abundance of autumn activities, Tennessee offers the perfect destination for an unforgettable fall getaway.
Whether you prefer to rent a cabin in Nashville, go leaf-peeing in the Smokies, go camping near Knoxville, or taste cider in Kingsport, Tennessee has something for you.
To make the most of your visit, we put together the ultimate bucket list of 15 must-see places, activities, and festivals during fall in Tennessee.
Happy exploring, and enjoy the magic of the season! 🍂
What to Know About Visiting Tennessee in the Fall
Tennessee is one of the best states to visit in the fall because of all the spectacular display of autumn colors.
You will see prime fall foliage best on a trip to The Smokies, but don't overlook other destinations across Tennessee if you miss the leaves changing colors in the mountains.
Best Months to Visit Tennessee in the Fall
Fall officially starts in Tennessee in mid-September. During this time, road tripping, hiking, and waterfall chasing are still popular as days are still summer-like.
October in Tennessee is peak leaf-peeping season, especially across the Tennessee Highlands and The Smokies. We'd argue this is the best time to visit Tennessee in the fall because so many small towns host fall festivals as well as spooky Halloween activities.
Even though November invites cooler weather, it's still a fantastic time to vacation in Tennessee as you can visit the big cities of West and Middle TN with fewer crowds or take a weekend getaway in a cozy cabin with a hot tub in the mountains of East TN.
Crowds & Prices During Fall in Tennessee
While November might see fewer crowds, it's still wise to book accommodation, tours, and rentals in advance. The best cabin rentals and boutique hotels, especially cabins near Gatlinburg and Pigeon Forge, will be booked up months in advance.
Fall is a busy time in the popular hot-spots of Tennessee, but it's still the sweet spot between summer and winter when prices/crowds ramp up in time for the holidays.
What to Wear/Pack for a Fall Getaway in Tennessee
What to take will depend largely on your destination and travel style, but think of packing light layers to bridge the ranging temps between summer and autumn.
Tennessee still gets pretty warm (with averages around 77°F (25°C)), even in the fall, but temperatures can suddenly drop especially in the mornings and evenings.
A good pair of jeans, walking shoes, and a cozy cardigan work great for city escapes. For outdoor adventures, don't forget to pack your hat/sunscreen, a light puffer jacket, and your hiking boots.
15 Best Things to Do During Fall in Tennessee
1. Explore Great Smoky Mountains National Park for Peak Fall Colors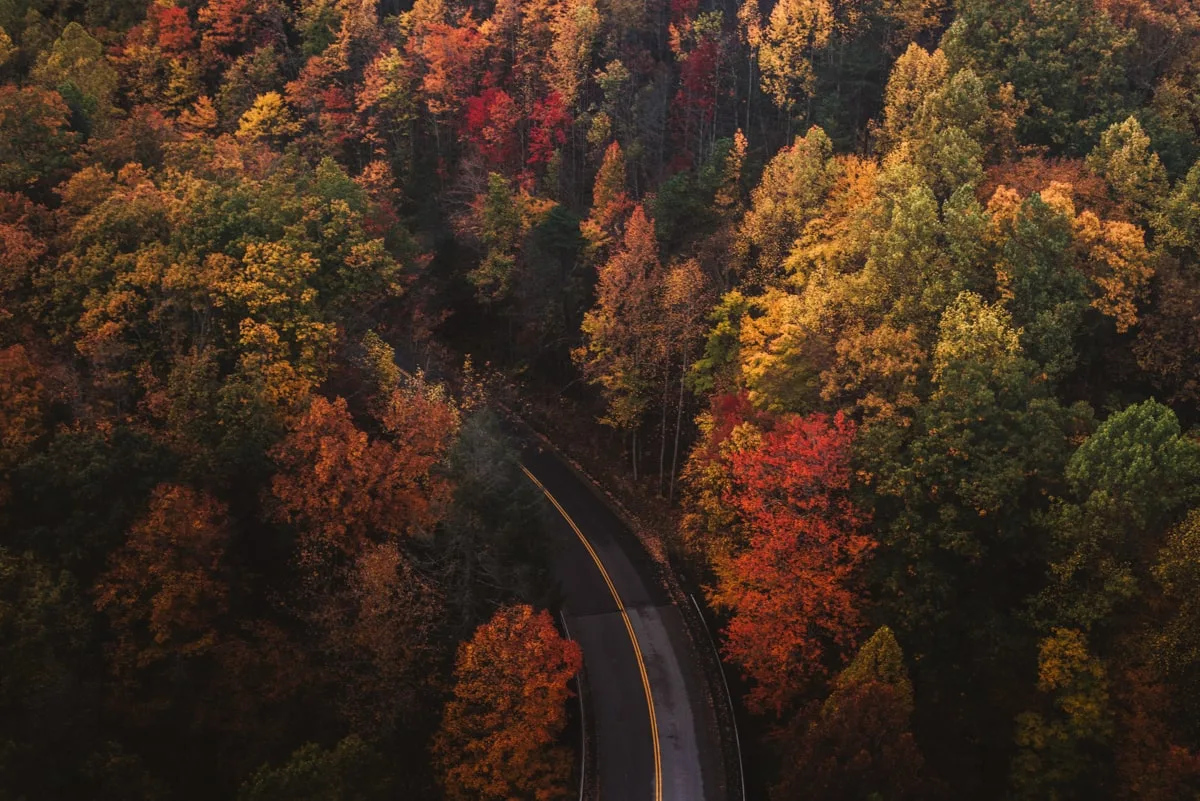 There may truly be no better place to experience fall in Tennessee than the Great Smoky Mountains.
Although the mountain range itself extends well beyond the park boundaries, the national park preserves the best sections.
Head to East Tennessee and take a scenic drive along Newfound Gap Road, or hike on Alum Cave Trail for breathtaking fall viewpoints.
Cades Cove is another fantastic destination to witness autumn within the park. Not only is the 11-mile loop road stunningly gorgeous, but it's also a hot spot for wildlife watching. Keep your eyes open for deer and black bears amid the foliage.
Also, if you're up for a hike while you're in Cades Cove, check out Clingmans Dome. It's the highest point in Tennessee!
2. Road Trip the Natchez Trace Parkway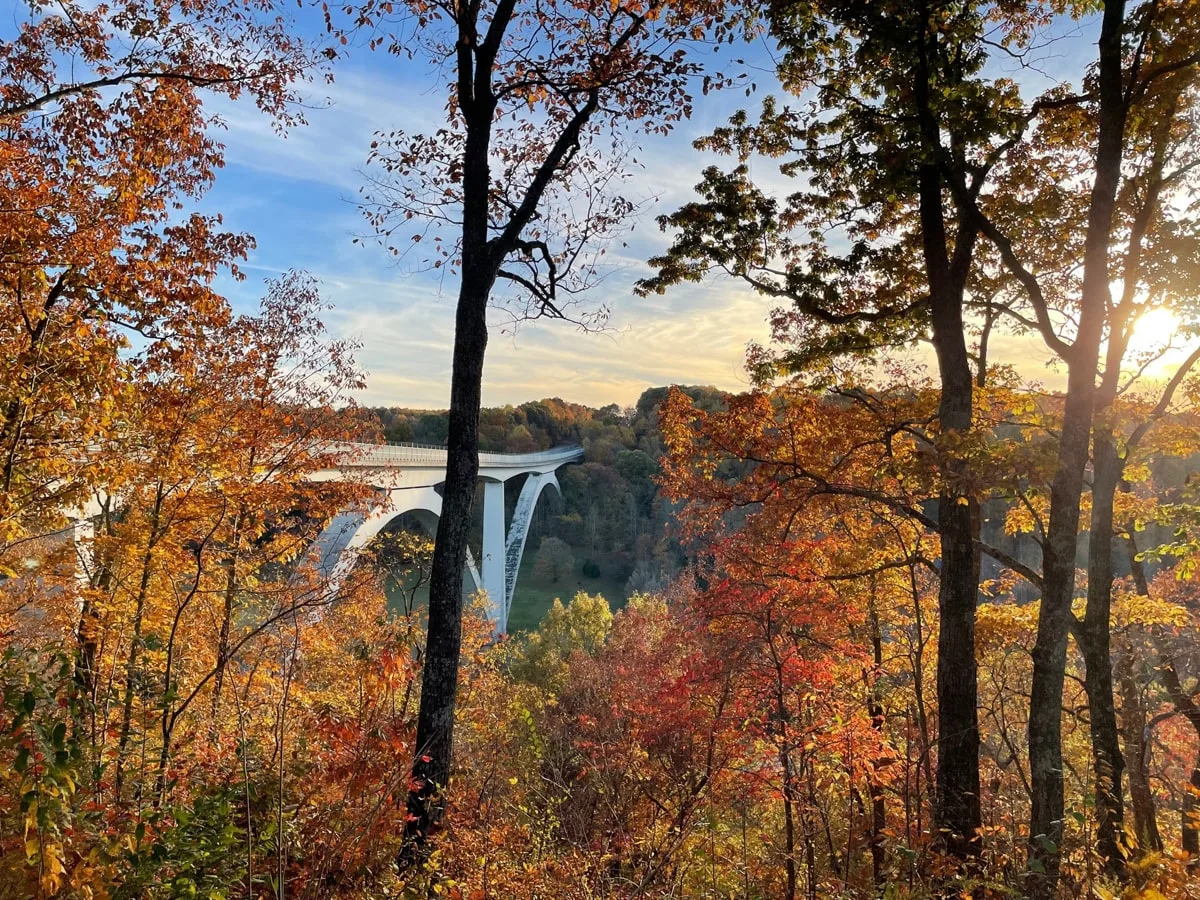 The historic Natchez Trace Parkway traverses 444 miles from Nashville to Natchez, Mississippi. It's a bucket list-worthy road trip any time of year, but especially so in the fall.
At several points starting in mid-October, the road is adorned with fiery red and golden leaves. Plus, dozens of interesting historical sites make the entire experience even more scenic!
If you don't have a full weekend to spare, don't worry — you can take a leisurely drive to tackle as much or as little as you want! Specific to fall in Tennessee, there are several can't-miss locations along the parkway.
First, don't miss the double arch bridge near Franklin! It makes a fantastic photo op. And the town of Franklin is pretty great, too. Old Trace Drive, at milepost 375.8, is one of the best spots for fall foliage overall.
Want to get out and stretch your legs? You can do short, easy hikes among fall colors at Metal Ford (MP 382.8), Meriwether Lewis (MP 385.9), Fall Hollow (MP 391.9), and Swan View Overlook (MP 392.5).
3. Dollywood's Harvest Festival
There's never a "bad" time to visit Dollywood, but Harvest Festival is arguably the BEST time. It' not just us who think so; the event continuously makes "Best Event in America" type of lists!
Located in Pigeon Forge, Dollywood offers a variety of themed rides, games, and other attractions, plus lodging. Then, during fall in Tennessee, everything becomes autumn-themed!
Eat allllll the fall foods (don't miss pumpkin churros or sweet potato poutine!), admire the 15,000+ pumpkins, enjoy live music, and so much more.
Be sure to stay after dark, to experience Great Pumpkin LumiNights. During this event, you'll get to see massive pumpkins, some weighing as much as 1,500 pounds!
4. Get Spooky at Tennessee's Best Haunted Houses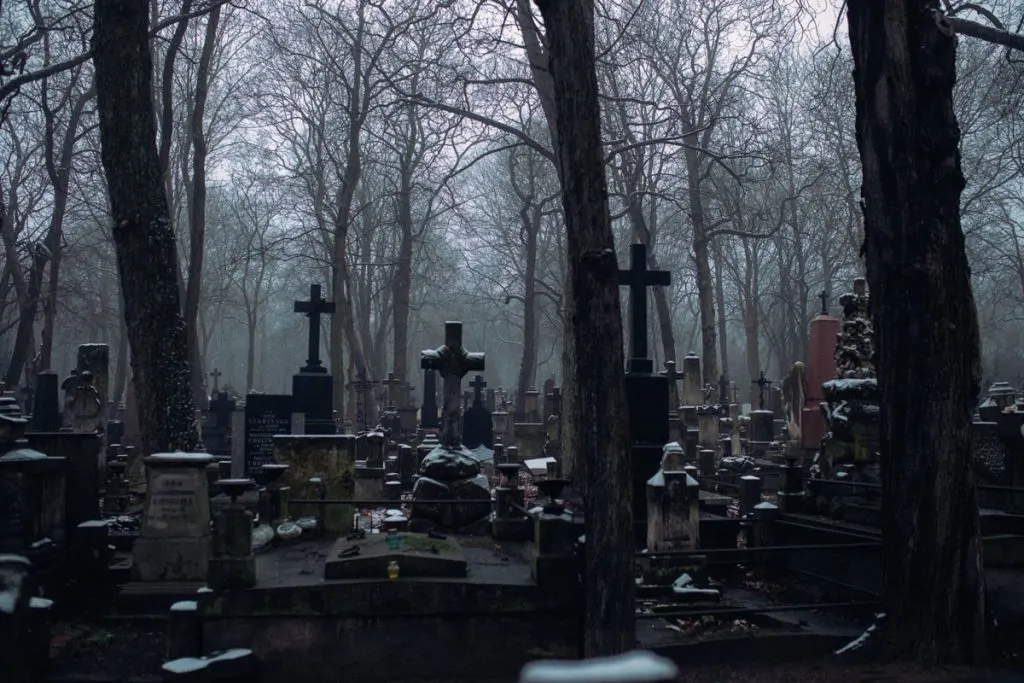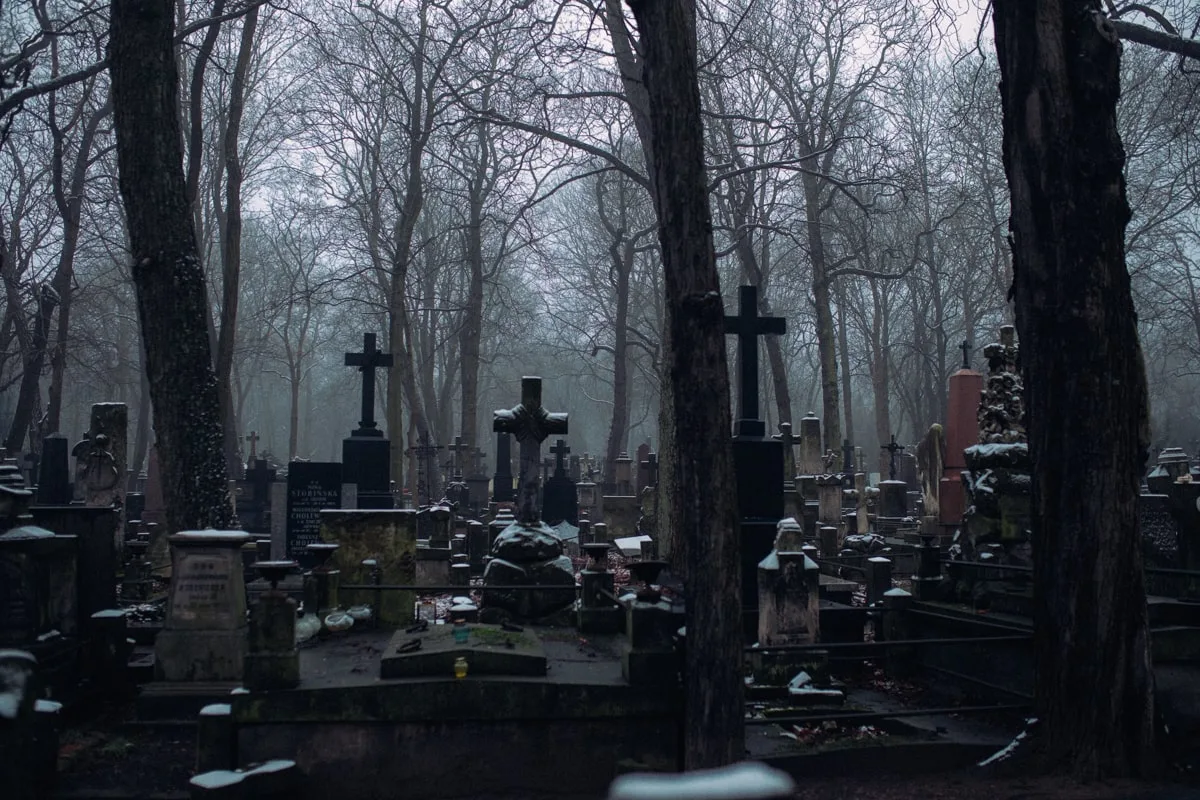 Get into the Halloween spirit by visiting one of Tennessee's most famous haunted houses.
Depending on just how "spooked" you want to be, you'll find the perfect option.
Here are some of the best, all over the state.
5. Visit a Tennessean Pumpkin Patch or Corn Maze
Indulging in the longtime traditions of a pumpkin patch is one of the best ways to enjoy fall in Tennessee. And luckily, there's no shortage of places to do exactly that, in every corner of the state!
Head to Kyker Farms in Sevierville for a classic corn maze (four, actually!), hay rides, zombie paintball, and of course, a pumpkin patch. As a bonus, the farm has been operated by the same family for a whopping 9 generations! So, you'll be supporting a small Tennessee business, too!
Just hearing the name of Shuckle's Corn Maze & Pumpkin Patch tells you exactly what you'll find. It's in Greenbrier, and even offers free pumpkin decorating.
Over in the northwest corner of the state, Nanney Farms Pumpkin Patch brings in live entertainment and food trucks.
If you're local to Johnson City like we are, you'll find tons of pumpkins (and even sunflowers!) at Laurel's Pumpkin Barn.
6. Take a Chattanooga Riverboat for Crisp Cruisin'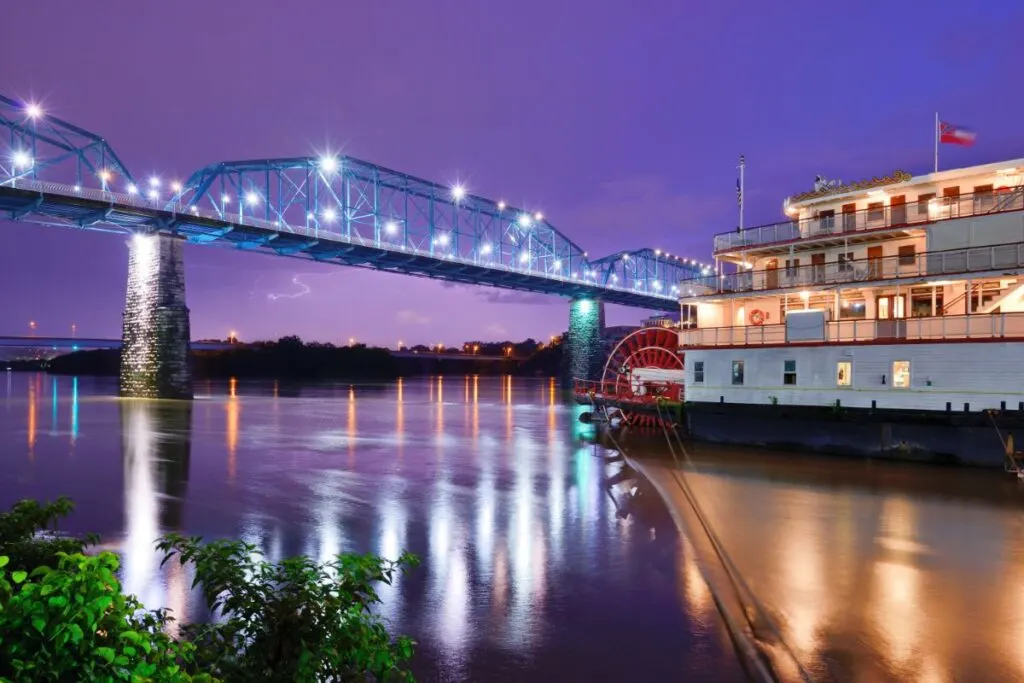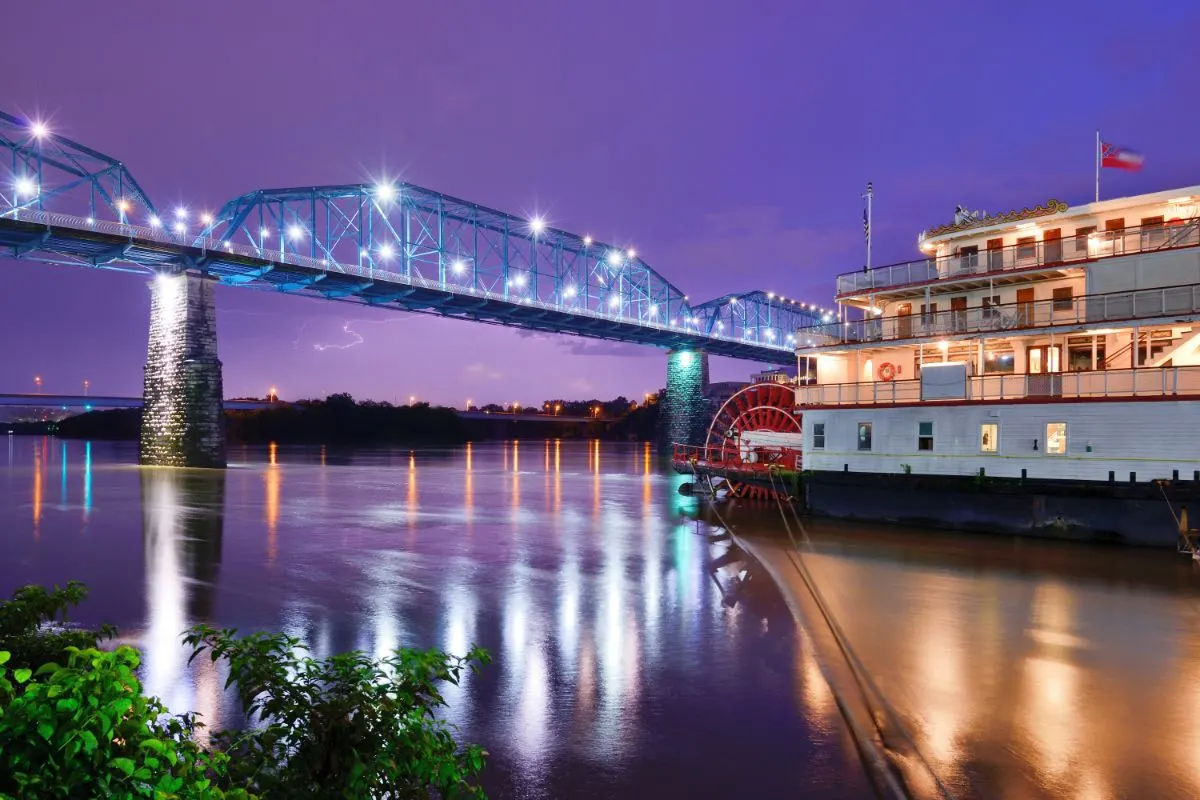 Enjoy a relaxing cruise along the Tennessee River while taking in the fall colors. This may actually be the best time of year for this activity, when the weather and scenery are just perfect.
Choose from daytime, evening, or sunset cruises, which may or may not include a meal. If your priority is seeing fall colors, you're in luck — they even offer a Fall Foliage Sightseeing Cruise!
This 3-hour cruise goes to the Tennessee River Gorge, which is known for its spectacular fall foliage display. If you prefer, there's also a Fall Foliage Lunch Cruise option.
Leaf-peeping or no leaf-peeping, a river cruise offers a unique, unforgettable perspective of Chattanooga!
And if you're looking for something spooky to do in Chattanooga, check out these tours!
7. Check Out Gatlinburg's Artsy Fall Craftsmen's Fair
Held for a couple of weeks every October, the Gatlinburg Craftsmen's October Fair is an excellent indoor activity for those rainy fall days.
It's in the massive Gatlinburg Convention Center, so you also have the opportunity to make a whole trip of it and check out Gatlinburg!
The festival features over 200 craftsmen, all showcasing their unique skills, handmade products, and other artistic creations. Think leather goods, knives, pottery, copper and metal art, and even candy.
In between browsing the vendors, you can also check out live music performances and grab something to eat from the concessions stands.
There's also a free kids' corner, so parents, you don't even have to worry about finding a sitter!
Every year, this event is consistently named one of the top festivals in the entire Southeast!
🍁 Here are even more autumn time activities to do in Gatlinburg in the fall!
8. Ride a Mountain Coaster at Ober Adventure Park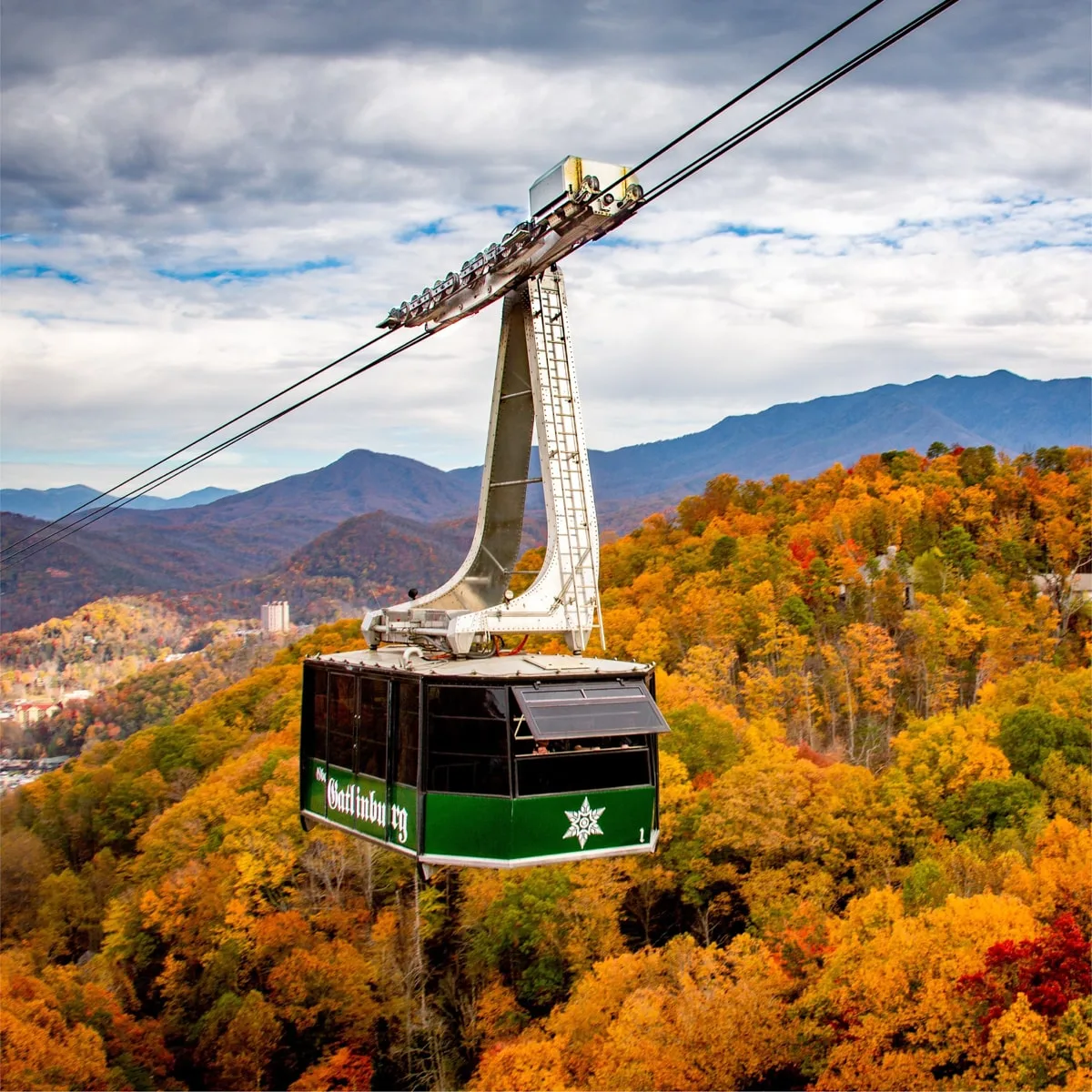 Officially called Ober Mountain Adventure Park and Ski Area, this ski resort offers 4-season entertainment. Come September, it transforms into a fall paradise.
Start with a ride on the aerial tramway, which shows off 360-degree views of the Smokies draped in autumn colors. The 2.1-mile ride whisks you to the top of the mountain, where a natural playground awaits.
Experience fall in Tennessee with a whimsical, exciting twist by riding the mountain coaster, trying downhill mountain biking, or going ice skating.
Plus, if you visit in October, don't miss the Smoky Mountain Fall Festival at Ober! The festival focuses on food, music, and family-friendly fun. Expect concerts, hay rides, a hay maze, pumpkin carving contests, and more.
9. Go Leaf-Peeping in Gatlinburg & Pigeon Forge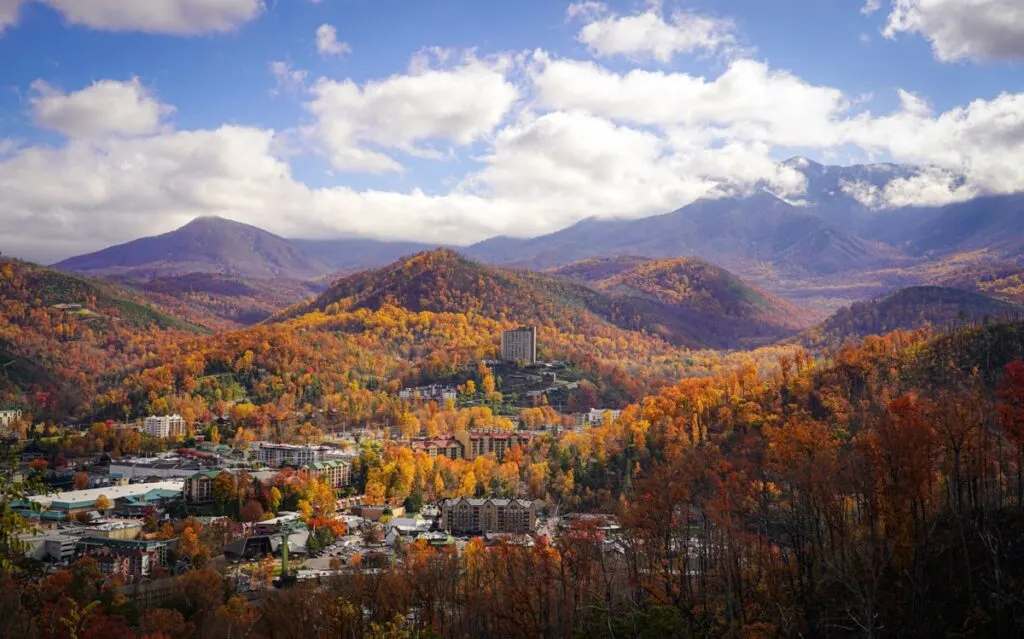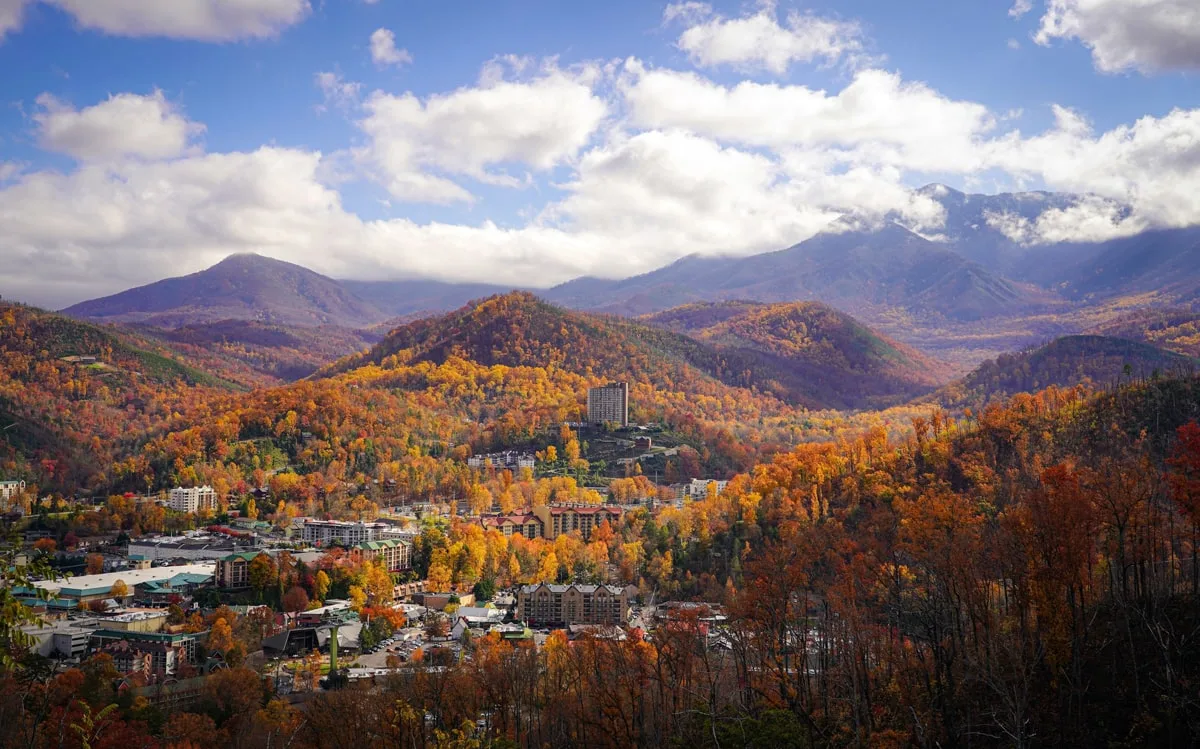 Speaking of, The Smokies area is widely considered one of the best places in the entire country to go leaf-peeping.
It's hard to beat the colorful fall foliage blanketing the quaint mountain town!
Gatlinbrug town sits just outside the main entrance to Great Smoky Mountains National Park.
It offers endless fun things to do, from great Gatlinburg hikes to shopping on the main boulevard and sampling moonshine. Plus, there are tons of great cabins for rent in Gatlinburg, so you can settle in for the entire weekend.
If you still need another reason to add Gatlinburg to your fall in Tennessee itinerary, here's one: The Smoky Mountain Harvest Festival. From mid-September through Thanksgiving weekend, you can enjoy tons of special events and elaborate decorations.
The town's decorations, which include life-size 3-D scarecrows, get so intense that there's a community competition. You can even vote in the Best Harvest Decorations contest!
🤫 Pssst, thanks to its location near The Smokies, another great town to visit for fall in Tennessee is Sevierville.
10. Take a Tour of Jack Daniel's Distillery from Nashville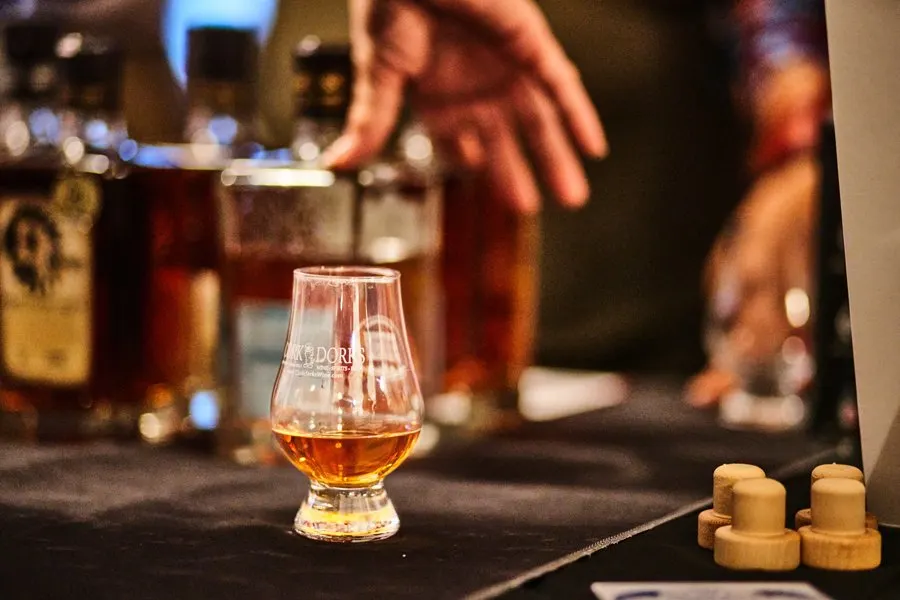 What is fall in Tennessee without some whiskey to warm you up? This is the perfect season to tour the Jack Daniel's Distillery in Lynchburg (this makes for a great day trip from Nashville!).
In addition to learning about the fascinating whiskey-making process, you can also enjoy the crisp air in this charming, teeny-tiny town.
Choose from a range of tours, lasting just over one hour. Guests can takes tours daily year-round, with only a few holiday closures.
And if you happen to visit in September, you'll find a unique way to kick off fall. Jack Daniel's birthday was in September, and the distillery celebrates with special limited-edition tours and events all month long!
11. Sip Your Way Through the Tennessee Whiskey Trail
Love the sound of the Jack Daniel's distillery tour, but want even more? Consider embarking on a whiskey-tasting adventure along the Tennessee Whiskey Trail!
With distilleries sprinkled across the state, there's a ton to discover. The trail, of course, highlights the best Tennessee distilleries, but also puts a spotlight on the unique, deeply rooted history of distilling in Appalachia.
There are nearly 30 individual distilleries, with almost 40 locations. These include famous distilleries like George Dickel and the Tennessee Legend Distillery, as well as smaller companies you've likely never heard of.
Download a Tennessee Whiskey Trail map and passport, plan out your trip to hit as many or as few as you want, and start sipping! If you do manage to visit them all, you can redeem your passport for awesome prizes. Also, don't worry, there's no time limit!
12. Chow Down on Fall-Time BBQ in Memphis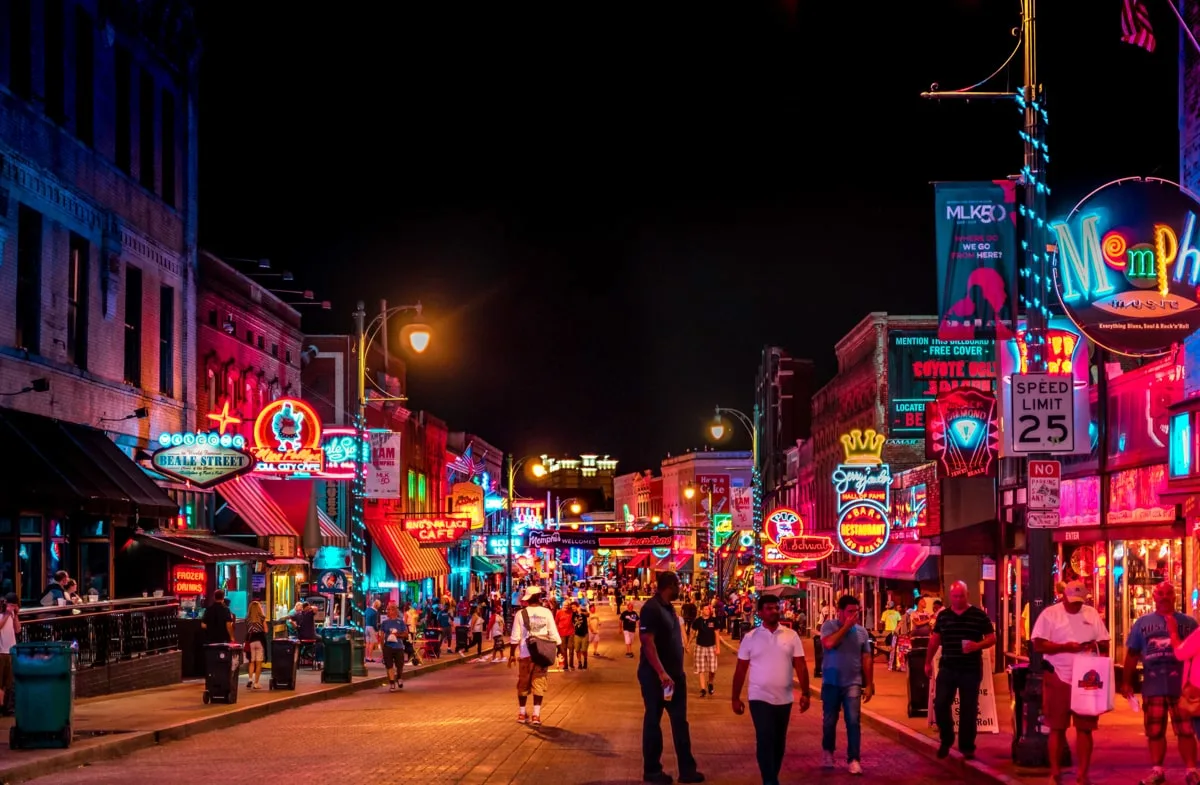 Just because Middle and East Tennessee tend to get most of the attention, doesn't mean that you should overlook the west side of the state. In fact, Memphis is highly underrated, especially when it comes to food and music.
In particular, the BBQ scene is so legendary here that the city attracts major television shows and celebrities, all wanting a literal taste of it.
So, how about a different kind of tasty tour? Savor the rich, complex flavors of fall by indulging in Memphis' famous barbecue. Take a guided BBQ tour to sample the city's renowned mouthwatering ribs, pulled pork, and more.
Choose from several tour options, including City Tasting Tours and Tastin' Round Town. Of course, you can also just hop around and create your own DIY-style tour!
Whatever you choose, don't miss Charlie Vergos' Rendezvous or Central BBQ, which are arguably the two most famous BBQ joints in Memphis.
13. Visit Graceland for Fall Colors on the Estate
Also in Memphis, Graceland presents one of the best experiences during fall in Tennessee.
Explore the actual home of the King of Rock 'n' Roll, Elvis Presley. Here, you can explore the 120-acre estate, which includes personal effects such as original gold records, decked-out jumpsuits he wore on stage, his favorite cars, and so much more.
Take a small group or self-guided interactive tour, on which you'll visit several individual museums on the property. Afterward, you can even stay on the property overnight, in the Guest House at Graceland.
Plus, if you visit in the autumn, you'll also have the opportunity to witness the stunning autumn colors around Graceland estate.
14. Ride the Steam Train Through History & Autumn Countryside
Experience the nostalgia of a ride on an authentic steam train through the Tennessee countryside this fall. Chattanooga has a history deeply rooted in the railroad, dating back to 1850. Also, few places are more scenic during leaf-peeping season.
With the Tennessee Valley Railroad, you can choose from several different rides. To begin with, there's the 50-mile Hiwasee Loop or the immersive 6-hour Chickamauga Turn, which goes into the Civil War-era town by the same name in Georgia.
Finally, if you don't have enough time for a train ride or are more into the railroad history, stop into the Tennessee Valley Railroad Museum. In addition to being a great rainy day activity, it's a fun way to learn about local history.
15. Attend Knoxville's Cultural 'Greek Fest' in October
Held every October, this long-running cultural festival is one of the best ways to enjoy fall in Tennessee. Greek Fest has been operating at the St. George Greek Orthodox Church since 1977!
The festival offers an authentic taste of Greece, with food, music, and live dance performances in a vibrant atmosphere. Over 20,000 people attend the festival throughout the weekend, which makes it one of the city's most popular events!
Additionally, it costs just $3.00 to get into the festival. Or, alternatively, pay $5 for the entire weekend. Regardless, it's one of the most affordable things to do in Tennessee in the fall!