Heading to Music City soon, and wondering about the best things to do for Halloween in Nashville?
Nashville isn't just just known for being the heart of country music; it's also a vibrant hub full of Halloween festivities. Right as the leaves start to fall, the city really embraces the spooky spirit.
Visitors will find a wide range of thrilling activities and events for all ages and interests. From seriously scary haunted house tours to pumpkin patches, costume parties, and more.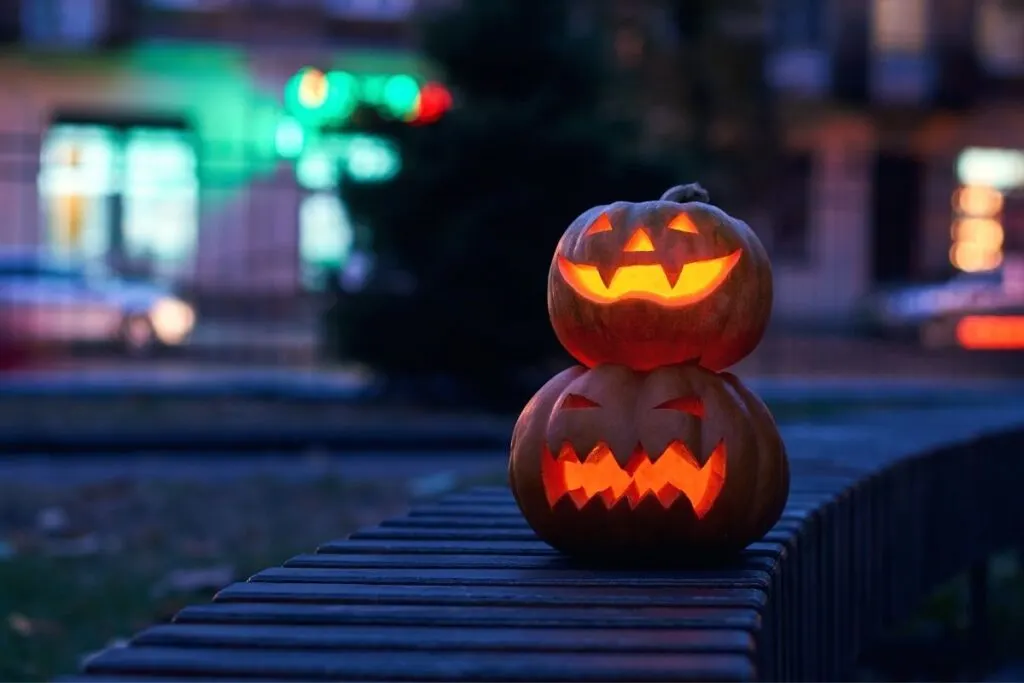 Halloween in Nashville is an absolute blast!
Also, as a bonus, Nashville's fall season in general is a wonderful time to visit.
In between Halloween activities, you can enjoy the city's food and brewery scenes, awesome hiking, and of course, the legendary live music culture.
We're about to share with you 15 exciting activities and events that make spooky season in Nashville a memorable one.
Halloween in Nashville for Adults
Nashville is already practically an adult playground. So, it should come as no surprise that Halloween here means over-the-top costume parties and extreme haunted houses.
1. Nashville Nightmare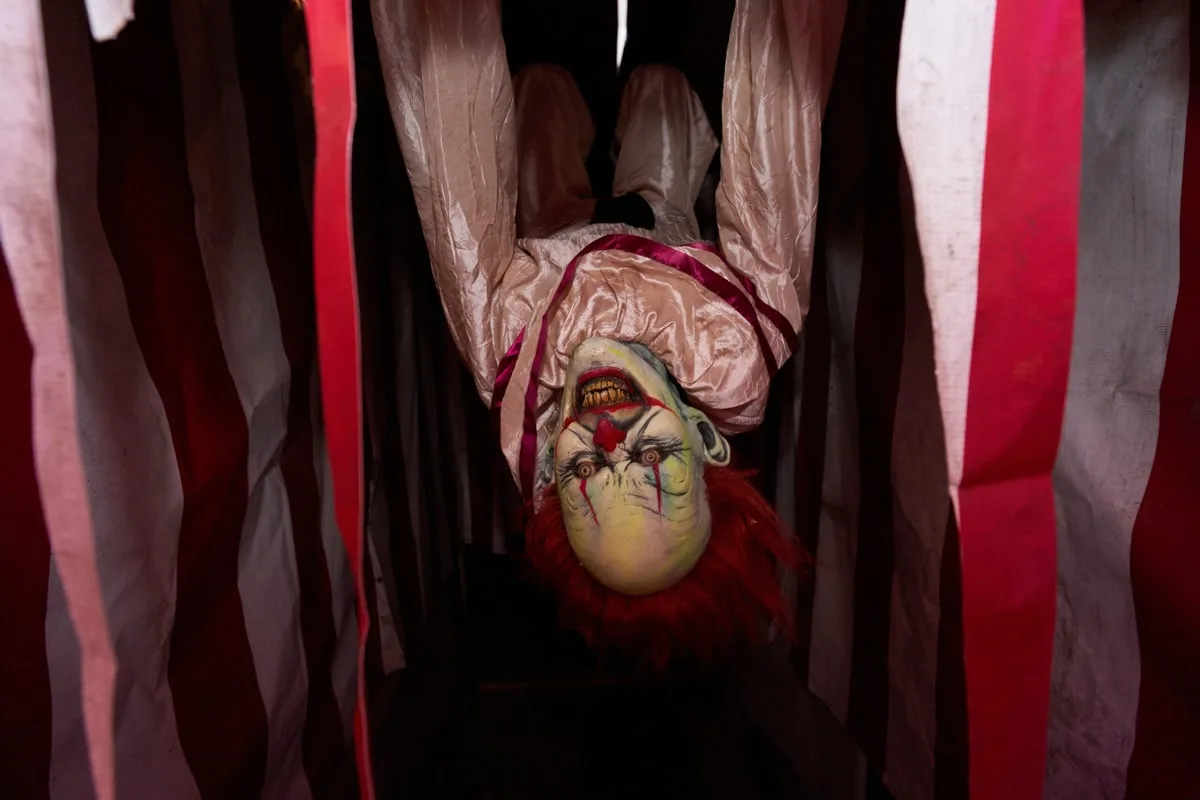 With several haunted houses in one, Nashville Nightmare really is "Nashville's Ultimate Halloween Event."
It comes as no surprise that this haunted attraction repeatedly makes "top 10" and "best" lists all over the country.
Expect to see live scare actors (when you least expect them, of course), tons of animatronics, and some other surprises.
Many past reviews refer to the setting as "movie set quality."
Even if you've gone to Nashville Nightmare in the past, don't dismiss it. The haunted house grows and improves every year.
In fact, it currently occupies 50,000 square feet of space.
2023's themed houses includes Alien Threat, Horror High Homecoming, Dark Fabulyst, and Midnight Mortuary.
Plus, there are some optional add-on experiences. These include a mummy escape room, a scary clown sideshow, and a horror-themed bar.
Speaking of bars, guests can purchase a VIP pass to access two secret bars. Patrons must be 21 years old to enter.
Nashville Nightmare is located in the Madison area, and welcomes visitors Wednesday – Sunday throughout October. It's also open Halloween night.
2. Brave The Beast House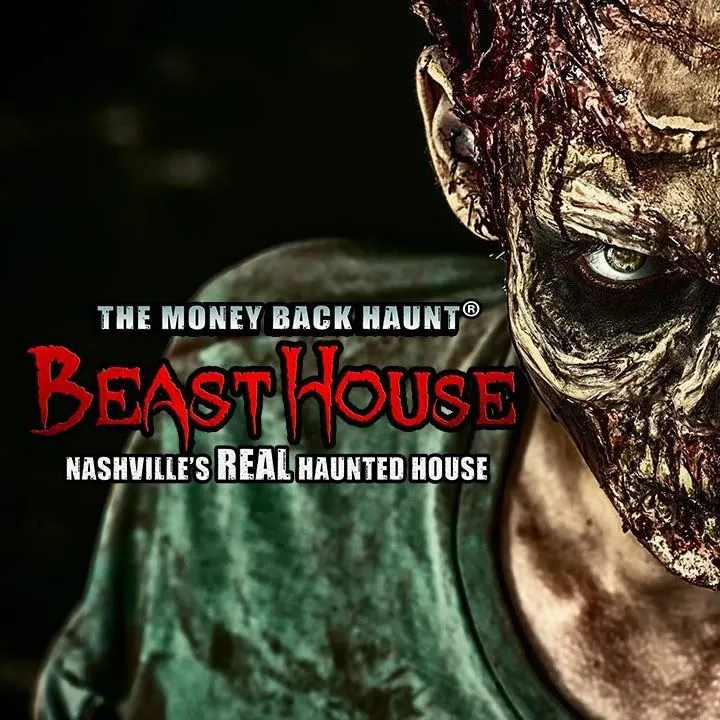 Want something even more intense than Nashville Nightmare?
Spend All Hallows' Eve at Beast House.
If you're skeptical, know that most of the attractions and activities require a waiver.
Also, Beast House actually gives people their money back if they successfully make it through all four phases. Let that sink in for a moment.
Occupying the original Isaac Kechem mansion just 10 minutes from downtown Nashville, Beast House is an authentic haunted house. That's exactly what sets it apart.
When you visit, you can explore Beast House itself and Xtreme Chaos (a twisted labyrinth). And, of course, the real kicker: attempt the Beast Jump.
The Beast Jump is a REAL free-fall jump from the roof of the mansion!
After signing a waiver, you climb up to the roof, then jump down to the ground. No, you won't be clipped in or have a harness. It's a 100% authentic free fall.
Note that you CAN simply visit the haunted house without attempting any aspects of the Beast Challenge.
3. Costume Parties and Bar Crawls
Nashville's nightlife (which already never rests) really comes alive with Halloween spirit.
There's truly no shortage of events all month long, and more seem to pop up every time you turn around. From general parties or bar crawls to some with themes.
We recommend checking out the Visit Nashville website, which keeps a super comprehensive running list of events for Halloween in Nashville. You can search by neighborhood, date, and even niche (twisted burlesque carnival, anyone?).
Here are a few standout events we noticed:
Halloween Bar Crawl at Assembly Food Hall – Downtown, October 13
Rare Magic by Drew Murray – The Union Station Nashville Yards, October 13-14
Nashville Tequila Festival – oneC1TY, October 27th
Fairlane Hotel's Wicked-inspired Pop-up – Fairlane Hotel, now through November 1
4. Seek 'Spirits' on a Haunted Pub Crawl
If you like the idea of a bar crawl, but also looking to do something spooky, consider doing a haunted pub crawl in Nashville.

The Seeking Spirits: Haunted Pub Crawl stops by at least three notoriously haunted Nashville bars.
Start at The Hard Rock on Broadway, then venture to mysterious and historic Printer's Alley.
Finally, finish up the night with a stroll through the eerie former Red Light District.
Along the way, your local tour guide will also offer spooky facts and anecdotes about the bars, neighborhoods, and city as a whole.
Do you know how Nashville became Music City, anyway?
Remember to bring cash to tip both your guide and bartenders or servers, as the tour price does not include gratuities!
5. Sit Through '12 Hours of Terror'
The historic Belcourt Theatre hosts an annual "12 Hours of Terror," — one of the most unique ways to spend Halloween in Nashville.
Typically a weekend or two before the 31st, 12 Hours of Terror shows 12 hours worth of horror films…consecutively.
Even spookier, the movies run overnight, from dusk to dawn.
Also, the Belcourt doesn't announce any of the seven films ahead of time, so it's a total surprise!
Halloween in Nashville for Kids & Families
Nashville has a well-earned reputation as a prolific party town. However, that doesn't mean it can't show families and little ones a great time, too.
6. Boo at the Zoo
Local families will tell you, it's just not Halloween in Nashville until you go to Boo at the Zoo.
The Nashville Zoo hosts this family-centric event nightly from October 13-29, and advanced tickets are required.
Children can enjoy trick-or-treating, carousel rides, face painting, a tot dance floor, plenty of fall decor, and encounters with friendly costumed characters.
The event's star, though, is the special animal shows.
Visitors can either purchase food and drinks onsite, or bring in their own.
Please note that because Boo at the Zoo caters to young children, "excessively scary" costumes are prohibited. This also goes for masks altogether.
7. Goblins & Giggles at Gaylord Opryland Resort
During October weekends in Nashville, the stunning Gaylord Opryland Resort is THE place to be for families for Halloween.
Best of all, even those who aren't staying at the resort can enjoy these activities!
Under the Goblins & Giggles program, families can enjoy free live entertainment, trick-or-treating, and not-too-spooky animal encounters.
There will also be craft stations set up, as well as a scavenger hunt with prizes.
One of the festival's highlights is the Ghouls Night Out Riverboat Ride. Every evening, these boat rides take to the Delta River, which is right inside the atrium.
You never know what lurks around the next corner!
Resort guests can also take advantage of additional experiences, including spooky bedtime stories. The resort's lights, fountains, and gardens also go all-out with Halloween themes.
Note that the Gaylord Opryland does not sell tickets onsite, so they must be purchased in advance.
8. Halloween Glow in the Park Fall Festival
Looking for something active for your kiddos to do on Halloween in Nashville?
"Glow in the Park" at The Adventure Park at Nashville allows them to do exactly that.
This unique event encourages visitors to climb, zip-line, and run, but this time, at night and in costume.
The adventure park opens its grounds in the evenings, plus decks them out with Halloween decor, music, and some fun animatronics.
All of the park's trails are lined with super-bright, colorful LED lights to make the event safe.
Kids age 7 and up (and their parents or guardians!) can explore the aerial adventure park, while little ones age 3-6 can play in the Adventure Playground.
This event tends to sell out every year, so be sure to buy your tickets as early as possible!
9. Ride the Halloween Express Train
All aboard the Tennessee Valley Railroad Museum's Halloween Eerie Express!
This adorable, family-friendly way to spend Halloween in Nashville involves both a train ride and a spooky "fun house."
You'll board an authentic vintage train, where you'll then ride through Missionary Ridge Tunnel and over four railroad bridges. Then, at Funhouse Station, you'll enter the Funhouse.
At the fun house, you can get a treat bag and cider, then play a variety of games, including glow-in-the-dark mini golf.
Get some temporary tattoos, listen to some fun, not-too-scary stories, and pick out a mini pumpkin before getting back on the train.
10. Double-down on Trick-or-Treating
Obviously, a highlight of Halloween is trick-or-treating.
Thankfully, Nashville has several community trick-or-treat events, plus lots of notoriously good neighborhoods. Here are some standouts:
Trick or Treat at The Avenue (Murfreesboro) – October 21, 12-2 PM
Shelby Park Community Center Annual Truck or Treat – October 26, 6-7:30 PM
Fatherland Street & Eastland Street in East Nashville
The Ballentrae subdivision (Hendersonville)
Old Hickory Village
More Festive Fall Activities in Middle Tennessee
While Halloween in Nashville is a highlight, Middle Tennessee offers a range of non-Halloween-themed fall activities and events for you to enjoy as well.
11. Chase Fall Colors in a State Park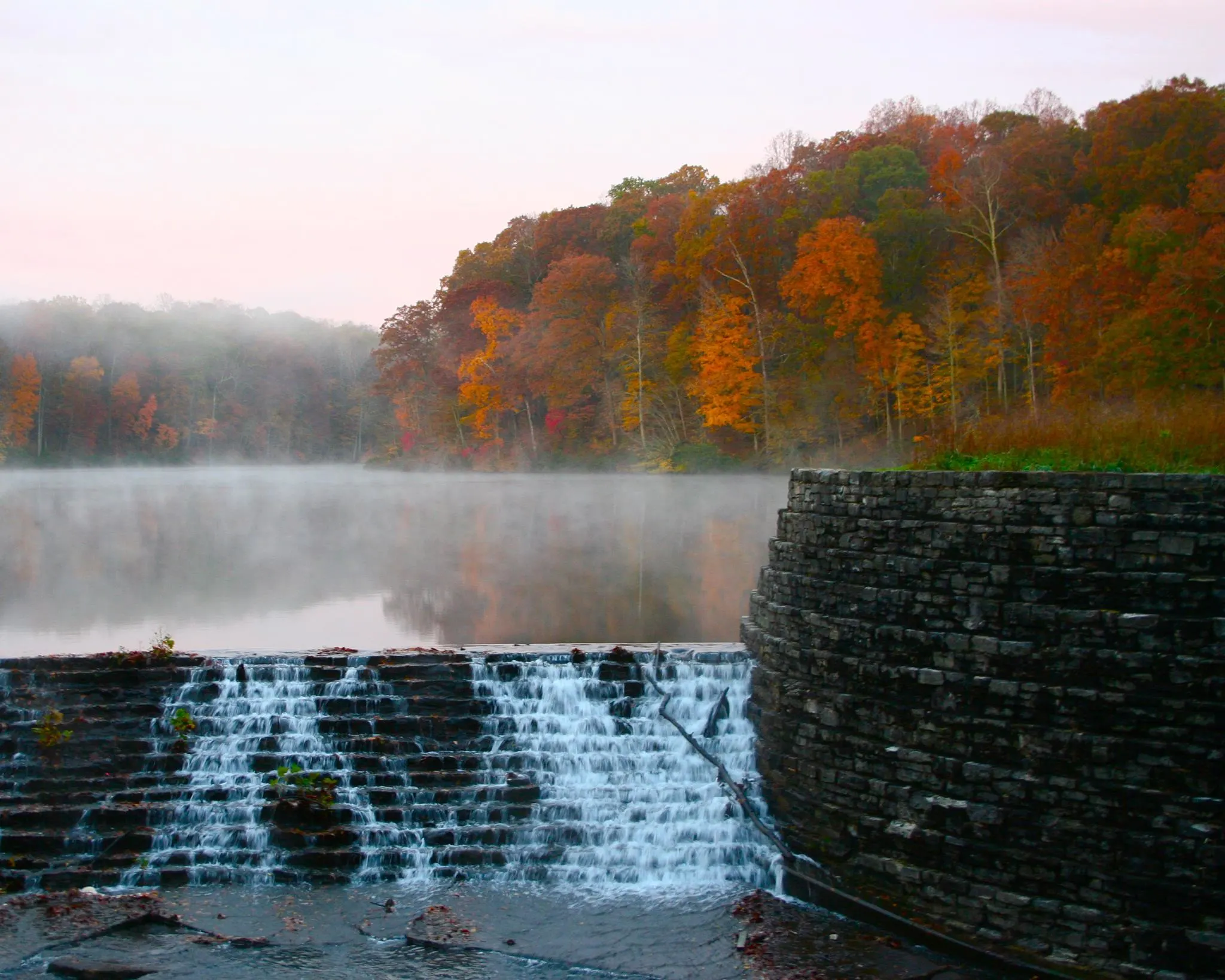 Several state parks near Nashville offer beautiful natural scenery, making them prime spots for leaf-peeping.
Take a scenic drive, go hiking, or even take to the lake and paddle around in a kayak for the day.
At many of the state parks, water recreation is available through early to mid-November.
Best parks near Nashville for Fall Foliage:
Radnor Lake State Park
Long Hunter State Park
Montgomery Bell State Park
Harpeth River State Park
And if you want to make a weekend of it, most of these parks offer camping, also.
12. Get Festive-al
Middle Tennessee is brimming with fall festivals!
Not only are these events a fun way to spend Halloween in Nashville, but they also let you take advantage of the beautiful weather. AND, of course, savor seasonal flavors.
Check out Cheekwood Harvest, where the chrysanthemums (mums) are just as much a highlight as the pumpkin displays. Don't miss the beer garden, too!
Honeysuckle Farm in nearby Springfield hosts a traditional fall festival, complete with a corn maze, u-pick pumpkin patch, pig races, a fan-favorite pumpkin cannon, and even a singing chicken show.
About an hour outside of town, you can also visit Granddaddy's Farm in Estill Springs, or Lyon Family Farms in Taft.
13. Go Pumpkin-Picking
If you love all things fall (who doesn't, really?!), take your festival game up a notch and specifically, go pumpkin picking.
In addition to the farms hosting fall festivals that we just mentioned, several local, family-owned Tennessee farms have u-pick pumpkin patches.
Keller's Farm in Dickson and the Gentry Farm in Franklin are both excellent options.
(By the way, Franklin is one of our favorite small towns in Tennessee!)
At both farms, you can pick your own pumpkins, plus enjoy hayrides and explore a corn maze.
Keller's is open Friday-Sunday, while Gentry is open Saturday-Monday.
14. Wine Tasting at Arrington Vineyards
Just south of town, Arrington Vineyards is in the heart of Nashville's very own wine country.
Fall is grape harvest season after all, so one excellent way to experience the changing seasons is with a wine tasting!
Sip on locally crafted wines like the signature sparkling varietals amidst picturesque vineyards, enjoying the gorgeous crisp weather and fall foliage.
This also makes for an especially romantic outing near Nashville.
The winery hosts Music in the Vines on weekends, as well as Food Truck Fridays. The food trucks rotate frequently, but include favorite trucks from the Nashville area.
15. Celebrate Oktoberfest
Throughout the month of October, Nashvillians have several opportunities to embrace the German tradition of Oktoberfest.
These events feature live music, food, and of course beer, all in a super festive atmosphere.
And what says fall more so than a stout brew and rich food?
There's the main official Nashville Oktoberfest event, typically held at the beginning of the month, but that's just the beginning.
You should also check out the Tennessee Central Railway Museum's German Oktoberfest Excursion Train, as well as the Tennessee Beer, Wine & Shine Festival.
And don't forget about your favorite local establishment — often, they host their own Oktoberfest events.
🕷SAVE FOR HALLOWEEN IN NASHVILLE 🕷